27 avril 2011
SM TOWN LIVE @ PARIS [UPDATE]
SM TOWN LIVE @ PARIS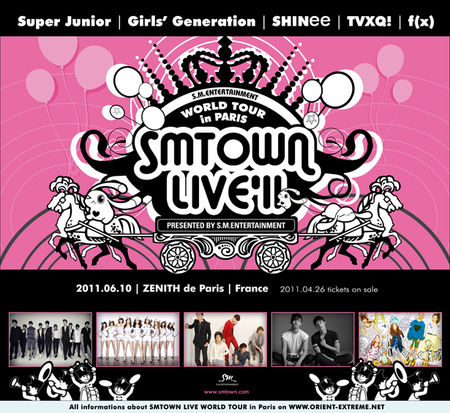 Mieux vaut tard que jamais.
A tous les petits et grands amateurs de K-Pop, les efforts finissent par payer. On réclamait un événement à la hauteur de notre passion pour la pop coréenne et voilà notre rêve réalisé. Le buzz depuis près d'une semaine est la venue des grands noms de la famille SM Entertainment sur le Vieux Continent.
Pour sa tournée internationale SM Town Live, un passage en France s'ajoute au planning des idols: Super Junior, Girls Generation, SHINee, f(x) ou encore Yunho & Changmin (TVXQ).
Du beau monde qui va se déplacer à Paris le 10 Juin prochain au Zénith de Paris.
Malheureusement, à ceux et celles qui se posent la question "comment acheter le précieux sésame?". La réponse est : COMPLET. Les places se sont vendues comme des petits pains dès le premier jour des ventes, c'est-à-dire hier...
Comme lot de consolation, vous pouvez toujours participer au flash mob prévu ce dimanche 1er Mai au pied de la Pyramide du Louvre. Une chorégraphie de rue qui sera notamment filmée par la chaîne coréenne KBS!
[UPDATE 01/05/2011]
Flash mob @ Paris
VIDEOS FANCAM :
(c) damiensan2
(c) Orient Extreme
Chapeau à tous les participants! N'hésitez à poster vos vidéos et continuons de répandre la fièvre de la K-Pop et J-Pop!
[02.05.2011] LES EFFORTS PAIENT !!!!!!!
Dès le lendemain de la flash mob parisienne ayant rassemblé plus de 300 K-pop addicts, la réponse de la SM Entertainment ne s'est pas faite attendre et elle est plutôt positive :
"Not only French fans, but all K-Pop fans of Europe participated in the flash mob event. Because of the overwhelming support we've been receiving from our European fans, we will be checking our artists' schedules and discuss adding another date to the concert." (c) allkpop
Oui vous l'avez compris, les dirigeants de la grande maison de disque envisagent bel et bien une date supplémentaire à Paris!! Croisons les doigts très forts pour que les milliers de fans sans ticket puissent voir leurs idols adorés sur la scène du Zénith !! TO BE CONTINUED...
Aja aja fighting ~
Sources: Orient-Extreme, Korean Connection
Pichu ~
Commentaires sur SM TOWN LIVE @ PARIS [UPDATE]