17 mars 2013
THE GUILLOTINES
THE GUILLOTINES
ORIGINE: CHINE/ HONG KONG
TITRE : THE GUILLOTINES
TITRE ORIGINAL: 血滴子
ANNEE DE SORTIE : 2012
GENRE : ACTION/ WUXIA
REALISATEUR : ANDREW LAU
CASTING :
ETHAN RUAN

aka Leng
HUANG XIAOMING
aka Tianlang / Wolf
SHAWN YUE
aka Haidu
SYNOPSIS: Une unite d'elite de lutte contre le crime dans la cour d'un empereur chinois deploie leur talent d'escrimeurs pour combattre leurs ennemis.
TRAILER:
Credit : Phil Gillon
20 mai 2010
IL ETAIT UNE FOIS EN CHINE
IL ETAIT UNE FOIS EN CHINE
ORIGINE: HONG KONG
TITRE : IL ETAIT UNE FOIS EN CHINE
TITRE ORIGINAL: 黃飛鴻 (Wong Fei Hung)
ANNEE DE SORTIE : 1991
GENRE : ACTION, HISTOIRE
REALISATEUR : TSUI HARK
BONUS: Prix du meilleur réalisateur, meilleure musique, meilleures chorégraphies, meilleure montage au Hong Kong Film Awards en 1992
INSPIRE DE: Wong Fei Hung
CASTING :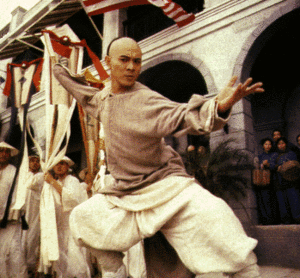 Jet Li (The Master, 1989; Tai Chi Master, 1993; Fist of legend, 1994; L'arme fatale 4, 1998; Romeo doit mourir, 2000; Hero, 2002; Les seigneurs de la guerre, 2007; Le royaume interdit, 2008; La Momie 3, 2008)
aka Wong Fei Hung
YUEN BIAO (La fureur de vaincre, 1972; La fureur du dragon, 1972; Opération dragon, 1973; The tournament, 1974; Combat de maîtres, 1976; Le jeu de la mort, 1978; Légende de Zu, 1983; Marin des mers de Chine, 1983; Shanghai Kid, 2000)
aka Leung Fun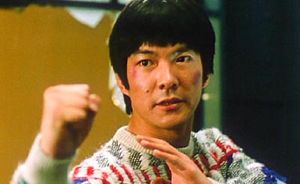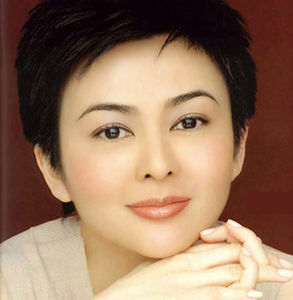 ROSAMUND KWAN (Mister Dynamite, 1987; Tricky brains, 1991)
aka 13e tante
SYNOPSIS: A la fin du XIXe siècle à Fa Shan, en Chine du Sud. Tandis que les puissances coloniales européennes et américaines s'y affrontent pour le contrôle du commerce maritime, les premiers signes d'occidentalisation commencent à percer dans la société chinoise. Dans ce climat politique tendu, Wong Fei-hung, docteur en médecine chinoise, maître de kung-fu et chef instructeur de l'armée du Dragon Noir, est chargé par le commandant Lau de maintenir l'ordre durant les guerres qui éloignent ses troupes de la région, afin de sauvegarder ce qui reste de paix et de stabilité.
Disponible sur Amazon
OST: Jackie Chan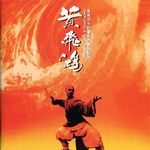 Disponible sur Nautiljon
TRAILER:
02 mai 2010
HERO
HERO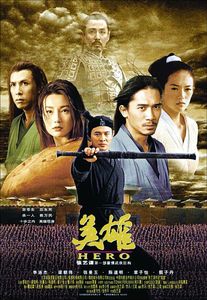 ORIGINE: CHINOIS
TITRE : HERO
TITRE ORIGINAL: 英雄 (Yīngxióng)
ANNEE DE SORTIE : 2002
GENRE : WUXIA, HISTOIRE
REALISATEUR : ZHANG YIMOU
INSPIRE DE: légende de Jing Ke
BONUS: Nominé pour l'Oscar du meilleur film étranger en 2003. Zhang Yimou a reçu le prix Alfred Bauer au festival international de Berlin en 2003. Le long métrage a reçu 7 récompenses lors du festival de Hong Kong dont ceux de meilleure bande son et meilleurs effets spéciaux.
CASTING :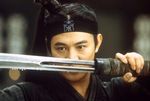 JET LI
aka Sans Nom
MAGGIE CHEUNG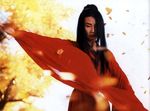 aka Flocon de Neige
TONY LEUNG CHIU WAI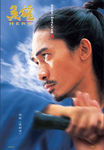 aka Lame Brisée
ZHANG ZIYI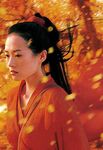 aka Lune
DONNIE YEN
aka Ciel étoilé
SYNOPSIS: Il y a deux mille ans, la Chine était divisée en sept royaumes. Chacun d'eux combattait les autres pour obtenir la suprématie, tandis que le peuple endurait la souffrance et la mort. De ces sept royaumes, Qin était le plus virulent. Le roi de Qin était obsédé par la conquête de la Chine et le désir de devenir son premier Empereur. Les autres royaumes dépêchèrent leurs plus redoutables assassins pour l'éliminer. Le seul nom de trois de ces tueurs suffisait à répandre la terreur : Lame Brisée, Flocon de Neige et Ciel Etoilé. A quiconque anéantirait ces trois assassins, le roi de Qin promit puissance et fortune. Pendant dix ans, personne n'y parvint. Lorsque le mystérieux Sans Nom se présenta au palais, avec en sa possession les armes des assassins abattus, le roi fut impatient d'entendre son histoire. Assis à dix pas du monarque, Sans Nom commença alors à la raconter...
Disponible sur Amazon
OST: TAN DUN
"Farewell"
TRAILER: