19 novembre 2012
FULL HOUSE TAKE 2
FULL HOUSE TAKE 2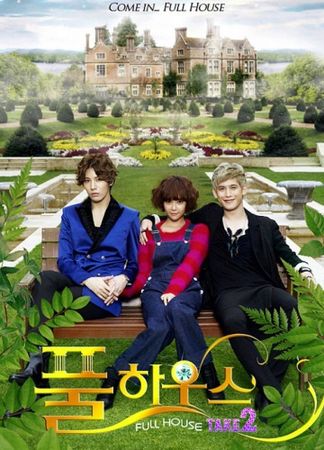 ORIGINE: COREE
TITRE : FULL HOUSE TAKE 2
TITRE ORIGINAL : 풀하우스 테이크 2
ANNEE DE SORTIE : 2012
GENRES : COMEDIE, ROMANCE
NOMBRE EPISODES : 16 (chaque épisode est divisé en 2 partie)
DIFFUSEUR : SBS Plus, TBS
SITEWEB : http://tv.sbs.co.kr/fullhouse2/index.html
DETAILS : Spin off dérivé du drama Full House et une adaptation du manhwa de Won Soo Yeon.
CASTING :
HWANG JUNG EUM (East of Eden, 2009; Giant, 2010; Can you hear my heart, 2011; Golden time, 2012)
aka Jang Man Ok / Michelle Jang
NO MIN WOO (Pasta, 2010; My girlfriend is a Gumiho, 2010; Rock rock rock, 2010; Midas, 2011)
aka Lee Tae Ik
PARK KI WUNG (Invincible Lee Pyung Kang, 2009; The Musical, 2011; Bridal Mask, 2012)
aka Won Gang Hwi
SYNOPSIS : L'histoire tourne autour de Jang Man Ok, une professeur d'hapkido (art martial coreen) qui va devenir styliste pour le groupe d'idols Take One, composé du perfectionniste Lee Tae Ik et du frivole mais gentil Won Gang Hwi.
OST :
TRAILER :
13 septembre 2010
ATHENA GODDESS OF WAR
ATHENA: GODDESS OF WAR
ORIGINE: COREE
TITRE : ATHENA: GODDESS OF WAR
TITRE ORIGINAL: 아테나: 전쟁의 여신
ANNEE DE SORTIE : 2010
GENRE: ACTION/ DRAME
NOMBRE D'EPISODES: a venir
DETAIL: Spin off de IRIS
DIFFUSEUR: SBS
JUNG WOO SUNG (The restless, 2006; The good, the bad and the weird, 2008; Reign of assassins, 2010)
aka Lee Jeong Woo
CHA SEUNG WON (Blood rain, 2005; Over the border, 2006; Eye for an eye, 2008; Secret, 2009)
aka Son Hyeok
SU AE (Once in a summer, 2006; Sunny, 2008; The sword with no name, 2009)
aka Yun Hye In
LEE JI A (The story of the first kings four gods, 2007; Beethoven Virus, 2008; Style, 2009)
aka Han Jae Hee
CHOI SI WON (Batlle of wits, 2006; Attack on the pin up boys, 2007; Oh my lady, 2010; Glamorous challenge, 2011)
aka Kim Joon Ho
KIM MIN JONG (Mr Butterfly, 2003; The return of Iljimae, 2008; A man called god, 2010)
aka Kim Ki Soo
SYNOPSIS: Le groupe terroriste connu sous le nom d' "Athena" et dirigé par le machiavélique Son Hyeok menace la Corée du Sud et le monde entier. Le rôle de l'agent spécial Lee Jeong Woo de l'agence NTS (National Anti-Terrorist Service) est de déjouer leurs plans.
OST: Park Hyo Shin
TRAILER:
11 mai 2010
SAINT SEIYA
SAINT SEIYA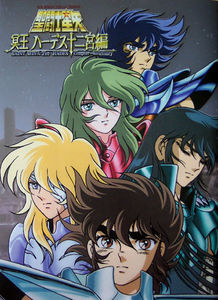 ORIGINE: JAPONAISE
TITRE : SAINT SEIYA
AUTRE TITRE: LES CHEVALIERS DU ZODIAQUE
TITRE ORIGINAL: 聖闘士星矢
GENRE : SEINEN
MANGA
AUTEUR: MASAMI KURUMADA
EDITEURS FRANCAIS: KANA
NOMBRE DE VOLUMES: 28
DEBUT: 1986
SPIN OFF: SAINT SEIYA - Episode G
ANIME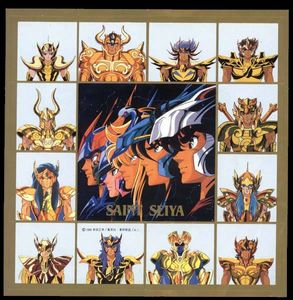 NOMBRE D'EPISODES: 145
STUDIO: TOEI
ANNEE DE SORTIE : 1986
SYNOPSIS: Depuis la nuit des temps, lorsque les Forces du Mal s'éveillent, des Chevaliers vêtus de leurs armures font leur apparition pour protéger la Terre. On les appelle les Chevaliers d'Athéna. Lors de l'un de ses voyages en Grèce, Mitsumasa Kido fait la connaissance d'un jeune garçon agonisant. Aiolos, Chevalier d'Or du Sagittaire. Celui-ci confie à Mitsumasa Kido l'armure d'Or du Sagittaire et Saori, un bébé. Aiolos présente la petite fille comme étant la réincarnation de la déesse Athéna. Il lui demande de trouver des jeunes garçons courageux afin de protéger l'enfant.
Athéna a 88 chevaliers, chacun associé à une constellation stellaire. Ils sont regroupés en 3 castes: bronze, argent et or.
OST: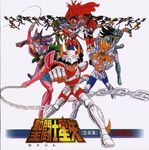 Disponible sur OST Center
VIDEOS: Générique début
Série Hadès - Episode 1
17 avril 2010
GHOST IN THE SHELL
GHOST IN THE SHELL
ORIGINE: JAPONAISE
TITRE : GHOST IN THE SHELL
TITRE ORIGINAL: 攻殻機動隊 (Kōkaku kidōtai)
ANNEE DE SORTIE : 1995
GENRE : ACTION, CYBORG
REALISATEUR : MAMORU OSHII
INSPIRE DE: manga de Masamune Shirow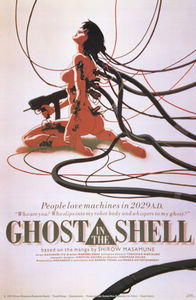 BONUS: Anime et manga dérivé: Innocence: Ghost in the Shell et Ghost in the shell: Stand alone complex
SYNOPSIS: L'histoire se déroule dans un monde futuriste cyberpunk et nous fait suivre les aventures de Motoko Kusanagi, dite « major », et Batou, deux cyborgs appartenant à une unité spéciale du gouvernement qui essaient de capturer le pirate informatique le plus dangereux et insaisissable au monde, connu seulement sous le pseudonyme de Puppet master.
TRAILER: