31 janvier 2013
HELLO COUNSELOR
HELLO COUNSELOR
ORIGINE: COREE
TITRE: HELLO COUNSELOR
TITRE ORIGINAL: 안녕하세요
NOMBRE EPISODES:
DIFFUSEUR: KBS2/ KBS WORLD
MC: SHIN DONG YUB, JEONG CHAN WOO, KIM TAE GOON, LEE YOUNG JA
SITEWEB: http://www.kbs.co.kr/2tv/enter/hello
PRESENTATION:
Les quatre mc, artistes du Cultwo Show, prennent le role de consultant pour ecouter et aider a resoudre les problemes des spectateurs. Avec l'aide de certains guests VIPS, ils tentent de resoudre tout type de probleme, concernant la famille, l'amitie, l'amour, etc.
QUELQUES GUESTS :
EPISODE 81 - f(x)
EPISODE 05 - HOMIN (TVXQ)
EPISODE 100 - Super Junior
EPISODE 103 - Alex (Clazziquai), Song SiKyung, Hyeunyoung
VIDEOS :
Extrait episode avec CN Blue (02042012)
120402 H - YH SJ cut (ENG SUB) from Kemtool on Vimeo.
Extrait episode avec Beast
Credit : KBSEntertain
Episode entier en VO avec Shinhwa
Credit : yuri09ish
29 janvier 2013
ANDY [SHINHWA] NOUVEAU SINGLE [UPDATE]
ANDY [SHINHWA] NOUVEAU SINGLE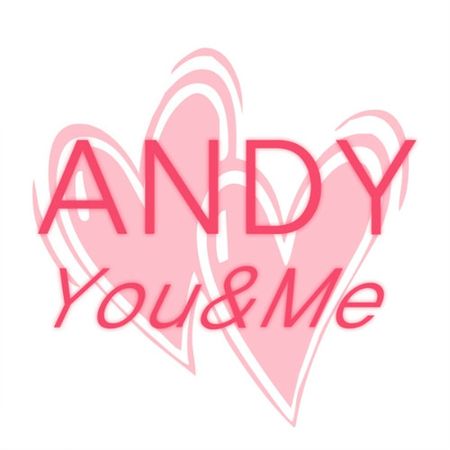 Trois ans après son dernier solo single, l'adorable maknae du groupe véteran des SHINHWA et CEO des Teen Top dévoile un nouveau single en duo avec son frère de chant, Min Woo.

Le mariage de la voix enchanteresse et charmeuse de Min Woo avec le rap efficace d'Andy fait des étincelles et la magie opère à merveille.
Découvrez ci-dessous le clip video du solo single d'Andy "You and Me".
On rappelle que les deux artistes Shinhwa apparaissent tous les dimanches sur JTBC dans leur propre émission Shinhwa Broadcast. Dans le dernier épisode (diffusé le 27 janvier 2013), les six membres des Shinhwa étaient en concurrence pour trouver leur épouse parmi les membres des Sistar dans une reconstitution de l'émission Love Studio.
TITRE SINGLE : You and Me
CLIP :
Credit : lamloktung
VIDEOS :
Teaser Shinhwa Broadcast episode 45
Credit : hwa shin
[UPDATE 30.01.2012]
Pour honorer leur 15eme anniversaire et en vue de leur prochain comeback, les Shinhwa, au complet, ont annoncé une série de concert à Seoul, les 16 et 17 mars 2013 dans le Olympic Gymnastics Arena dans le quartier de Bangidong.
Un représentant de leur label a declaré :
"Pour tous les fans qui ont toujours soutenu les Shinhwa ces 15 dernieres annees, qui ont debute en mars 1998, le mois de Mars va avoir une connotation particuliere. L'annee derniere et cette annee, les membres veulent concretiser leur promesse faite a leurs fans et ils travaillent dur pour se preparer (au comeback) alors nous demandons votre amour et votre soutien." (allkpop)
Via leur chaine officielle Youtube, Eric, Min Woo, Hyesung, Andy et Dongwon dévoilent le premier teaser de l'événement. Un teaser qui ne manque pas d'attiser la curiosité des nombreux fans du monde entier, et ces derniers ne se privent pas de lancer un appel aux six artistes coréens pour les appeler à visiter leur pays!
TEASER :
Teaser concert
Credit : SHINHWACOMPANY
Source : allkpop
Pichu ~
16 janvier 2013
TEEN TOP EUROPE TOUR NEWS
TEEN TOP EUROPE TOUR NEWS
Les petits protégés d'Andy oppa des Shinhwa volent désormais de leurs propres ailes et s'appretent à conquérir (est-ce réellement nécessaire ?) le public européen, et notamment leurs nombreux fans francais.

Allkpop révèle aujourd'hui que la vente des tickets pour leur concert unique à Paris, inclus dans la tournée européenne, TEEN TOP SHOW! Live tour in Europe 2013, est un veritable carton !!! En effet, depuis l'ouverture des ventes le 05 janvier dernier, les places sont placées en tete des ventes, confirmant la popularité croissante des Teen Top dans l'Hexagone.
Il y a quelques jours, l'agence TOP MEDIA a declaré :
"En 2013, les TEEN TOP vont aller a la rencontre de leurs fans lors de leur 'TEEN TOP SHOW! Live Tour In Europe 2013' qui va demarrer a Munich en Allemagne le 02 fevrier, puis Dortmund, Londres, Paris, et Barcelone jusqu'au 10."
En attendant l'arrivée de nos supa idols sur le Vieux Continent, vous pouvez savourer leur adorable message video prononcée en anglais, allemand, espagnol et francais !
Pour plus d'informations, n'hésitez pas à visiter le site complet de nos amis Teen Top France.
VIDEO :
Credit : B7KLAN
Source : allkpop
Credit photos : TOPMEDIA/ Onsen
Pichu ~
23 novembre 2012
HYESUNG (SHINHWA) SOLO COMEBACK
HYESUNG (SHINHWA) SOLO COMEBACK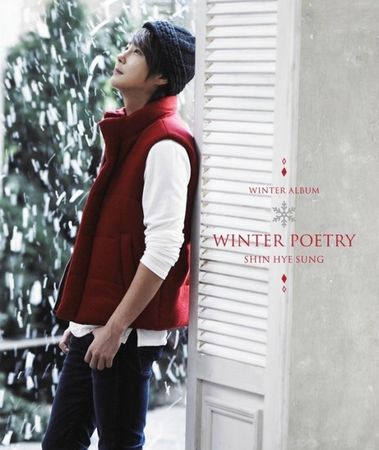 Le leader vocal du groupe légendaire mais toujours autant idolatré, Hyesung des Shinhwa, a annoncé son solo comeback pour la fin d'année. Une année 2012 relativement chargée pour la voix d'ange coréenne qui est revenu sur scenes aux cotés des 5 autres membres Shinhwa avec leur album The Return, avant de partir en tournee internationale, tout en menant à bien l'animation de l'émission Shinhwa Broadcast (toujours diffusée sur la chaine JTBC).
Un nouvel abum intitulé Winter poetry qui tombe à pique en cette saison hivernale et qui suscite la curiosité de nombreuses fans qui n'avaient rien à se mettre sous la dent depuis la sortie il y a un an de son précédent album, Embrace.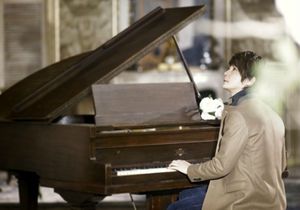 Les fans de Hyesung présentes à Seoul en fin d'année pour applaudir l'idol à l'université de Kyung Hee lors des deux concerts The Year Journey, le 30 et 31 décembre.
Découvrez ci-dessous le making of de son prochain clip "I'd be nice it it was you" !
Plus d'informations, le 04 décembre prochain pour avoir notamment la tracklist complete de Winter Poetry !
TITRE ALBUM : Winter poetry
DATE : 04/12/2012
TITRE SINGLE: I'd be nice if it was you
VIDEO :
Making of
Credit : LIVEWORKSCP
Source : MTVK, Allkpop
Pichu ~
10 octobre 2012
YOU AND I
YOU AND I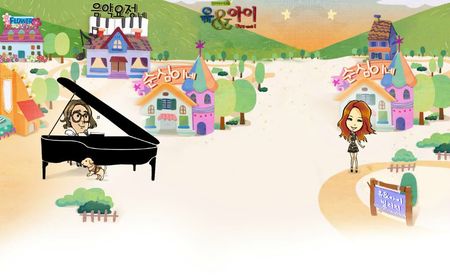 ORIGINE: COREE
TITRE: YOU AND I
TITRE ORIGINAL : 유 & 아이
GENRE: MUSIQUE, TALK SHOW
DIFFUSEUR: SBS
DEBUT: 2012
SITE OFFICIEL : http://tv.sbs.co.kr/uni/

MC : Lee Hyori, Jung Jae Hyung
PRESENTATION: Remplacant l'emission de Kim Jung Eun 'Chocolate', U & I est un nouveau concept d'emissions de varietes, melangeant talk show et music show.
GUESTS :
EPISODE 1 - IU, UV, Lucid Fall
EPISODE 3 - BIG BANG
EPISODE 5 - Jay Park, Kim Wan Sun
VIDEOS :
Extrait de l'episode 3

Big Bang You And I VOSTFR par bigbangfansubfrance
Extrait de l'episode avec Shinhwa
05 octobre 2012
JEWELRY COMEBACK
JEWELRY COMEBACK
BREAKING NEWS ! ALERTE INFO !
Alors que certaines rookies préferent enchainer les hits (de peur leur vague de popularite), ce quatuor a fait un break de plus d'un an, soit une éternité dans le monde fabuleux de la Kpop ! A un moment ou la lutte fait rage pour atteindre les sommets des charts et conquérir le coeur des millions de fans, les belles du groupe Jewelry agitent la Toile avec l'annonce de leur comeback tant attendu ! Un representant de leur label a declaré :
"Il s'agit de notre retour apres une longue pause, alors nous nous sommes beaucoup préparées pour cela." (allkpop)
Officiellement en activité depuis 2001 et malgré l'alignement de nouveaux membres depuis 2008, les Jewelry est le girls band qui bat les records, tout comme les Shinhwa pour les hommes.
Baby J, Eunjung, Yewon et Semi préparent les promotions de leur nouveau mini-album, intitulé Look at me, pour lequel le producteur magique Shinsadong Tiger, a participé.
En attendant, un teaser video, le clip et un live, découvrez quelques photos teasers de Semi et Yewon.
Source : allkpop
Pichu ~
28 septembre 2012
HYESUNG ET MIN WOO [SHINHWA] SUR SCENE AVEC MICHAEL BOLTON
HYESUNG ET MIN WOO [SHINHWA] SUR SCENE AVEC MICHAEL BOLTON
D'après Liveworks Company, les deux membres du groupe Shinhwa, Shin Hye Sung et Lee Min Woo ont ete annoncé pour l'événement West Music Bank Festival à Shanghai du 30 septembre au 02 octobre.

Un événement musical de grande ampleur qui devrait etre vu par 100 000 spectateurs du monde entier environ.
Les vétérans de la Hallyu Wave interprèteront separement sur scène, aux cotés du célèbre crooner américain, Michael Bolton.
D'un coté, le romantique Hye Sung chantera "Because it's you", "Think about it", "EX-mind" et "Tic tic". D'un autre coté, le séduisant Min Woo chantera "I'm here" et "Don't trust men".
Un représentant de Liveworks Company a declaré :
"Ils sont reconnaissant de representer les chanteurs K-pop durant ce festival à Shanghai, Chine."
Après la désignation de Min Woo dans un jury d'une émission de tv reality chinoise, cette nouvelle annonce confirme la popularité toujours croissante des deux chanteurs coréens à l'étranger.
Restez fidèles au blog pour des videos de ce show unique !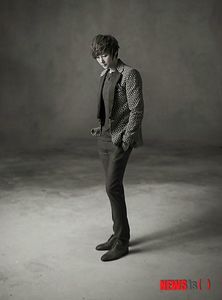 Source : allkpop
Pichu ~
16 septembre 2012
MIN WOO, JURY D'UNE EMISSION CHINOISE
MIN WOO, JURY D'UNE EMISSION CHINOISE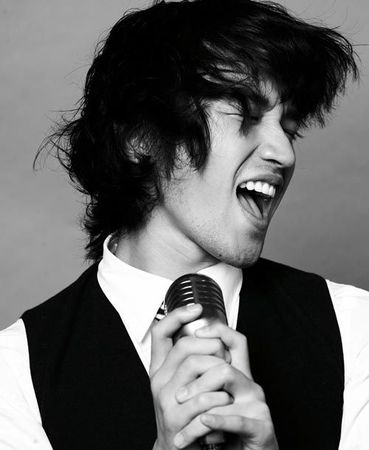 Lee Min-woo, un membre du boys band Shinhwa, fera partie du jury pour « Sengdongyazou », une émission de télé-crochet chinoise destinée aux chanteurs professionnels. Elle sera diffusée les 5 et 6 septembre sur Shanghai Dongbang Satellite TV et son titre signifie « toucher l'Asie avec la voix ».

Les participants sont des chanteurs qui ont déjà sorti leurs albums dans les six pays asiatiques suivants : la Corée du Sud, la Chine, le Japon, la Malaisie, la Thaïlande et Singapour. Ils s'affrontent en groupe et les deux groupes finalistes se présenteront en la finale.

D'après Lee Min-woo, il a eu l'honneur d'être sélectionné comme membre du jury pour cette émission et promet de faire tout son possible. A part lui, Sunnan, un célèbre chanteur chinois et Lisa Ono, une chanteuse japonaise réputée pour le genre Bosa Nova participeront à l'évaluation des participants.
Source : KBS World
Pichu ~
03 septembre 2012
SHINHWA POSENT POUR ROYGEN
SHINHWA POSENT POUR ROYGEN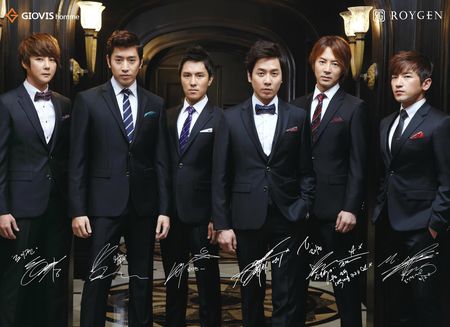 Les idols de l'année sont sans conteste les Shinhwa. Des vétérans de la Hallyu Wave, pionniers dans l'industrie, qui marquent un retour fracassant avec leur album The Return, leur tournée en Asie, mais surtout avec leur hilarante émission hebdomadaire, Shinhwa Broadcast.
Les trentenaires se sont lancés le pari de tenir tete a tous les jeunes idols, plein de fougue et d'énergie, BEAST, SHINee et autre 2PM. Pari gagné! Dynamisme, talent et humour, toutes les qualités sont réunis en la personne d'Eric, Jun Jin, Andy, Min Woo, Hye Sung et Dong Wan.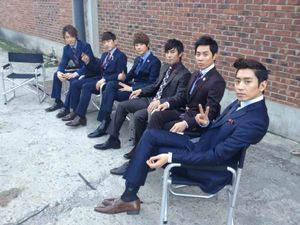 Et comme si cela ne suffisait pas, les Shinhwa se sont retrouvés cet été sous les caméras pour la nouvelle campagne automne-hiver 2012 de publicité pour la marque de tuxedo, Roygen. Les six membres sont sur leur 31 pour le plus grand bonheur de ces dames !
Enjoy ~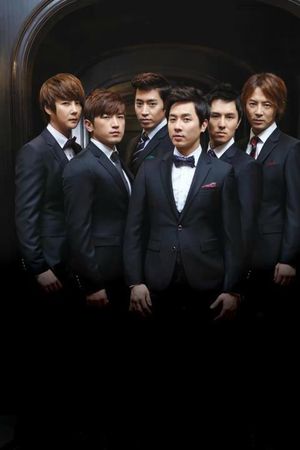 TWITTER OFFIEL : https://twitter.com/ShinhwaCompany
VIDEOS :
Version courte
(c) banbanmumaniify youtube
Version longue
(c) 0216SERA Youtube
Source : allkpop & soompi
Credits photo : Roygen
Pichu ~
GOD OF VICTORY
GOD OF VICTORY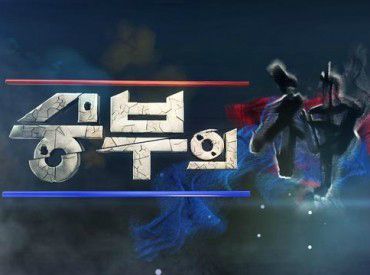 ORIGINE: COREE
TITRE: GOD OF VICTORY
TITRE ORIGINAL : 승부의 신
GENRE: JEUX
DIFFUSEUR: MBC
NOMBRE D'EPISODES: en cours
DEBUT: 2012
DETAIL : Segment de Sunday Night
MC : Kim Soo Ro, Kim Na Young, Noh Hong Chul
PRESENTATION: Deux equipes representant deux groupes d'idols luttent en participant a differentes epreuves, sportives ou ludiques, comme le bras de fer ou le "kissing game". Le public peut decider de supporter l'autre groupe a la fin de chaque round.
DIFFERENTS GUESTS :
2PM vs Shinhwa - 02092012
HOMIN vs UV - 11092012
VIDEOS :
Extrait de l'episode 1 2PM vs Shinhwa