15 novembre 2013
FRIEND
FRIEND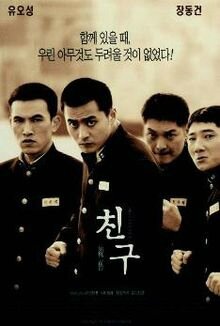 ORIGINE: COREE
TITRE : FRIEND
TITRE ORIGINAL: 친구
ANNEE DE SORTIE : 2001
GENRES : DRAME, GANGSTER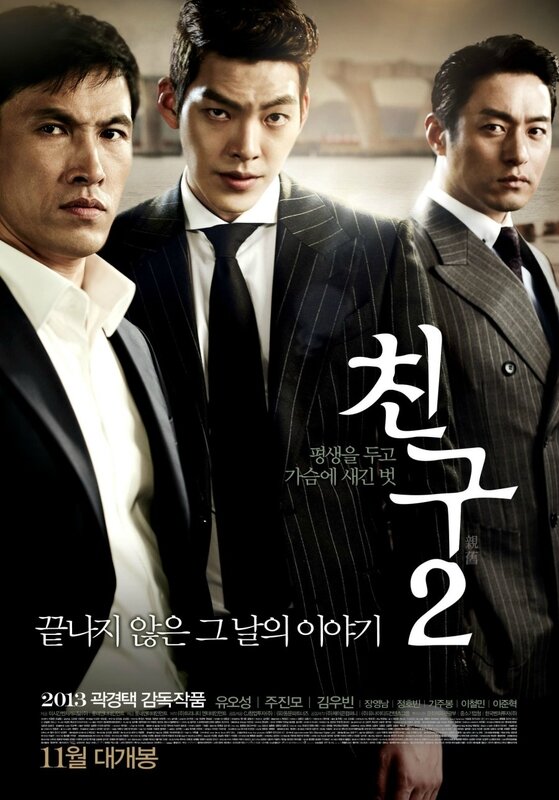 REALISATEUR : KWAK KYUNG TAEK
RECOMPENSES : Meilleur acteur et meilleur second role masculin au 46eme Asia Pacific Film Festival (2001), Holden Award au 16eme Festival International du Cinema Jeune de Turin, Student Jury Award au 9eme Manaki Brothers International Cinematography Film Festival ; et nomination au 26eme World Film Festival de Montreal pour le Grand Prix des Ameriques
SUITE : FRIEND 2 (2013) avec Yu Oh Seong et Kim Woo Bin
CASTING :
JANG DONG GUN

aka Dong-su
YU OH SEONG
aka Joon-seok
SYNOPSIS: Friend raconte l'histoire de quatre amis d'enfance, qui marchaient avec fierte dans les rues lorsqu'ils etaient ensemble. Joon-suk, le fils d'un chef de gang vigilant; Dong-su, le seul fils d'un entrepreneur de pompes funèbres; Sang-taek, un étudiant diligent; Joong-ho, qui ne tient jamais sa bouche fermée. La vie de chacun prend une tournure differente à mesure qu'ils grandissent et leurs chemins continuent de se croiser. Joon-suk devient le premier homme de main dans l'organisation criminelle de son père et Dong-su est au service de gangs rivaux de Joon-Suk. Sang-taek et Joong-ho sont impuissants et ne peuvent que regarder leurs deux meilleurs amis s'affronter...
TRAILER:
Credit : wokuszko
20 mars 2013
LA VIE SANS PRINCIPE
LA VIE SANS PRINCIPE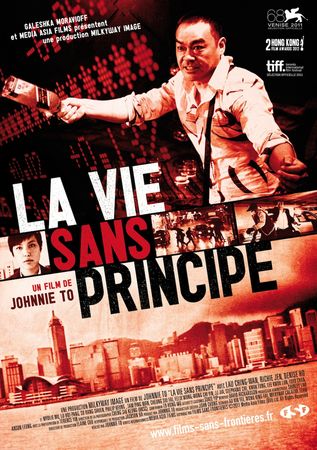 ORIGINE: HONG KONG
TITRE : LA VIE SANS PRINCIPE
TITRE ORIGINAL: 夺命金
ANNEE DE SORTIE : 2011
GENRES : DRAME, THRILLER
REALISATEUR : JOHNNIE TO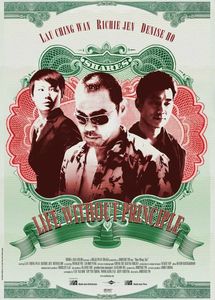 RECOMPENSES : En competition au 68e festival du cinema de Venise et nomination aux Oscars dans la categorie Meilleur film etranger.
CASTING :
LAU CHING WAN / SEAN LAU (The executioners, 1993; C'est la vie mon cheri, 1994; Mother of a different kind, 1995; Black Mask, 1996; The victim, 1999; Running out of time, 1999; Fat choi spirit, 2002; Lost in time, 2003; Driving miss wealthy, 2004; My name is fame, 2006; Mad detective, 2007; Poker king, 2009; Overheard, 2009; Le grand magicien, 2012; The bullet vanishes, 2013)
aka Panther
RICHIE REN (Summer holiday, 2000; Life express, 2001; Silver Hawk, 2004; Seoul raiders, 2005; 2 become 1, 2006; Lady Cop & Papa crook, 2008; The sniper, 2009; Fire of conscience, 2010; Punished, 2011; Afternoon delight, 2012)
aka Cheung Ching Fong
DENISE HO (Look for a star, 2009; I love Hong Kong 2012, 2012; Young and dangerous : reloaded, 2013)
aka Teresa
SYNOPSIS: Teresa, employée de banque ordinaire, incite ses clients à faire des investissements risqués pour remplir ses objectifs financiers.
Panther, escroc à la petite semaine, plonge dans le monde de la spéculation boursière dans l'espoir de gagner facilement de l'argent pour payer la caution d'un de ses amis qui rencontre quelques soucis avec la justice.
Enfin, l'inspecteur Cheung est un flic honnête. Jusque-là satisfait de son modeste train de vie, il a tout à coup un besoin d'argent criant lorsque sa femme verse un acompte pour acheter un appartement luxueux au-dessus de leurs moyens.
Tout sépare ces trois personnages jusqu'à ce que leur rapport à l'argent – et un mystérieux sac contenant cinq millions de dollars volés – les poussent à prendre des décisions cruciales malgré leurs cas de conscience. Trois vies bouleversées par le monde turbulent de Hong Kong, en plein marasme économique et financier. (allocine)
TRAILER:
08 mars 2013
WITNESS INSECURITY
WITNESS INSECURITY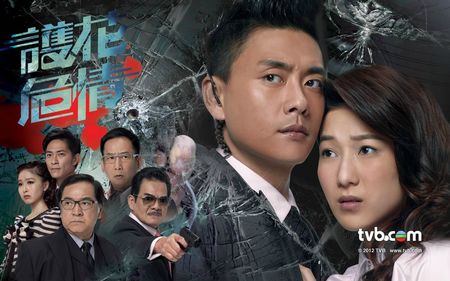 ORIGINE: HONG KONG
TITRE : WITNESS INSECURITY
TITRE ORIGINAL : 護花危情
ANNEE DE SORTIE : 2012
GENRES: MODERNE, ROMANCE
NOMBRE EPISODES : 20
DIFFUSEUR : TVB
SITEWEB : http://programme.tvb.com/drama/witnessinsecurity
RECOMPENSES : Meilleur drama, meilleur acteur et actrice, meilleur second role masculin au TVB Anniversary Awards 2012
CASTING:
LINDA CHUNG (Virtues of harmony 2, 2004; Always ready, 2005; Forensic Heroes, 2006; Heart of greed, 2007; A journey called life, 2008; Moonlight resonance, 2008; Legend of demigods, 2008; The gem of life, 2008; Ghost writer, 2010; Can't buy me love, 2010; Yes sir, sorry sir, 2011; L'escargot, 2012; Missing you, 2012)

aka Hailey
BOSCO WONG (War of in laws, 2005; Under the canopy of love, 2006; Dicey Business, 2006; Devil's Disciples, 2007; The seventh day, 2008; The gem of life, 2008; Burning flame 3, 2009; Growing through life, 2010; Grace under fire, 2011; Lives of omission, 2011)
aka Hui Wai Sam
PAUL CHUN (Family man, 2002; The king of yesterday and tomorrow, 2003; Love guaranteed, 2006; Glittering days, 2006; Wasabi mon amour, 2007; Pages of treasures, 2008; Show me the happy, 2010)
aka Kiu Gong San
SYNOPSIS : Le détective de la Section des Protections des Témoins (WPU) HUI WAI KIT a recu pour mission de protéger la fille du plus riche businessman de la ville, Hailey. Hailey est une femme solitaire à la personnalité singuliere, piegée dans son propre monde. Lorsque Kit arrive dans sa vie, elle commence à s'ouvrir et à developper des sentiments pour lui. Soudain, un ennemi de longue vient chambouler le quotidien de tout le monde, ce qui va mettre Kit face à un dilemne entre la justice et l'amour...
OST : Linda Chung
AUDIO :
Chanson thematique
Credit : LavenderSmileyFace
TRAILER :

鍾嘉欣 - 護花危情《Witness Insecurity》Opening Preview... par f100004056103170
24 février 2013
LOVE ACTUALLY
LOVE ACTUALLY
ORIGINE: CHINE
TITRE : LOVE ACTUALLY
TITRE ORIGINAL : 爱的蜜方
ANNEE DE SORTIE : 2012
GENRES: ROMANCE, COMEDIE
NOMBRE EPISODES : 35
DIFFUSEUR : HUNAN TV
REALISATEUR : LIN HE LONG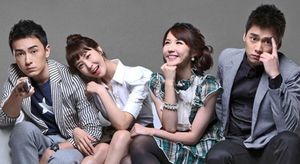 RECOMPENSES : actrice la plus populaire Asie - Pacifique (Lee Da Hae) au Third LETV Entertainment Awards (2012)
CASTING:
LEE DA HAE (Sweet 18, 2004; Lotus flower Fairy, 2004; Green rose, 2005; My girl, 2005; Hello miss, 2007; East of Eden, 2008; Chuno, 2009; Miss Ripley, 2011; IRIS2, 2013)
aka Wang Xiao Xia
JOE CHENG (Nine Ball, 2005; Magic ring, 2004; It started with a kiss, 2005; Geng Zi Feng Yun, 2006; Summer x Summer, 2007; Honey and clover, 2008; Love or bread, 2008; That love comes, 2010; Channel X, 2010)
aka Chen Hao Feng
LI YI FENG (Happy & Love forever, 2010; Sunny happiness, 2011; Bounty hunter, 2012; Tiny times, NC)
aka Chen Li Yang
SYNOPSIS : Lee Dah Hae jouera le rôle principal d'une femme, Wang Xiao Xia, chef de talent qui travaille dans un petit restaurant et qui élève à la fois son neveux. L'histoire tourne autour du succès que son personnage connaîtra après avoir rejoint un restaurant de grande classe. (dramagaru)
OST : Henry Tseng, Hebe Tian
VIDEO :
Episode 2
Credit : VixSofiya
13 février 2013
PARADE
PARADE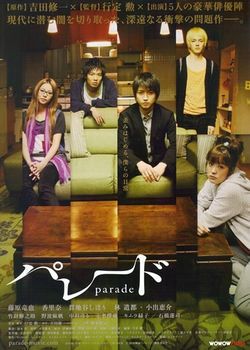 ORIGINE : JAPON
TITRE : PARADE
TITRE ORIGINAL: パレード
ANNEE DE SORTIE : 2010
GENRES: DRAME
REALISATEUR: ISAO YUKISADA
ADAPTE DE : roman de Shuichi Yoshida du meme titre
RECOMPENSES : au Festival International du Film de Berlin (2010)
CASTING :
TATSUYA FUJIWARA (Battle royal, 2000; Sabu, 2002; Moonlight jellyfish, 2004; Death Note, 2006; Chameleon, 2008; Kaiji, 2009; You dance with the summer, 2010; A man with style, 2011; Welcome home, Hayabusa, 2012; I'm flash, 2012)
aka Naoki Ihara
KARINA (Talk talk talk, 2007; Sky of love, 2007; Daisuki, 2008; Love shuffle, 2009; Love come, 2010; Misaki Number One, 2011; Bunny drop, 2011; Priceless, 2012; Girls for keeps, 2012)
aka Mirai Soma
SHIHORI KANJIYA (Buzzer beat, 2009; Wonderful days, 2009; Mr. Straightforward, 2010; Bartender, 2011; The Hanawa Sisters, 2011; Train brain express, 2012; Kiss, 2013)
aka Kotomi Okochi
KENTO HAYASHI (The Battery, 2007; Dive, 2008; Love fight, 2008; A little princess, 2009; Time lost, time found, 2009; Listen to my heart, 2009; The Brothers Karamazov, 2013)
aka Satoru Kokubo
SYNOPSIS :
Kim Min déménage à Kyoto pour les raisons professionnelles de son père. Un beau jour, il rencontre Nanae Sasaki, dans un sanctuaire, et tombe amoureux d'elle dès le premier regard. Celle-ci étudie dans la même université que lui, et Min va tout faire pour attirer son attention. Malgré les difficultés linguistiques, une belle histoire d'amour va se créer entre eux. Mais un jour, Nanae déménage sans un mot... (nautiljon _ mimi_tomoe)
OST :
TRAILER :
Credit : Sablebeige
09 février 2013
GIN LEE
GIN LEE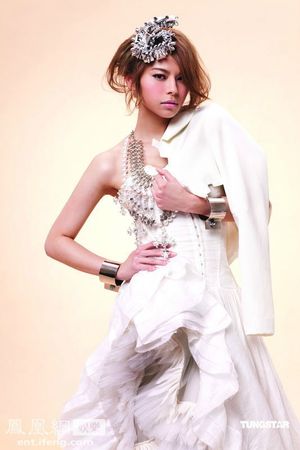 NOM DE SCENE: GIN LEE
NOM CIVIL: Li Xing Ni
NOM ORIGINAL: 李幸倪
NATIONALITE: MALAYSIE
DATE DE NAISSANCE: 26 AOUT 1987
DEBUTS: 2009
GENRE(S) : CPOP, MANDOPOP
LABEL: BMA RECORDS
SITEWEB: http://www.bma.com.hk/records.php

PRESENTATION: Née en Malaysie, Gin Lee connait un véritable succes à Hong Kong ou elle réside actuellement.
DISCOGRAPHIE :
2009 - One & Only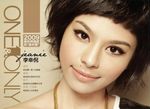 2011 -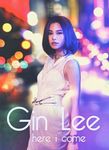 Here I come EP
2012 - Gin Lee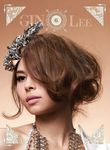 VIDEOS :
"1st date" clip
Credit : GinLeebma
"Superwoman" live
Credit : CM Lee
Recompenses et live sur TVB decembre 2012
Credit : jasonngtwins
"If I ain't got you" (Alicia Keys cover) live
Credit : feifeicheer
02 février 2013
PHANTOM
PHANTOM
NOM : PHANTOM
NOM ORIGINAL: 팬텀
NATIONALITE: COREE
DEBUTS: 2010
GENRE(S) : KPOP, HIP HOP

LABEL: Brand New Music
SITE OFFICIEL: http://cafe.daum.net/Phantomism
RECOMPENSES : Meilleur rookie du mois (decembre) en 2011 aux Cyworld Digital Music Awards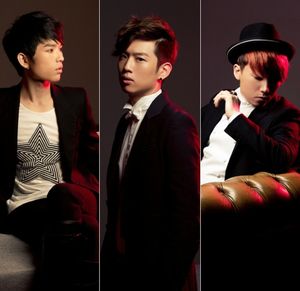 MEMBRES :
KIGGEN (leader)
NOM CIVIL: LEE KI WON
DATE DE NAISSANCE: 13 mars 1979
SANCHEZ
NOM CIVIL: SHIN JAE MIN
DATE DE NAISSANCE: 17 octobre 1986
HANHAE
NOM CIVIL: JUNG HAN HAE
DATE DE NAISSANCE: 17 avril 1990
DISCOGRAPHIE :
2011 : Hole in your face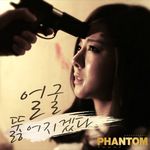 2012 : Phantom city
2012 :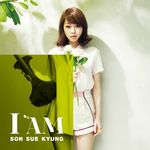 I am
2013 :
VIDEOS :
"19 song" MV
Credit : brandnewmusickorea
"Burning" live @Yoo Heol Sketchbook 120817
Credit : endlessong0816
01 février 2013
SUNG SIKYUNG
SUNG SIKYUNG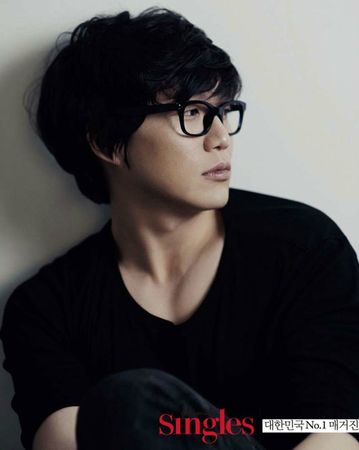 NOM DE SCENE: SUNG SIKYUNG
NOM CIVIL: SUNG SIKYUNG
NOM ORIGINAL: 성시경
NATIONALITE: COREE
DATE DE NAISSANCE: 17 AVRIL 1979
DEBUTS: 2000
GENRE(S) : KPOP, BALADES
LABEL: JELLYFISH ENTERTAINMENT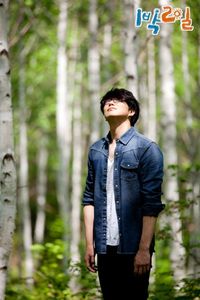 SITEWEB: http://jelly-fish.co.kr/

PRESENTATION: Depuis 2012, il est membre de l'emission hebdomadaire 1 night & 2 days (KBS)

Compositeur OST de : Spring Waltz, Worlds Within, Secret Garden, Lie to me, A thousand day promise, Oohlala couple.
RECOMPENSES :
2001 : Meilleur nouvel artiste solo et meilleur artiste solo aux MAMA
2005 : Top 10 KPOP Songs de l'annee "Take Care" aux Soompi Gayo Awards
2006 : Chanson du mois (novembre) "On The Street" aux Cyworld Digital Music Awards / Top 10 KPOP Songs de l'annee "On The Street" aux Soompi Gayo Awards
2011 : Nominations suivantes : artiste de l'annee et meilleur artiste masculin aux MAMA / Golden Disk Album The First et Artiste le plus populaire aux Golden Disk Awards
DISCOGRAPHIE :
2001: Vol.1 Like the first time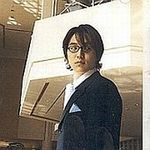 2002 : Vol. 2 Melodie d'amour
2003 :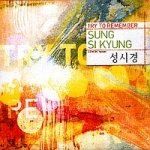 Vol. 2.5 Try to remember
2003 : Vol. 3 Double life : the other side
2004 : Vol. 3.5 Dream of blue light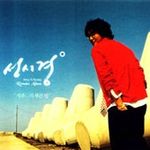 2006 : The Ballads
2008 :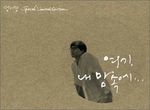 Vol. 6 Here in my heart
2011 : First
VIDEOS :
"Road to me" live @Music Camp
Credit : MBCkpop
"Even now" clip
Credit : LOENENT
Live avec CL (2NE1)
Credit : simhye6
AUDIO "The place where I'll live" (Oohlala Couple OST)

Credit : minah H
27 janvier 2013
PSY VAINQUEUR AUX NRJ MUSIC AWARDS 2012
PSY VAINQUEUR AUX NRJ MUSIC AWARDS 2012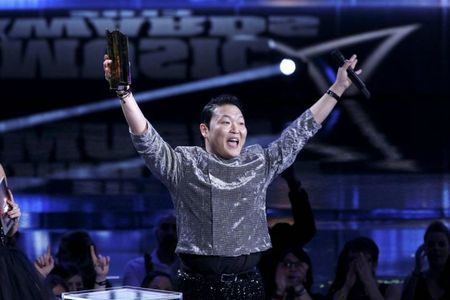 La France compte des rendez-vous annuels immanquables du showbiz. L'une des radios les plus populaires de France et sa cérémonie de récompenses fait désormais partie du calendrier des peoples. La Croisette qui a l'habitude d'accueillir les plus grands du 7e art, se voit ville hôte en chaque debut d'année des NRJ Music Awards.
Shakira, Black Eyed Peas, Alicia Keys, One Direction... autant de célébrités internationales qui défilent sur la scène francaise. A l'occasion de cet événement musicale qui célèbre les meilleures performances musicales de l'année passée, il était impossible de zapper l'incroyable buzz coréen 'Gangnam Style'.
Le rappeur PSY a fait le déplacement à Cannes pour interpréter en ouverture de cérémomie son hit. Et il faut dire que PSY est l'un des grands vainqueurs de la soirée (avec Sexion d'Assaut) car il est reparti avec deux prix : award d'honneur et meilleur clip 2012.
A noter également que PSY a été annoncé pour chanter lors de la prochaine cérémonie d'investiture de la nouvelle présidente de la Corée du Sud, Park Geun Hye, qui aura lieu le 25 février 2013.
TITRE SINGLE : Gangnam Style
VIDEO :
Live 26/01/2013
Source : TF1
Pichu ~
20 janvier 2013
JOEY YUNG
JOEY YUNG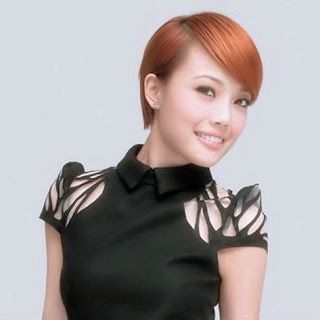 NOM : JOEY YUNG
NOM CIVIL : JOEY YUNG CHO YEE
NOM ORIGINAL : 容祖兒
AUTRES NOMS : Cho B, Jo-Jo
NATIONALITE: HONG KONG
DEBUTS: 1999
GENRE(S) : CPOP
SITE OFFICIEL: http://www.joeyyung.hk/
LABELS: EEG, Avex Entertainment
DATE DE NAISSANCE: 16 juin 1980
LANGUES : Cantonais, Mandarin, Anglais
RECOMPENSES : Prix d'artiste la plus populaire ex-aequo avec Raymond Lam aux TVB Golden Music Awards 2012 (pour la 5e annee consecutive pour Joey)
DISCOGRAPHIE :
1999 : Joey EP
2000 : Who will love me
2001 : All summer holiday
2003 : My pride
2003 :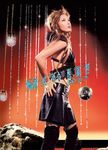 Show up !
2004 : Nin9 2 5ive
2004 : Give love a break
2005 : Bi-heart
2006 : Ten most wanted
2006 : Close up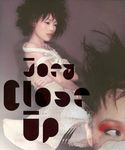 2007 : Glow
2008 :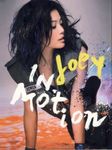 In motion
2009 : A time for us
2011 : Joey & Joey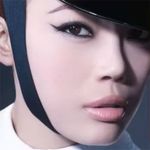 2012 : Moment
VIDEOS :
"My pride" clip
Credit : dobiegniewianeczka
Live @Royal Albert Hall 2011 (fancam)
Credit : dslai2001
"Intensify" clip