23 mars 2011
NOUVEAU GROUPE "LEADER"
NOUVEAU GROUPE "LEADER"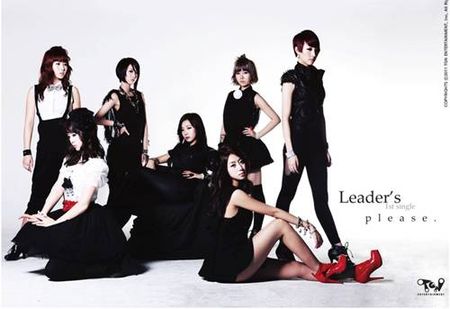 L'agence TGN Entertainment lance un nouveau groupe composé de 7 filles, les Leader.
"We hope to show new potential in the girl group market with a concept and music style that sets Leader's apart from others."
Découvrez Cindy, Yeonshil, Serin, Dahae, Seolji, Yesol et Chaeyool.
Leur premier album est constitué de deux chansons qui entrent dans la grande famille du RNB coréen.
Alors, bel(les) et bien différentes des autres girls band???
A vous d'en juger.
Voici ci-dessous l'intégralité de leurs singles "Please" et "Hope".
TITRE SINGLE: Please
AUDIO:
"Please"
"Hope"
Source: allkpop
Pichu ~
17 mars 2010
G-DRAGON INNOCENT
Suite... et surtout fin des polémiques autour de G-Dragon!!
Hier, mardi 16 mars 2010, le leader des Big Bang a été innocenté de TOUTES les accusations [scène obscène pour le live de "Breathe" et violation des lois protégeant les mineurs]. Le jeune chanteur a dû payer une amende de 3,000,000 Won (soit 1900€), mais toujours soutenu par sa "famille" YG Entertainment, ils ont déclaré: "[The issue] didn't go to court or anything so we consider it basically a pretrial disposition." [trad. (Le conflit) n'a pas été porté devant les tribunaux alors nous envisageons cela comme un arrangement amiable"].
Que tou(te)s les fans se rassurent, G-Dragon continuera son show...
Hasard de la vie ou timing judico-marketing, la prévente pour le cd du concert "Shine a light" est désormais en vente avec un cd tout public et un autre pour les plus de 19ans :o
http://www.yesasia.com/us/g-dragon-concert-live-album-shine-a-light-2cd/1022384284-0-0-0-en/info.html
TRACKLIST:
CD 1
01. Heartbreaker
02. This love
03. HELLO (feat. Dara)
04. Gossip man
05. My age is 13+Storm+Fly Gentlemen+G-DRAGON
06. A Boy
07. The Leaders (feat. TEDDY, CL)
08. Breathe
09. Butterfly
10. But I love u
11. She's Gone(feat. Kush)
12. Only Look at Me(feat. Taeyang)
13. Korean Dream (feat. Taeyang)
14. 1 Year Station
15. Lies
16. Heartbreaker(Encore)
CD 2: Bonus CD
01. Heartbreaker (feat. Flo Rida)
02. This love (G.H remix)
03. A Boy (Choice37 remix)
04. Breathe (hitchhiker remix)
05. Heartbreaker (Choice37 remix)
Pour les Parisiens, le livre du concert est disponible en boutique chez TAI YOU!!
http://www.taiyou.fr/newsdesk_info.php?newsdesk_id=234&osCsid=53861b9856967da5b0ea6f0fe18bc3dd
~ Pichu ~