LIAISONS DANGEREUSES
LIAISONS DANGEREUSES
ORIGINE: COREE - CHINE
TITRE : LIAISONS DANGEREUSES
TITRE ORIGINAL: 위험한 관계
ANNEE DE SORTIE : 2012
GENRES: DRAME, ROMANCE
REALISATEUR: JIN HO HUR
CASTING:
ZHANG ZIYI (Tigre et dragon, 2000; Rush Hour 2, 2001; The Legend of Zu, 2001; Hero, 2002; 2046, 2003; Secret des poignards
volants, 2004, Memoires d'une geisha, 2005, La revanche de Sophie, 2009)
aka Du Yufen
CECILIA CHEUNG (Tokyo raiders, 2000; The Legend of Zu, 2001; Lost in Time, 2003; The promise, 2005;Speed angels, 2011)
aka Mo Jiefu
JANG DONG GUN (Taegukgi, 2004; Typhoon, 2005; Good morning, president, 2009; My way, 2011)
aka Xie Yifan
SYNOPSIS: Alors que la guerre menace à Shanghai, la séduisante libertine Mo Jieyu tombe sur un ancien amant Xie Yifan, coureur de jupon qui n'a jamais cessé de l'aimer. Elle le persuade de jouer à un jeu périlleux : il devra séduire l'innocente et naïve Du Fenyu puis la quitter. Le jeu s'avère de plus en plus dangereux à mesure que Xie tombe amoureux de Du.
TRAILER :
21 novembre 2013
GIRLFRIENDS
GIRLFRIENDS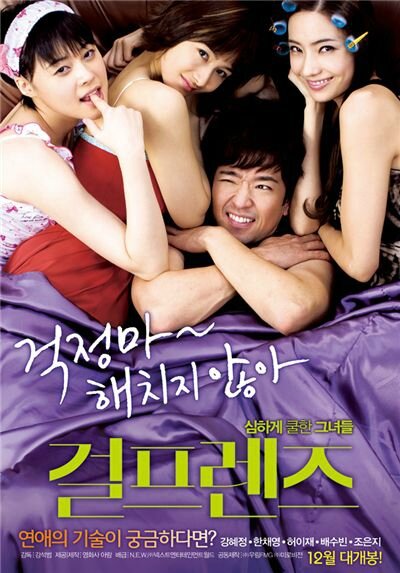 ORIGINE: COREE
TITRE : GIRLFRIENDS
TITRE ORIGINAL: 걸프렌즈
ANNEE DE SORTIE : 2009
GENRES : COMEDIE, ROMANCE
REALISATEUR : KANG SEOK BEOM
ADAPTE DE : roman de Lee Hong
CASTING :
BAE SOO BIN

aka Jin Ho

KANG HYE JUNG
aka Song-Yi
HAN CHAE YOUNG
aka Se-Jin
SYNOPSIS: Song-Yi est une jeune femme qui est agee de la vingtaine qui pense sincerement que Jin Ho est son fiance. Mais un jour, elle fait la rencontre de deux autres femmes qui affirment qu'il est leur fiance !
TRAILER:
Credit : 민 병석
15 novembre 2013
FRIEND
FRIEND
ORIGINE: COREE
TITRE : FRIEND
TITRE ORIGINAL: 친구
ANNEE DE SORTIE : 2001
GENRES : DRAME, GANGSTER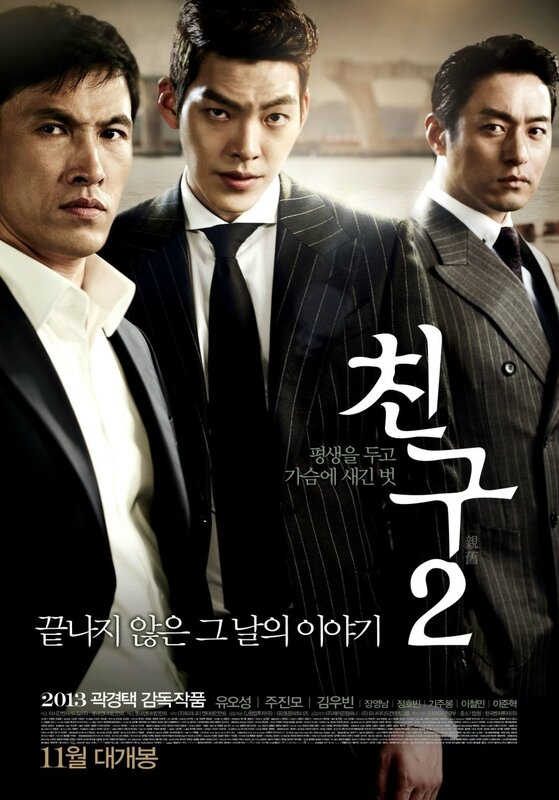 REALISATEUR : KWAK KYUNG TAEK
RECOMPENSES : Meilleur acteur et meilleur second role masculin au 46eme Asia Pacific Film Festival (2001), Holden Award au 16eme Festival International du Cinema Jeune de Turin, Student Jury Award au 9eme Manaki Brothers International Cinematography Film Festival ; et nomination au 26eme World Film Festival de Montreal pour le Grand Prix des Ameriques
SUITE : FRIEND 2 (2013) avec Yu Oh Seong et Kim Woo Bin
CASTING :
JANG DONG GUN

aka Dong-su
YU OH SEONG
aka Joon-seok
SYNOPSIS: Friend raconte l'histoire de quatre amis d'enfance, qui marchaient avec fierte dans les rues lorsqu'ils etaient ensemble. Joon-suk, le fils d'un chef de gang vigilant; Dong-su, le seul fils d'un entrepreneur de pompes funèbres; Sang-taek, un étudiant diligent; Joong-ho, qui ne tient jamais sa bouche fermée. La vie de chacun prend une tournure differente à mesure qu'ils grandissent et leurs chemins continuent de se croiser. Joon-suk devient le premier homme de main dans l'organisation criminelle de son père et Dong-su est au service de gangs rivaux de Joon-Suk. Sang-taek et Joong-ho sont impuissants et ne peuvent que regarder leurs deux meilleurs amis s'affronter...
TRAILER:
Credit : wokuszko
23 septembre 2013
MALE INSTRUCTION MANUAL
MALE INSTRUCTION MANUAL
ORIGINE: COREE
TITRE : MALE INSTRUCTION MANUAL
AUTRE TITRE : HOW TO USE GUYS SECRET TIPS
TITRE ORIGINAL: 남자사용설명서
ANNEE DE SORTIE : 2013
GENRES : COMEDIE, ROMANCE
REALISATEUR : Lee Won Suk
SITEWEB : http://www.mensmanual.kr/

CASTING :
LEE SI YOUNG

aka Choi Bo Na
OH JUNG SE
aka Lee Seung Jae
SYNOPSIS:
Directrice adjointe TV Choi Bo-Na est chargee de tout et rien au travail. En raison de son emploi du temps charge, son look est toujours un desastre. Choi Bo-Na n'a pas eu de rendez-vous galant depuis des lustres.
Un jour, sa societe realise le tournage d'une publicite sur une plage. Le celebre acteur Lee Seung-Jae apparait pour le tournage, mais il se plaind immediatement de la grande taille de la femme avec qui il doit tourner. A cause de cela, tout le concept du tournage doit etre change. Choi Bo-Na se plaint de l'attitude de Lee Seung-Jae, ce dernier la deteste encore plus.
Apres la fin du tournage, Choi Bo-Na se retrouse seule a marcher sur la plage. Le staff est deja retourne a Seoul sans elle. Elle tombe sur un vendeur de cassettes, alors qu'elle fouille les videos, le bon vendeur la pousse a acheter un "set" educatif a $500 sur comment utiliser les hommes avec differents actes persuasifs. Ces cassettes vont changer la vie de Choi Bo-Na.
TRAILER:
Credit : koreandramadiary
26 août 2013
ALWAYS
ALWAYS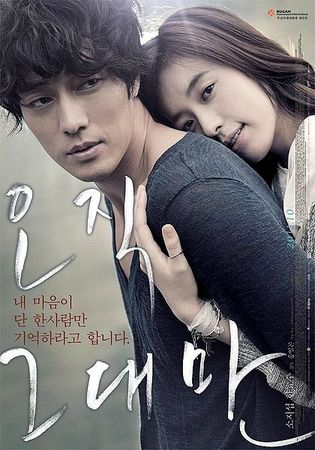 ORIGINE: COREE
TITRE : ALWAYS
AUTRE TITRE : ONLY YOU
TITRE ORIGINAL: 오직 그대만
ANNEE DE SORTIE : 2011
GENRES : DRAME, ROMANCE
REALISATEUR : SONG IL GON
SITEWEB : http://www.2011onlyu.co.kr/
CASTING :
SO JI SUB

aka Jang Cheol-Min
HAN HYO JOO
aka Ha Jung-Hwa
SYNOPSIS:
Cheol-min, un homme au passe sombre et mysterieux, obtient un emploi a temps partiel dans un parking en tant que gardien. Assis en permanence dans une mini cabine a regarder une petite television. Un jour, une femme denommee Jung-hwa entre dans la cabine et lui tient compagnie. Il comprend qu'elle est aveugle et le confond avec le precedent employe du parking. Continuant de venir regarder des dramas avec Cheol Min, ce dernier finit par s'attacher a elle.
Un jour, Cheol-min accompagne Jung-hwa a un spectacle. Apres avoir dine ensemble, elle lui pose des questions sur son passe. Il reprimande Jung-hwa pour cela. Leur relation devient alors tendu. Plusieurs jours plus tard, le patron de Jung Hwa la suit et tente de l'agresser. Cheol-min intervient et frappe le patron sauvagement. Ils emmenagent ensemble. Ce couple peu orthodoxe peut-il reellement vivre une belle histoire d'amour ?
TRAILER:
Credit : Pierce Conran
02 avril 2013
THE KIRISHIMA THING
THE KIRISHIMA THING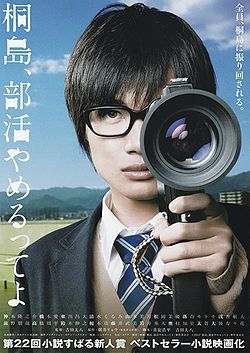 ORIGINE: JAPON
TITRE : THE KIRISHIMA THING
TITRE ORIGINAL: 桐島、部活やめるってよ
ANNEE DE SORTIE : 2012
GENRES : DRAME, LYCEE
REALISATEUR : DAIHACHI YOSHIDA
ADAPTE DE : roman de Ryo Asai
SITEWEB : http://www.kirishima-movie.com/
CASTING :
RYUNOSUKE KAMIKI

aka Ryoya Maeda
AI HASHIMOTO
aka Kasumi Higashihara
MASAHIRO HIGASHIDE
aka Hiroki Kikuchi
SYNOPSIS: The Kirishima Thing raconte l'histoire de deux lycéens qui vont dépasser les frontieres entre l'élite et la classe inférieure dans leur lycée. Ryoya Maeda, de la classe inférieure, est membre du club de cinema, tandis que Hiroki Kikuchi, de l'élite, est un membre inactif de l'équipe de baseball du lycée.
TRAILER:
Credit : cinematoday
20 mars 2013
LA VIE SANS PRINCIPE
LA VIE SANS PRINCIPE
ORIGINE: HONG KONG
TITRE : LA VIE SANS PRINCIPE
TITRE ORIGINAL: 夺命金
ANNEE DE SORTIE : 2011
GENRES : DRAME, THRILLER
REALISATEUR : JOHNNIE TO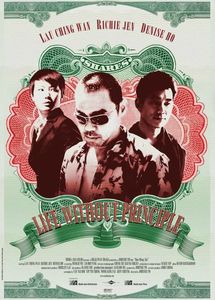 RECOMPENSES : En competition au 68e festival du cinema de Venise et nomination aux Oscars dans la categorie Meilleur film etranger.
CASTING :
LAU CHING WAN / SEAN LAU (The executioners, 1993; C'est la vie mon cheri, 1994; Mother of a different kind, 1995; Black Mask, 1996; The victim, 1999; Running out of time, 1999; Fat choi spirit, 2002; Lost in time, 2003; Driving miss wealthy, 2004; My name is fame, 2006; Mad detective, 2007; Poker king, 2009; Overheard, 2009; Le grand magicien, 2012; The bullet vanishes, 2013)
aka Panther
RICHIE REN (Summer holiday, 2000; Life express, 2001; Silver Hawk, 2004; Seoul raiders, 2005; 2 become 1, 2006; Lady Cop & Papa crook, 2008; The sniper, 2009; Fire of conscience, 2010; Punished, 2011; Afternoon delight, 2012)
aka Cheung Ching Fong
DENISE HO (Look for a star, 2009; I love Hong Kong 2012, 2012; Young and dangerous : reloaded, 2013)
aka Teresa
SYNOPSIS: Teresa, employée de banque ordinaire, incite ses clients à faire des investissements risqués pour remplir ses objectifs financiers.
Panther, escroc à la petite semaine, plonge dans le monde de la spéculation boursière dans l'espoir de gagner facilement de l'argent pour payer la caution d'un de ses amis qui rencontre quelques soucis avec la justice.
Enfin, l'inspecteur Cheung est un flic honnête. Jusque-là satisfait de son modeste train de vie, il a tout à coup un besoin d'argent criant lorsque sa femme verse un acompte pour acheter un appartement luxueux au-dessus de leurs moyens.
Tout sépare ces trois personnages jusqu'à ce que leur rapport à l'argent – et un mystérieux sac contenant cinq millions de dollars volés – les poussent à prendre des décisions cruciales malgré leurs cas de conscience. Trois vies bouleversées par le monde turbulent de Hong Kong, en plein marasme économique et financier. (allocine)
TRAILER:
17 mars 2013
THE GUILLOTINES
THE GUILLOTINES
ORIGINE: CHINE/ HONG KONG
TITRE : THE GUILLOTINES
TITRE ORIGINAL: 血滴子
ANNEE DE SORTIE : 2012
GENRE : ACTION/ WUXIA
REALISATEUR : ANDREW LAU
CASTING :
ETHAN RUAN

aka Leng
HUANG XIAOMING
aka Tianlang / Wolf
SHAWN YUE
aka Haidu
SYNOPSIS: Une unite d'elite de lutte contre le crime dans la cour d'un empereur chinois deploie leur talent d'escrimeurs pour combattre leurs ennemis.
TRAILER:
Credit : Phil Gillon
08 mars 2013
LOVE IN TIME
LOVE IN TIME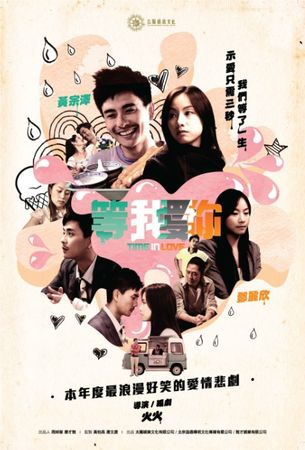 ORIGINE : HONG KONG

TITRE : LOVE IN TIME
TITRE ORIGINAL: 等.我愛你

ANNEE DE SORTIE : 2012
GENRES: ROMANCE, COMEDIE
REALISATEUR: LEE KA WING/ LEEFIRE
CASTING :
BOSCO WONG (War of in laws, 2005; Under the canopy of love, 2006; Dicey Business, 2006; Devil's Disciples, 2007; The seventh day, 2008; The gem of life, 2008; Burning flame 3, 2009; Growing through life, 2010; Grace under fire, 2011; Lives of omission, 2011)

aka Chung Chak
STEPHY TANG (Nine girls and a ghost, 2002; Dating death, 2004; Marriage with a fool, 2006; Love is not all around, 2007; L for Love L for lies, 2008; Nobody's perfect, 2008; Poker king, 2009; Love connected, 2009; Chase our love, 2011)

aka Lai Yan
SYNOPSIS : Bosco Wong joue un grossier et vulgaire marchand de glaces qui conduit sa camionnette de rue en rue. Dans le film, il partage une relation sentimentale compliquée avec Chung Chak.
OST :
TRAILER :
Credit : suneghk
28 février 2013
PSYCHOMETRY
PSYCHOMETRY
ORIGINE : COREE

TITRE : PSYCHOMETRY
TITRE ORIGINAL: 사이코메트리

ANNEE DE SORTIE : 2013
GENRES: POLICE, MYSTERE
REALISATEUR: KWON HO YOUNG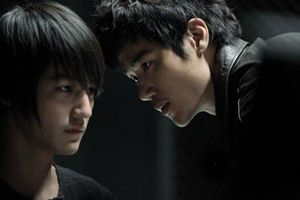 CASTING :
KIM KANG WOO (Breathless, 2003; Three Leaf Clover, 2005, Le Grand Chef, 2007; Five senses of Eros, 2009; A man's story, 2009; A better tomorrow, 2010; The taste of money, 2012; Haeundae Lovers, 2012)

aka Yang Choon-dong
KIM BUM (East of Eden, 2008; Boys over flowers, 2009; Dream, 2009; City lovers, 2010; Padam Padam, 2011; The wind that blows, 2013)

aka Joon
SYNOPSIS : Une petite fille est kidnappée et assassinée sous la juridiction du détective Yang Chun-dong. Durant l'enquete, il remarque que la scene de crime est identique à un mystérieux tag de rue et commence à traquer Joon, l'auteur du dessin.

Il est arreté mais Chun-dong comprend que Joon est doté de 'psychométrie', la capacité de voir le passé en touchant une personne ou un objet acec sa main droite. Il a toujours vécu seul, se reprochant se propre capacité. Il devient toutefois le principal suspect de l'enquete.

Chun-dong va se servir des pouvoirs de Joon pour traquer le véritable criminel comme il croit qu'il est le seul temoin de l'affaire.
OST :
TRAILER :
Credit : movietrailerkor