26 janvier 2013
THE PEACH TREE
THE PEACH TREE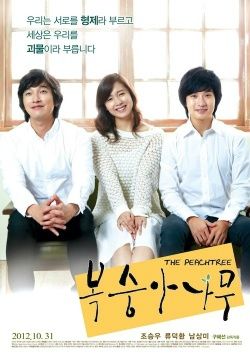 ORIGINE: COREE
TITRE : THE PEACH TREE
TITRE ORIGINAL: 복숭아나무
ANNEE DE SORTIE : 2012
GENRES: COMEDIE, ROMANCE
REALISATEUR: GOO HYE SUN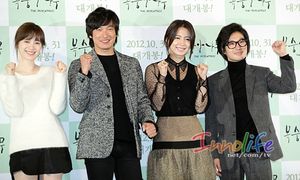 DETAILS : Long-metrage presenté en avant-premiere au festival du cinema de Busan en 2011, egalement projeté au festival de Bruxelles
CASTING:
NAM SANG MI (Sweet spy, 2005; Bad family, 2006; Time between wolf and dog, 2007; Gourmet, 2008; Invincible Lee Pyung Kang, 2009; Life is beautiful, 2010; Lights and shadows, 2011)
aka Park Seung-Ah
RYU DEOK HWAN (U-turn, 2008; God's quiz, 2010; Faith, 2012)
aka Dong-Hyun
CHO SEUNG WOO (Love phobia, 2006; Go go 70, 2008; The sword with no name, 2009; Perfect game, 2011)
aka Sang-Hyun
SYNOPSIS : The Peach tree raconte l'histoire de deux jumeaux qui tombent amoureux de la meme fille, Park Seung Ah.
OST :
TRAILER :
Credit : ghsvn1
14 janvier 2013
THE GRANDMASTERS
THE GRANDMASTERS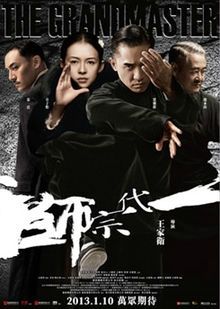 ORIGINE: HONG KONG
TITRE : THE GRANDMASTERS
TITRE ORIGINAL: 一代宗師
ANNEE DE SORTIE : 2012
GENRE: ACTION
REALISATEUR: WONG KAR WAI
DETAIL :
Long-metrage pour l'ouverture du 63e festival international de cinema de Berlin
CASTING:
TONY LEUNG (Police story, 1985; Mister dynamite, 1986; Operation condor, 1991; Mister cool, 1997; Rush hour, 1998; Shanghai Noon, 2000; Le medaillon, 2003; Le tour du monde en 80 jours, 2004; Le royaume interdit, 2008; Founding of a republic, 2009; Kung Fu Nanny, 2010; Karate Kid, 2010; Shaolin, 2011)
aka Yip Man
ZHANG ZIYI (The road home, 1999; Tigre et dragon, 2000; La legende de Zu, 2001; Hero, 2002; Purple butterfly, 2003; 2046, 2004; Le secret des poignards volants, 2004; Memoires d'une geisha, 2005; Sophie's revenge, 2009; Dangerous liaisons, 2012)
aka
CHANG CHEN (Happy together, 1997; Tigre et dragon, 2000; 2046, 2004; Three times, 2005; Silk, 2006; Breath, 2007; Les trois royaumes, 2008; The last supper, 2012)
aka
SYNOPSIS : L'histoire du maitre en arts martiaux qui a entraine Bruce Lee, Ip Man.
OST :
TRAILER :
Credit : ZZiyiTube
22 octobre 2012
LA FRANCE PRESENTE AU KPOP WORLD FESTIVAL
LA FRANCE PRESENTE AU KPOP WORLD FESTIVAL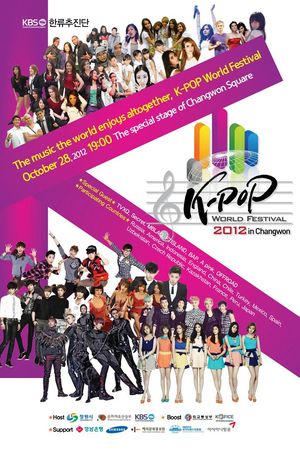 Alors que la vague de la Hallyu prend de plus en plus d'ampleur d'années en années, la Corée du Sud est en pleine effervescence pour les derniers préparatifs d'une compétition internationale, le Kpop World Festival. Pour sa seconde édition, cet événement est la version coréenne de l'Eurovision, ouverte à tous les amateurs de Kpop du monde entier.
Voici la liste des heureux participants qui s'envoleront pour Changwon le 24 octobre pour le début de l'aventure :
A Dream / MEXICO
Alem Star / KAZAKHSTAN
Angels / UZBEKISTAN
Fighting Souls / PERU
F.J.K / FRANCE
Imura Kyoko / JAPAN
Janaye & Symone / USA
Llonka / CHILE
Nadya & Marwah / INDONESIA
Nursena Demir / TURKEY
O.M.G / CZECH
SSTRCCI ATELLASS / SPAIN
TAK & MK / RUSSIA
Tita Lau / ENGLAND
Zhang bi chen / CHINA
Et on ne va pas gouter notre plaisir d'etre chauvin et soutenir le trio francais, F.J.K. Janitta, Kathleen et Fitzgerald sont agés de 18, 20 et 23 ans, et comme de nombreux Kpop addicts, ont découvert la culture pop coréenne via Internet et les nombreux blogs. Découvrez ci-dessous la video qui leur a permis de décrocher le précieux sésame. D'après le site Internet des organisateurs, notre trio national a des gouts musicaux variés et apprécie la musique des CN Blue, 2NE1, INFINITE, 2PM, Davichi et EXO-K.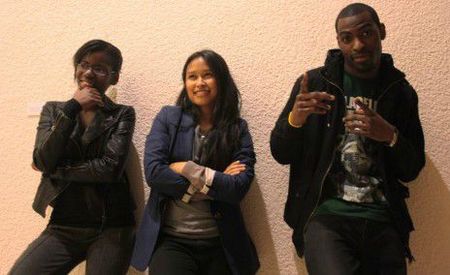 ©Etienne Baldit
Malheureusement, aucun de leur idol preféré ne sera présent lors de l'événement. Toutefois, le gouvernement, co-organisateur du festival, a preparé un panel de surprises, et notamment la présence des TVXQ, MBLAQ, FT ISLAND, SECRET, BAP, A PINK et OFFROAD.
Fighting F.J.K. !!!
Site officiel : K-pop world festival 2012
Facebook officiel : K-Pop world festival
Twitter : K-Pop world festival
Youtube : K-Pop world festival
VIDEO :
F.J.K. au Concours des Etoiles Montantes de la K-Pop à Paris
Credit : worldfestival kbskpop
Source : "La K-Pop a son Eurovisionl, et la France y sera", par Etienne Baldit, Rue89, 22/10/2012
Pichu ~
21 septembre 2012
HA HA HA
HA HA HA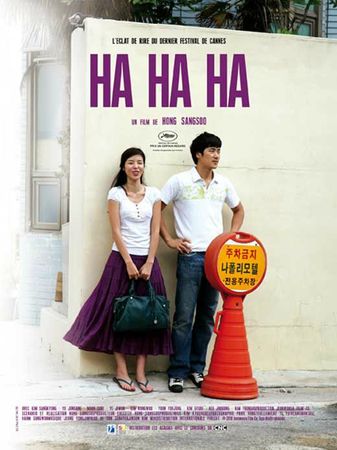 ORIGINE: COREE
TITRE : HA HA HA
TITRE ORIGINAL: 하하하
ANNEE DE SORTIE : 2011
GENRE: DRAME
REALISATEUR: HONG SANG SOO
RECOMPENSES : Prix Un certain regard au festival de Cannes en 2010
CASTING:
KIM SANG KYUNG (Memories of murder, 2003; May 18, 2007)
aka Jo Mun-kyung
MOON SO RI (Peppermint candy, 2000; Oasis, 2002; Une femme coreenne, 2003; Family ties, 2006; Mister K, 2013)

aka Wang Seon-gok
YU JUNSANG (Return, 2007; My husband got a family, 2012; In another country, 2012)
aka Bang Jung-shik
SYNOPSIS: Un réalisateur coréen émigré au Canada revient en Corée du Sud et rencontre un ami critique de cinéma. Ils rencontrent une jeune femme...
TRAILER :
18 mars 2011
KODA KUMI EN DUO AVEC FAR EAST MOVEMENT [UPDATE]
KODA KUMI EN DUO AVEC FAR EAST MOVEMENT [UPDATE]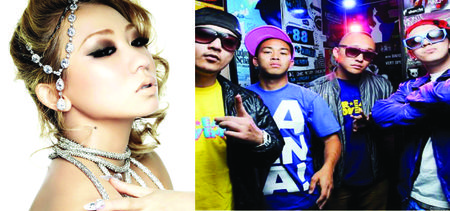 La diva nippone est annoncée pour une collaboration avec le groupe californien le plus tendance de l'année: Far East Movement.
Une collaboration à double sens
Le single intitulé "Make it bump" sera un bonus track de l'album Free wired (édition Japon).
Dans le même temps, le titre inédit "Pop diva DJ Virman remix - FEM" fera partie du prochain album de Koda Kumi, Driving Hit'S 3.
Les deux albums sont prévus pour le 23 Mars.
A noter que le groupe américain se déplacera pour le festival Springroove 2011 aux côtés des 2NE1 et GD & TOP (Big Bang), Mark Ronson, Keri Hilson ou encore Trey Songz.
Compte tenu des circonstances actuelles au pays du soleil levant, affaire à suivre...

[UPDATE 20.03.11]
AUDIO:
"Make it bump"
Source: Tokyohive
Pichu ~
30 janvier 2011
COME RAIN COME SHINE
COME RAIN, COME SHINE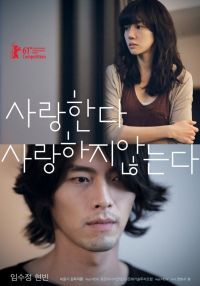 ORIGINE: COREE
TITRE : COME RAIN, COME SHINE
AUTRE TITRE: LOVE ME, LOVE ME NOT
TITRE ORIGINAL: 사랑한다, 사랑하지 않는다
ANNEE DE SORTIE : 2011
GENRE: DRAME
REALISATEUR: LEE YON KI
DETAIL: Invité à la Berlinale 2011
CASTING:
HYUN BIN (Ireland, 2004; My lovely Kim Sam Soon, 2005; A millionnaire first love, 2006; Secret Garden, 2010; Late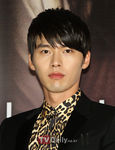 autumn, 2011)
aka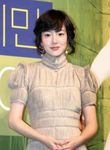 IM SOO JEONG (Deux soeurs, 2003; Ing, 2003; Sorry I love you, 2004; I'm a cyborg but that's Ok, 2006; Happiness, 2007)
aka
SYNOPSIS: Come rain, come shine raconte l'histoire d'un couple. Ensemble depuis cinq ans, elle quitte son mari pour un autre homme. Rester ou partir? Les problèmes conjugaux sont les principaux thèmes de ce long-métrage.
OST:
VIDEOS:
Extrait de la conférence de presse 20/01/2011
14 janvier 2011
BYAKUYAKO AU FESTIVAL DE BERLIN
BYAKUYAKO AU FESTIVAL DE BERLIN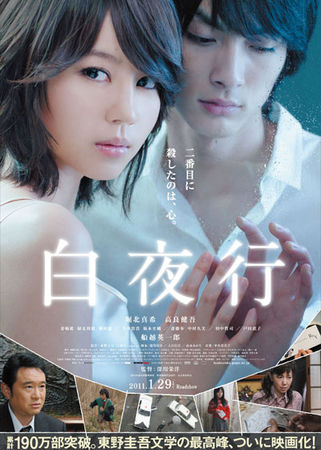 L'adaptation du roman éponyme de Higashino Keigo sur grand écran a eu l'heureuse surprise d'être sélectionnée pour la 61e édition de la Berlinale [10 au 20 Février 2011].
Le film réalisé par Fukagawa Yoshihiro figure dans la catégorie "Panorama" (soit film étranger) du festival international de Berlin. L'année précédente, un autre réalisateur japonais, Yukisada Isao, avait été récompensé dans cet événement cinématographique [pour le film Parade].
Une reconnaissance des professionnels du 7e art qui a profondément touché le metteur en scène et l'actrice principale, Horikita Maki. Celle-ci avait déclaré être fan du roman mais nourrissait tout de même quelques angoisses à l'idée d'interpréter le personnage diabolique :
"I'm really excited that 'Byakuyako' has been chosen for Berlin Film Festival now,"
"It has been the most challenging movie for me so far and I've never been so determined about a project. We've put our heart and soul into this movie and I'm very happy that more people in the world will be able to watch it now."
Le long-métrage sera projeté au Japon dès le 29 Janvier.
TRAILER:
Source: Tokyohive
Pichu ~
18 octobre 2010
NYCPO SE MET A LA KPOP
NYCPO SE MET A LA KPOP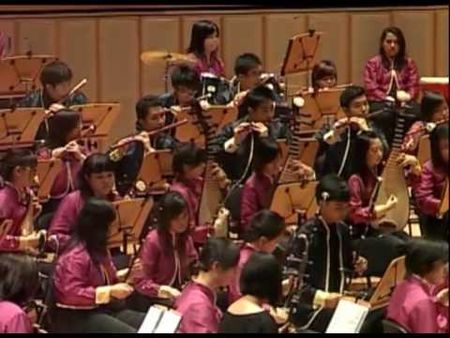 La K-Pop dépasse les frontières géographiques et musicales. Envie d'écouter une version instrumentale et classique de "Gee" ou "Sorry sorry"?
Cela a été possible le temps d'un festival de musique à Singapour.
Le NanYang Chinese Polytechnic Orchestra [NYCPO], orchestre chinois réputé mondialement, a mis à l'honneur la K-Pop pour le festival YFEST 2010 à l'Esplanade Concert Hall à Singapour. Le NYCPO, sous le tutelle de M. Mike Chiang, a joué les plus grands tubes de la K-Pop.
Parmi les artistes et titres repris, on peut citer:
SHINee "Lucifer"
Super Junior "Bonamana"
T-ARA "I go crazy because of you"
BIG BANG "Haru haru"
BEAST "Shock"
FT Island "I hope"
Wonder Girls "2 different tears"
4 minute "Huh"
2AM "I will never let you go even if I die"
DBSK "I believe"
Girls Generation "Gee" [video du live disponible ci-dessous]
Un extrait de leur page Youtube:
Under the baton of Mr. Mike Chiang, NYPCO has grown to become a young and upcoming orchestra with 120 members and alumni. The orchestra experiments with a myriad of repertoire from contemporary pop songs, western classical to traditional Chinese music. [...]
In conjunction with the Youth Olympic Games 2010, NYPCO was invited by Esplanade to present a concert titled Supah Heroes in the Youth Festival 2010.
VIDEOS:
"Gee" [Girls Generation ] par NYPCO
Source: allkpop
Pichu ~
15 octobre 2010
FESTIVAL YG ENTERTAINMENT
YG FAMILY CONCERT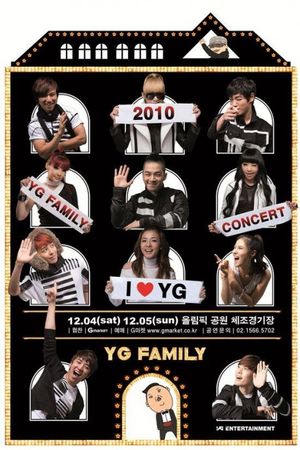 A l'image du concurrent, SM Entertainment et son SM Town Live, le groupe YG Entertainment va organiser le YG FAMILY CONCERT à Seoul les 4 et 5 Décembre dans le Stade Olympique de la ville. Après trois ans d'absence du festival, on se doute que les fans vont se ruer sur les tickets.
Pour info: les billets seront en vente le 21 Octobre via Gmarket.
Rappelons que les grands noms de la maison seront au rendez-vous: BIG BANG, 2NE1, Se7en, Gummy; ainsi que PSY, le rookie de la bande. Alors si vous êtes de passage à Seoul début décembre, ne manquez surtout pas ce BIG SHOW.
En particulier tous les VIPs, après près de deux ans d'activités à l'étranger, les BIG BANG feront leur comeback:
"We're extremely excited at the thought of being able to meet our fans after such a long absence."
Source: allkpop
Pichu ~
01 juillet 2010
JAPAN EXPO
JAPAN EXPO 2010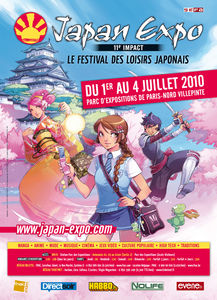 Top départ pour 4 jours de folie au Parc des Expositions de Paris. Sous un soleil de plomb, les fans de manga, cosplay, jeux videos, J-pop, arts martiaux, se retrouvent pour leur rendez-vous annuel.
Les organisateurs du plus grand événement des cultures asiatiques en France ont frappé fort pour l'édition 2010 en invitant entre autre, l'auteur des cultissimes séries City Hunter et Cat's Eyes, Tsukasa Hojo, mais également le créateur du jeu video Metal Gear Solid, Hideo Kojima.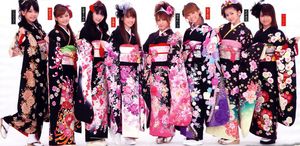 La passion de tous les amateurs de J-Pop pourra être satisfaite cette année avec, non plus les AKB48, mais le girls band, Morning Musume (actif depuis 1997!).
Que dire de plus que si vous êtes sur paname entre le 1er et le 4 juillet, foncez à la Japan Expo!
Evénement: du 01 juillet 2010 au 04 juillet 2010
Sources: http://www.japan-expo.com/
Dossier "Une Japan Expo très animée", 20mn, Jeudi 1er Juillet 2010, Joel Métreau, Stéphane Leblanc, J.M.
Pichu ~