18 mars 2013
SUCCESS-STORY DE FRANCAIS EN COREE DU SUD
SUCCESS-STORY DE FRANCAIS EN COREE DU SUD
(c) M6

Les francais ont le vent en poupe au pays du matin calme et cela se confirme par un mini-reportage diffusé par M6 hier dans son émission hebdomadaire 66 minutes.
Le fil rouge de ce documentaire n'est ni la Kpop mania ni le phénomene PSY, mais l'histoire de quatre francais partis à l'aventure en Coree du sud. Vous pourrez alors retrouver :
Une Lyonnaise, fan de K pop qui souhaite ajouter une expérience pertinente sur son CV ou, pourquoi pas, créer une entreprise franco-coréenne,
un Marseillais, qui espère travailler dans une maison de disque en Corée du Sud et qui découvre le monde du travail coréen en postulant dans une pâtisserie,
une styliste, qui a crée sa marque de vêtements en Corée du Sud et qui ne prévoit plus de quitter le pays,
un Français devenu la coqueluche de la télé coréenne : mannequin, comédien de publicité et de séries et bientôt… animateur !
Pour celles et ceux qui ont loupé l'emission, séance replay ci-dessous ! Un gros merci à nabilbelgium qui a gentiment posté la video sur la Toile.
N'hésitez pas à nous faire part de vos commentaires et à partager !
Aja aja fighting ~
VIDEO :
Credit : nabilbelgium
Source : M6, pvtistes.net
Pichu ~
26 février 2013
JYJ & PSY A LA CEREMONIE D'INVESTITURE DE PARK GEUN HYE
JYJ & PSY A LA CEREMONIE D'INVESTITURE DE PARK GEUN HYE
Credit : Time
Hier, lundi 25 février 2013, a vu la première femme coréenne à la tete du pays au matin calme.

Park Geun Hye, fille de l'ancien dictateur militaire de la Corée du Sud, Park Chung Hee (1962 - 1979), agée de 61ans, est désormais le 11ème chef d'Etat. Véritable révolution politique et bouffée d'air frais dans ce monde o combien machiste.

En décembre 2012, les sud-coréens ont décidé de donner la majorité de leur voix à cette femme, représentante du parti Saenuri (anciennement appelé Grand parti national, maintenant également connu sous le nom de Parti de la nouvelle frontiere). Tout comme les Etats-Unis ou la cérémonie officielle d'investiture s'effectue deux mois après les élections, les officiels ont célébré hier l'investiture de Park Geun Hye à la présidence de la Corée du Sud, à Seoul, devant près de 70 000 personnes. Alors que Barack Obama avait à ses cotés les immenses stars internationales, Beyoncé et Kelly Clarkson, Park Geun Hye n'a pas non plus à rougir de ses 'supporters' en la personne de PSY et du trio JYJ.
Au cours du traditionnel discours d'investiture, le sujet de la menace nord-coréenne a bien évidemment été abordé, et le moins qu'on puisse dire, est que cette femme ne se laisse pas marcher sur les pieds...
"Je ne tolèrerai pas une quelconque action qui menace les vies de notre peuple et la sécurité de notre nation" (liberation.fr)
Découvrez ci-dessous les performances des artistes !
Credit : Leparisien.fr/ Kpopstarz
VIDEOS :
PSY live 20130225
Credit : Yahoo!News
JYJ live 20130225
Credit : 12XXthexiahtic
Source : 20minutes.fr, Leparisien.fr, liberation.fr
Pichu ~
27 janvier 2013
PSY VAINQUEUR AUX NRJ MUSIC AWARDS 2012
PSY VAINQUEUR AUX NRJ MUSIC AWARDS 2012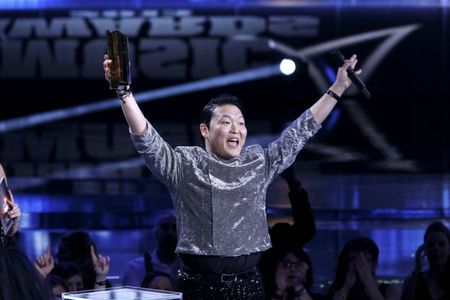 La France compte des rendez-vous annuels immanquables du showbiz. L'une des radios les plus populaires de France et sa cérémonie de récompenses fait désormais partie du calendrier des peoples. La Croisette qui a l'habitude d'accueillir les plus grands du 7e art, se voit ville hôte en chaque debut d'année des NRJ Music Awards.
Shakira, Black Eyed Peas, Alicia Keys, One Direction... autant de célébrités internationales qui défilent sur la scène francaise. A l'occasion de cet événement musicale qui célèbre les meilleures performances musicales de l'année passée, il était impossible de zapper l'incroyable buzz coréen 'Gangnam Style'.
Le rappeur PSY a fait le déplacement à Cannes pour interpréter en ouverture de cérémomie son hit. Et il faut dire que PSY est l'un des grands vainqueurs de la soirée (avec Sexion d'Assaut) car il est reparti avec deux prix : award d'honneur et meilleur clip 2012.
A noter également que PSY a été annoncé pour chanter lors de la prochaine cérémonie d'investiture de la nouvelle présidente de la Corée du Sud, Park Geun Hye, qui aura lieu le 25 février 2013.
TITRE SINGLE : Gangnam Style
VIDEO :
Live 26/01/2013
Source : TF1
Pichu ~
23 octobre 2012
B.A.P. NOUVEAU CLIP
B.A.P. NOUVEAU CLIP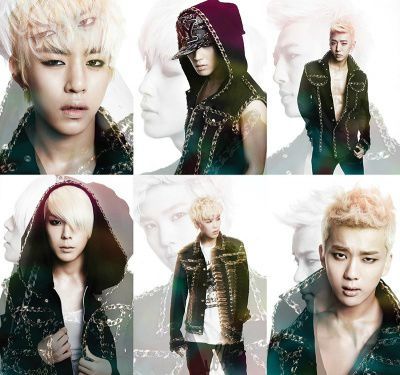 Depuis leur début en janvier avec le single "Warrior", le premier groupe à voir le jour avec l'agence TS Entertainment, les B.A.P. ne cessent de voir leur cote de popularité augmenter.
Tres attendu en tant que guests stars pour le prochain événement international, K-Pop World Festival, Bang Yong Guk et ses amis dévoilent aujourd'hui l'intégralité de leur nouveau clip (voir ci-dessous). Pour la promotion de leur nouveau single "Stop it", un représentant de TS Entertainment annonce que le concept du comeback est basé sur le hipster, un terme qui remonte aux années 40 aux Etats-Unis désignant les personnes qui ne suivent les tendances générales et créent leur propre style :
"On espere qu'ils vont etre les meneurs d'une nouvelle culture que le public suivra." allkpop)
TRACKLIST :
01. Yes Sir
02. Stop it
03. Happy Birthday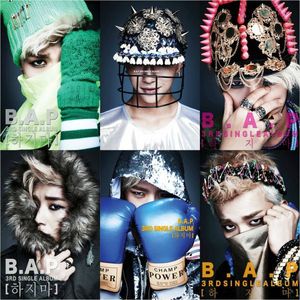 Dans 4 jours, le 27 octobre, les membres des B.A.P. seront les vedettes de l'inauguration de leur propre fanclub, intitulé "1st baby day". Lors de l'événement, 4000 fans auront non seulement l'occasion d'assister à 15 performances lives des B.A.P. mais aussi à diverses animations avec les fans.

Facebook officiel : http://www.facebook.com/OFFICIALB.A.P
Twitter officiel : https://twitter.com/TS_Enter
TITRE SINGLE : Stop it
DATE : 29/10/2012
Prevente disponible sur YesAsia (edition simple)
VIDEO :
Credit : TSENT2008
Source : allkpop
Pichu ~
22 octobre 2012
LA FRANCE PRESENTE AU KPOP WORLD FESTIVAL
LA FRANCE PRESENTE AU KPOP WORLD FESTIVAL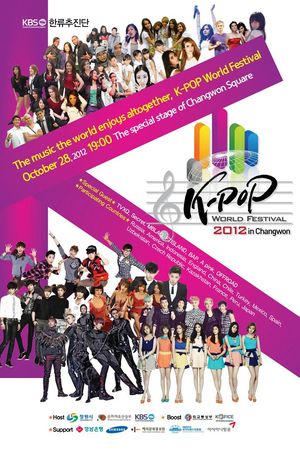 Alors que la vague de la Hallyu prend de plus en plus d'ampleur d'années en années, la Corée du Sud est en pleine effervescence pour les derniers préparatifs d'une compétition internationale, le Kpop World Festival. Pour sa seconde édition, cet événement est la version coréenne de l'Eurovision, ouverte à tous les amateurs de Kpop du monde entier.
Voici la liste des heureux participants qui s'envoleront pour Changwon le 24 octobre pour le début de l'aventure :
A Dream / MEXICO
Alem Star / KAZAKHSTAN
Angels / UZBEKISTAN
Fighting Souls / PERU
F.J.K / FRANCE
Imura Kyoko / JAPAN
Janaye & Symone / USA
Llonka / CHILE
Nadya & Marwah / INDONESIA
Nursena Demir / TURKEY
O.M.G / CZECH
SSTRCCI ATELLASS / SPAIN
TAK & MK / RUSSIA
Tita Lau / ENGLAND
Zhang bi chen / CHINA
Et on ne va pas gouter notre plaisir d'etre chauvin et soutenir le trio francais, F.J.K. Janitta, Kathleen et Fitzgerald sont agés de 18, 20 et 23 ans, et comme de nombreux Kpop addicts, ont découvert la culture pop coréenne via Internet et les nombreux blogs. Découvrez ci-dessous la video qui leur a permis de décrocher le précieux sésame. D'après le site Internet des organisateurs, notre trio national a des gouts musicaux variés et apprécie la musique des CN Blue, 2NE1, INFINITE, 2PM, Davichi et EXO-K.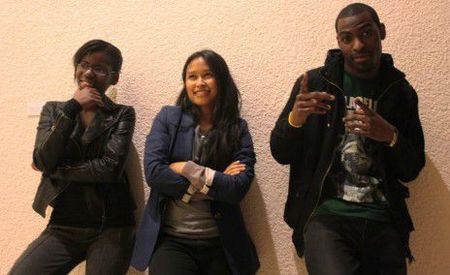 ©Etienne Baldit
Malheureusement, aucun de leur idol preféré ne sera présent lors de l'événement. Toutefois, le gouvernement, co-organisateur du festival, a preparé un panel de surprises, et notamment la présence des TVXQ, MBLAQ, FT ISLAND, SECRET, BAP, A PINK et OFFROAD.
Fighting F.J.K. !!!
Site officiel : K-pop world festival 2012
Facebook officiel : K-Pop world festival
Twitter : K-Pop world festival
Youtube : K-Pop world festival
VIDEO :
F.J.K. au Concours des Etoiles Montantes de la K-Pop à Paris
Credit : worldfestival kbskpop
Source : "La K-Pop a son Eurovisionl, et la France y sera", par Etienne Baldit, Rue89, 22/10/2012
Pichu ~
27 mars 2012
JYJ LIVE POUR LES PREMIERES DAMES
JYJ LIVE POUR LES PREMIERES DAMES
Cheres Cassies,
Vous etiez tristes de ne pas avoir de nouvelles de nos idols preferes ?
Tres occupes sur leur tournee, notamment en Amerique du Sud, Jaejoong, Yoochun et Junsu, ont marque les esprits de nombreuses personnes, et pas n'importe lesquelles. Bien evidemment, il s'agit de la gente feminine, mais les meilleures representantes de notre monde.
A l'occasion d'un sommet autour du sujet du nucleaire dans la capitale sud coreenne, le trio a ete invite parmi d'autres artistes a donner de la voix en l'hommage des premieres dates de plusieurs nations. Les JYJ ont donc logiquement interprete leur tube "Be my baby" pour ces femmes pas comme les autres.
Les premieres dames de France et des Etats-Unis etaient malheureusement absentes et n'ont pu apprecier le spectacle, mais les first ladies de la Malaysie, du Japon, du Vietnam, du Gabon, de l'Afrique du Sud, du Nigeria, de la Suisse, de Singapour, de l'Italie, de l'Indonesie, de la Chine, du Chili, des Philippines, etc. ont fait le deplacement.
Les JYJ ont declare avoir ete honore de l'invitation :
"We are so glad we have been invited to such a meaningful event, sharing Korea's excellence with the first ladies of the world. We are proud that we had a chance to promote the glory of our nation after our world tour came to an end, and though it was a short performance, we hope that this offered the first ladies a cherished memory of Korea."
Un mini-evenement dans un autre qui permet tout de meme de continuer la promotion de la Kpop dans le monde, peu importe les generations ou les cultures. Il semblerait que la Premiere Dame de la Coree du Sud, Kim Yoon Oak, ait meme felicite Park Yoochun pour son role dans le drama Rooftop Prince en declarant : "I am enjoying your new drama 'Rooftop Prince'" !
Always keep the faith ~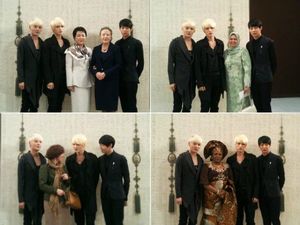 TITRE SINGLE : Be my baby
VIDEO :
FANCAM :
"Be my baby" live 27/03/2012
Source : allkpop
Pichu ~
08 février 2012
MUSIC BANK IN PARIS
MUSIC BANK IN PARIS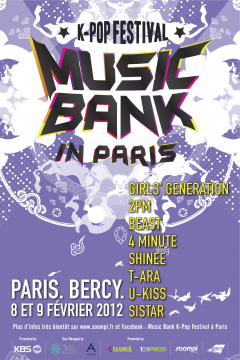 Jour J pour tous les amoureux de Kpop !
Apres la venue des membres de la famille SM Entertainment l'an passe, cet hiver, pas moins de 8 groupes coreens se retrouvent au Palais Omnisport de Paris Bercy pour un concert exceptionnel : le MUSIC BANK IN PARIS !
Pour les nombreux malheureux qui n'ont pu obtenir de sesame pour le show de ce soir et demain, on vous invite a (re)decouvrir l'evenement depuis son commencement. En effet, hier nos idols preferes se sont donnes rendez-vous a l'aeroport international d'Incheon a Seoul - direction Paris Charles de Gaulle.
Les Girls Generation, T-ARA, Sistar, 2PM, SHINee, B2ST, 4minute et U-KISS font partie de ce superbe casting.
Evidemment, un tel rassemblement attire les paparazzis.
Decouvrez en image et en videos le depart des artistes, ainsi que leurs messages destines aux fans !
TRAILER :
(c) monmonsnowseason9 Youtube
VIDEOS :
Depart SHINee
T-ara
B2ST
SNSD
(c) Soompi Youtube
Credits photo : Sports Korea, Soompi
Pichu ~
30 janvier 2012
KPOP, LA DEFERLANTE (TF1)
KPOP, LA DEFERLANTE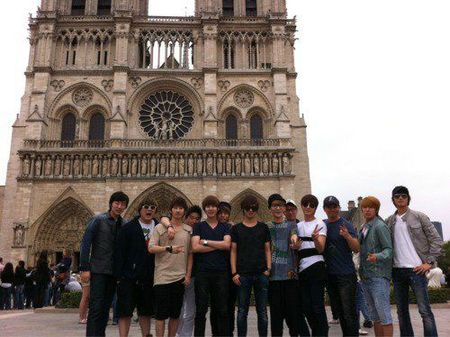 La Kpop mania est desormais reconnue mondialement. Apres un reportage sur la montee en puissance de la Coree du Sud (Un oeil sur la planete - FR2), la Hallyu Wave a ete l'objet d'un reportage diffuse hier sur TF1 dans l'emission Sept a Huit.
Apres une grande premiere l'an passe avec la venue des stars de SM Entertainment pour un SM Town Live a Paris, les JYJ (TVXQ) sont egalement venus, les Girls Generations sont programmes. Les B2ST s'appretent a partir en tournee europeenne. Le Vieux Continent n'est plus boude par nos idols preferes, mais certains fans, notamment francais, sont prets a traverser la planete pour vivre au plus pres leur passion pour la Kpop.
Dans "Un oeil sur la planete", les SHINee et BoA avaient principalement ete interviewes par les journalistes. Cette fois-ci c'est encore des membres de la grande famille SME qui ont ete mis en avant, les super celebres, Super Junior!
Si vous l'avez manque ou souhaitez le revoir, voici "Kpop, le succes fulgurant de la pop music coreenne".
TEASER :

Sept à Huit (TF1) : Le reportage « Kpop, la... par 2NE1-FRANCE
REPLAY :
Source : Sept a Huit - TF1
Pichu ~
14 septembre 2011
SHE FETENT SES 10 ANS
SHE FETENT SES 10 ANS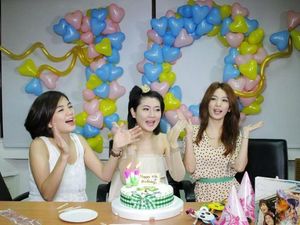 On s'éloigne du pays du soleil levant et du pays au matin calme pour se tourner avec l'actualité musicale de pop chinoise, et plus particulièrement celle de Taiwan.
Le trio immensément populaire auprès de la communauté chinoise, SHE, a - déjà - fêté ses 10 ans d'existence.
Pour l'occasion, Ella Chen, Hebe Tien et Selina Jen se sont réunies dimanche dernier et ont réalisé une vidéo pour remercier tous leurs fans.
Dans les clichés, on observe que Selina continue de porter des gants suite aux brûlures dans l'accident lors d'un tournage l'an passé. Ella a donc souhaité le meilleur pour elles trois, en espérant qu'elles puissent remonter sur scène ensemble un jour.
Longue vie aux trio taiwanais !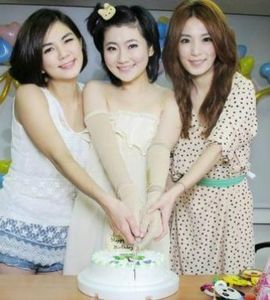 Source: Asianbite
Pichu ~
07 septembre 2011
JYJ COMEBACK [UPDATE 2]
JYJ COMEBACK
Le trio met les bouchées doubles pour son comeback annoncé pour la mi-Septembre.
Les Cassiopeia - éternelles fans des TVXQ (rattaché ou non à la SM Entertainment) - seront ravies d'apprendre le retour de Jaejoong, Yoochun et Junsu, réunis à nouveau autour de leur amour de la musique.
Asia fighting avait déjà révélé le teaser de leur ballade "In heaven'.
Aujourd'hui, on vous dévoile l'intégralité du single "Get out", composé par Jaejoong et Yoochun.
Petit bonus : la prestation live du tio lors de la cérémonie de clôture lors des derniers Championnats du monde d'Athlétisme à Daegu.
TITRE ALBUM: In heaven
TITRE SINGLE: Get out
DATE: 15/09/2011
AUDIO:
VIDEOS:
(c) Seo13d Youtube
Fancam "Get out" live @ IAAF Daegu (040911)
(c) OKYuchun Youtube
[UPDATE 14.09.2011]
Le nouvel album des JYJ intitulé "In heaven" cartonne dans les bacs.
300 000 exemplaires avaient d'ors et déjà été comptés en pré-ventes au point de surcharger le réseau de certains siteweb.
Sans surprise, l'album contient plusieurs titres déjà entendus dans les derniers concerts du trio ex SME.
TRACKLIST:
01. Get out
02. In heaven
03. Fallen leaves
04. Boy's letter
05. Mission
06. I.D.S
07. Pierrot
08. You're
09. Nine
10. 이름 없는 노래 PART 1
Découvrez une jaquette tout en simplicité, décliné en 3 couleurs différentes (doré, bleu et rouge) ainsi que l'intégralité du clip ci-dessous.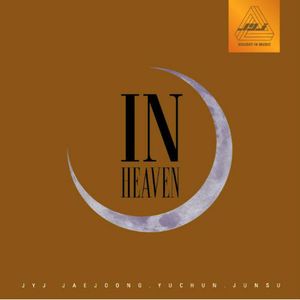 TITRE SINGLE: In heaven
DATE: 27/09/2011
Prévente disponible sur YesAsia
CLIP:
"In heaven"
AUDIO:
"You're"
[UPDATE 2 20.09.2011]
Les activités promotionnelles des JYJ ont repris un nouveau tremplin en ce début de seconde moitié 2011.
La rentrée bat son plein pour Jaejoong, Yoochun et Junsu.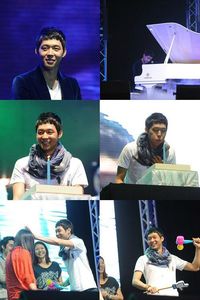 Non seulement Yoochun a été chaleureusement accueilli par des milliers de fans en Thaîlande lors d'un fan meeting pour la promotion du drama Sungkyunkwan Scandal, mais le trio a également été choisi par la marque de téléphonie coréenne, LG, pour promouvoir le nouveau smartphone Optimux Q2.
Site officiel : LG
Pour combler cela vient s'ajouter la sortie du clip vidéo de leur nouveau single "Get out" dans lequel le trio s'affiche en men in black, parfait gentleman en tuxedo.
Découvrez le clip ci-dessous!
TITRE SINGLE: Get out
VIDEO:
Source: allkpop
Pichu ~