20 mars 2013
YOUNHA COMEBACK TEASER
YOUNHA COMEBACK TEASER
Malgré sa récente participation dans le premier single de So Ji Sub "Field Trip", la talentueuse chanteuse coréenne Younha est restée loins des plateaux tv pendant presque deux ans. Elle met un terme à cette absence prolongée avec un nouveau duo. Cette fois-ci, Younha associe sa voix mélodieuse à celle du rappeur, Naul.
Son nouveau single s'intitule "It's not like that", dont l'histoire raconte les sentiments meurtris d'une personne qui vient de vivre une rupture sentimentale. On raconte que les paroles seraient inspirées par la propre histoire de Naul, qui a preté sa voix à la chanson mais pas seulement, car il a egalement participé à la composition et aux paroles de "It's not like that".
La maison de disque de Younha a declaré :
"Afin de réaliser un excellent album, elle travaille actuellement sur les touches finales. Elle travaille dur pour montrer une nouvelle image (d'elle-meme) alors veuillez patientez."

Que tous les fans se rassurent, en attendant la sortie officielle de son single (dans 2 jours, le 22 mars 2013), vous pouvez découvrir ci-dessous le teaser de son clip video !
A SUIVRE... TO BE CONTINUED...
TITRE SINGLE : It's not like that
DATE : 22/03/2013
TEASER :
Credit : CJENMMUSIC
Source : allkpop
Pichu ~
12 mars 2013
KELLY CHEN
KELLY CHEN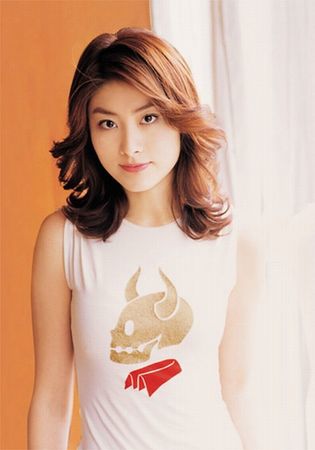 NOM SCENE : KELLY CHEN
NOM CIVIL: Chan Wai Man
NOM ORIGINAL : 陳慧琳
NATIONALITE: CHINOISE
DATE DE NAISSANCE: 13 septembre 1973
DEBUTS: 1995
GENRE(S) : C-POP
LABEL: GO EAST ENTERTAINMENT
SITE OFFICIEL: http://www.kellychen.hk/
PRESENTATION: Actrice, mannequin et surtout chanteuse, Kelly Chen est considerée comme la diva de l'Asie.
Elle atteint le record de presque 20 millions de ventes avec une trentaine d'albums et singles cumulés. Elle a gagné de nombreux prix et s'investit dans plusieurs oeuvres charitaires. Elle est notamment ambassadrice pour la Croix Rouge Hong Kong.
DISCOGRAPHIE :
1998 : Love me or not
2000 : Kelly Chen Collection 1995 - 2000
2005 :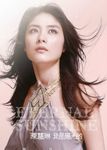 Eternal happiness
2006 : Happy girl
2006 : Especially Kelly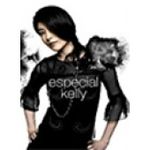 2008 : Kellycious
2010 :
Chasing dreams
2012 : ReImagine Leslie Cheung
2012 : Taste the life
2013 : Reflection
VIDEOS :
"I don't love you enough" (duo avec Andy Lau) clip video
Credit : DEABY2008
Live 2011
Credit : kelly chen
"So hot" clip video
30 janvier 2013
SISTAR19 COMEBACK [UPDATE]
SISTAR19 COMEBACK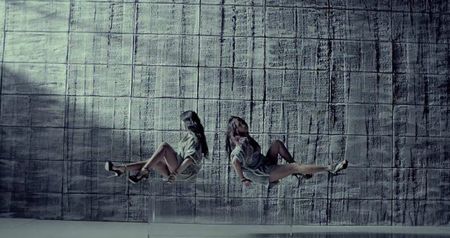 Malgré la blessure de Bora lors du récent tournage de l'émission Idol Star Athletics Championship, l'unite du groupe Sistar continue la promotion de son comeback et nouvel album : Sistar19 Single album Vol.1, incluant leur premier hit single "Ma Boy".

La leader, Hyorin, et la vedette du groupe, Bora, dévoilent le teaser de leur nouveau single intitulé "Gone not around any longer", pour lequel le super producteur Brave Brothers a donné un coup de pouce.
J-1 avant leur comeback !
En attendant, découvrez ci-dessous les clichés du tournage et le teaser du clip. Les fans du duo ont pu découvrir des clichés de Bora 'en couple' avec l'acteur Ahn Jae Hyun.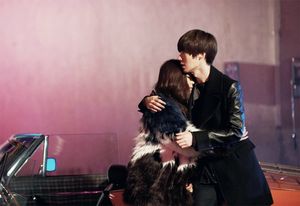 TRACKLIST :

01. SISTAR19
02. Gone not around any longer
03. A girl in love
04. Ma boy
05. Gone not around any longer (version instrumentale)
TITRE ALBUM :
Sistar19 Single Album Vol.1
TITRE SINGLE : Gone around any lounger
DATE : 06/02/2013
Prevente disponible sur YesAsia (special photo edition)
TEASER :
Credit : starshiptv
[UPDATE 01.02.2013]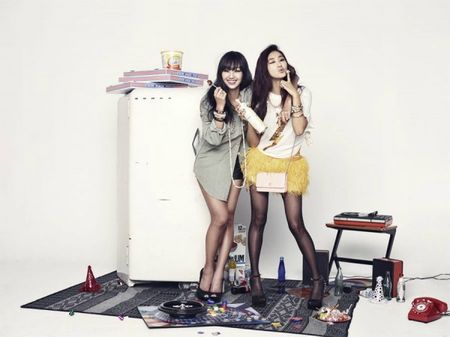 ENFIN !
Le duo 100% charme et glam' de Starship Entertaiment réalise enfin son comeback !!!
Si vous avez craqué pour single 'Ma Boy', vous ne manquerez pas d'aimer leur nouveau single 'Gone not around any lounger'. A nouveau, l'incroyable voix de Hyorin et le rap de Bora creent des étincelles.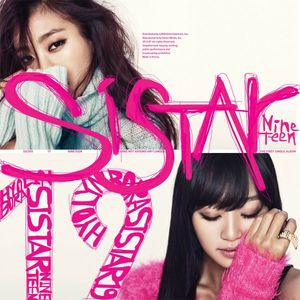 Sans plus attendre, regardez ci-dessous l'intégralité du clip video, réalisé par Joo Hee Sun (qui a également réalisé le clip du hit single des Sistar 'Alone'), ainsi que leur récente apparition sur le plateau de KBS Music Bank pour un live à couper le souffle !
CLIP :
Credit : starshipTV
LIVE :
KBS Music Bank
Credit : 지 약
Source : allkpop
Pichu ~
28 janvier 2013
BoA NOUVEAU CLIP (feat TAEMIN des SHINee)
BoA NOUVEAU CLIP (feat TAEMIN des SHINee)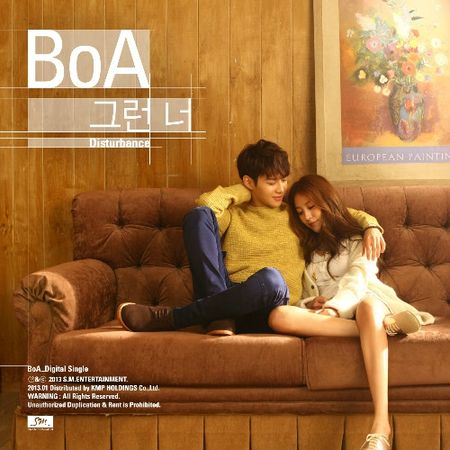 L'une des artistes coréennes les plus populaires au Japon signe son retour au pays du matin calme avec un nouveau single intitulé Disturbance et a donné deux concerts solo 'BoA Special Live ~ Here I am' le weekend dernier au Seoul Olympic Hall.
SM Entertainment vient de dévoiler via leur chaine officielle Youtube le nouveau clip de BoA (voir ci-dessous). Le clip video a été réalisé par Kwon Soon Wook, et dans lequel on apercoit Taemin des SHINee, qui joue le role de l'amoureux de la belle. Le courant entre les deux artistes SME passe une nouvelle fois. Les fans ont retrouvé la meme harmonie durant leur performance du single "Only One' dans le dernier concert de la chanteuse.

A noter que BoA sort une nouvelle édition de son dernier single japonais Only One (sortie prévue le 27 fevrier 2013) : prévente disponible sur YesAsia.
TITRE SINGLE : Disturbance
VIDEO :
Credit : SMTOWN
Source : allkpop
Pichu ~
19 janvier 2013
SO JI SUB CLIP VIDEO AVEC YOUNHA
SO JI SUB COLLABO CLIP AVEC YOUNHA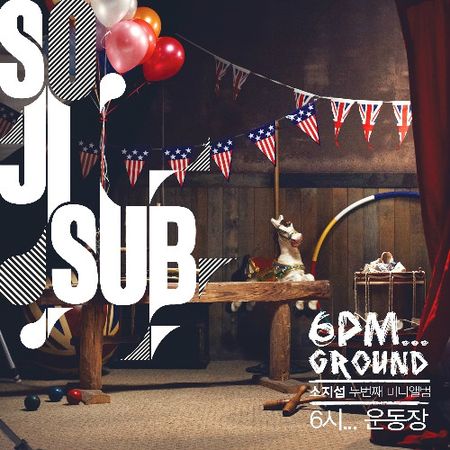 Pour les débuts de la nouvelle émission tv reality proposée par Mnet 'Collabo One' dans laquelle des célébrités (hors chanteur) sont invitées à découvrir l'univers de la musique et à collaborer avec des professionnels du milieu. En l'occurence pour la première du projet inédit, les producteurs ont trouvé une perle rare en la personne de So Ji Sub.
L'acteur, récemment vu dans le drama de SBS Ghost, et qui a recu le prix d'excellence (catégorie Drama Special) lors de la cérémonie SBS Drama Awards 2012, sortira à la fin du mois son album, intitulé 6PM... Ground. En attendant, vous pouvez écouter dès maintenant son premier single "Field Trip", un duo avec la douce Younha, dans lequel So Ji Sub se transforme en slammeur/ rappeur.
A ceux qui s'attendent déja à voir le beau gosse coréen sur les plateaux de Music Bank, Inkigayo ou Mnet Countdown, il a deja été annoncé qu'il n'y aura aucune promotion de cet album en dehors de l'émission Collabo One.
TRACKLIST :
01. Field trip (Feat. Younha)
02. 지우개 (Feat. Mellow)
03. 눈금자 (Feat. 테이커스)
04. 6시...운동장
L'agence de l'acteur a récemment declaré :
"So Ji Sub a une tonalité de voix unique. Elle procure la sensation aux auditeurs qu'ils ont une conversation aux cotés de So Ji Sub. ['Field Trip'] est un melange de melodie et de rap, et exprime des sentiments comme une série romantique."
Découvrez dès maintenant le premier clip du celèbre acteur coréen So Ji Sub, dans lequel vous pourrez reconnaitre les visages familiers de ses homologues comédiens, Yoo Seung Ho et Park Shin Hye.
Au final, une collaboration au casting riche et glamour pour un résultat surprenant mais qui ne manque pas de charme !
TITRE SINGLE : Field trip
DATE : 28/01/2013
Prevente disponible sur YesAsia
VIDEO :
Clip
Credit : CJEMMUSIC
TEASER :
Preview 'Collabo One'
Credit : Mnet
Source : allkpop
Pichu ~
30 août 2012
SOLBI COMEBACK
SOLBI COMEBACK
L'ex epouse (fictive) d'Andy, et ex membre du groupe Typhoon, la chanteuse coreenne Solbi signe son grand retour apres trois ans d'absence. Solbi revient avec un mini album compose de 5 titres, dont le single principal est "Ottogi". Tout comme son ancien compagnon dans l'émission phare We Got Married, Andy, de retour avec les autres membres de Shinhwa avec l'album The Return, Solbi re-apparait sous les feux des projecteurs avec un look evidemment plus mature, plus affirme et affine, qui fait largement concurrence aux idols actuelles.
Un titre rythmé et catchy dans lequel on reconnait la voix de JiYoon, rappeuse du girls band 4minute.
TRACKLIST :
01. "Ottogi" ft. 4Minute's Jiyoon
02. "Talking in Reverse"
03. "I Didn't Know Love" ft. Ryu Min Jung
04. "Ottogi (Latin House Remix)
05. "Ottogi (Club House Remix)
Decouvrez ci-dessous le clip video de Solbi !
TITRE SINGLE : Ottogi
VIDEO :
(c) AsianDreamAudio Youtube
Source : MTV K
Pichu ~
21 mars 2012
TOP/ G-DRAGON DUO AVEC PIXIE LOTT
TOP/ G-DRAGON DUO AVEC PIXIE LOTT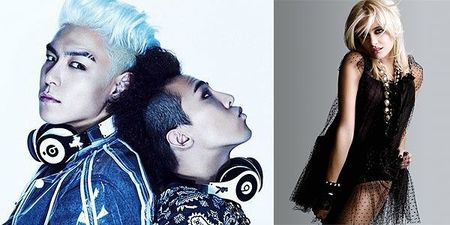 Quand les medias occidentaux parlent de l'impact grandissant de la Hallyu wave dans la culture pop mondiale, ils avaient vu juste. Apres les tournees internationales des JYJ, Girls Generation, B2ST et bien d'autres encore, les duo ou collaborations avec les grands artistes anglophones voient de plus en plus le jour.
On se souvient de la collaboration reussie entre le trio JYJ et Kanye West, celle a venir entre les 2NE1 et Will I.AM des Black Eyed Peas, le duo surprise et surprenant entre les deux rappeurs des BIG BANG, TOP et G-DRAGON, avec la jeune chanteuse anglaise Pixie Lott.
L'artiste et interprete du tube mondial "Cry me out" vient associer son univers avec celui des coreens pour la sortie de la version japonaise de son album : Young Foolish Happy. Le single est intitule "Dancing on my own" est un beau mariage, au point d'etre le gros coup de coeur de l'Asia Fighting Team !
Sans plus attendre, enjoy ci-dessous l'integralite audio du duo TOP/ GD et Pixie Lott !
TITRE ALBUM :
Young Foolish Happy
TITRE SINGLE : Dancing on my own
Disponible sur Itunes
AUDIO :
(c) bunnibel youtube
Source : allkpop
Pichu ~
19 février 2012
SHIROTA YU CLIP (feat HOWIE D. DES BACKSTREET BOYS)
SHIROTA YU CLIP (feat HOWIE D. DES BSB)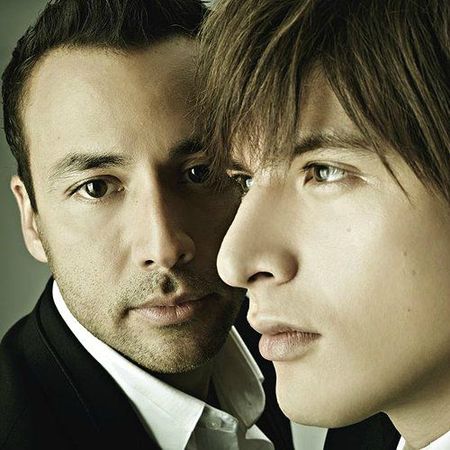 Le comedien et desormais chanteur japonais, Shirota Yuu, demontre toute la palette de son talent. Rebaptise sous l'initial U, il fait recemment parle de lui avec un clip avec l'idol americaine, Howie D., membre du celebre boys band des annees 90, Backstreet Boys.
Rattache a la maison Avex Entertainment (tout comme les TVXQ, Ayumi Hamasaki), Shirota Yuu collabore avec Howie D. pour un couple de singles : "Worth fighting" et "If I say".
En fin d'annee 2011, le chanteur americain etait a la recherche d'une star japonaise pour un bonus track sur l'edition japonaise de son album Back to me. Suite a cette premiere collaboration, Howie D. a accepte ce nouveau duo americano-japonais.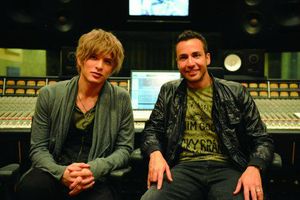 "Worth fighting" a ete designe comme theme musical pour l'emission "Uchi Kuru?!" sur Fuji Tv et "LOVE Tabi - Shirota Yuu in Barcelona" sur Beetv.
TRACKLIST : (edition normale)
1. Worth Fighting For feat.HOWIE D
2. Campeones
3. It was you
4. Worth Fighting For feat.HOWIE D (Instrumental)
5. Campeones (Instrumental)
Decouvrez ci-dessous l'integralite du clip video.
Site officiel : http://www.avexnet.or.jp/u/
TITRE SINGLE :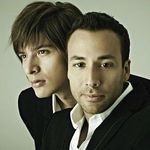 Worth fighting
VIDEOS :
"Worth fighting"
"If I say"
(c) Avexnetwork Youtube
Source : Tokyohive
Pichu ~
26 janvier 2012
MIRYO [BEG] SOLO ALBUM [UPDATE]
MIRYO [BEG] SOLO ALBUM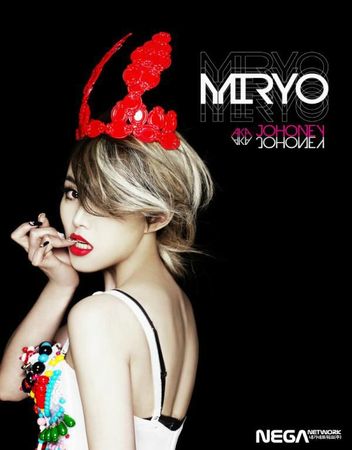 Apres Narsha, Ga In et Jea, c'est au tour de la rappeuse Miryo de faire egalement son show.
Nega Network communique sur son solo album depuis quelques semaines et vient de devoiler une 3eme et 4eme photo teaser. Intitule Miryo aka Johoney, pour son parcours solo Miryo se lance dans un jeu de role et abandonne son image habituellement douce et mignonne pour devenir une reine gangsta. Fond noir, rouge a levre petant, gun et lunettes de soleil, comme l'a annonce le producteur Lance, les fans vont decouvrir une toute nouvelle facette de la rappeuse :
"Miryo will show a side of her that fans have never seen," (...) "You will be able to see her true colors through this record." (allkpop)
Non seulement elle a co-produit cet album mais elle a egalement participe a la creation du concept et direction musicale du cd.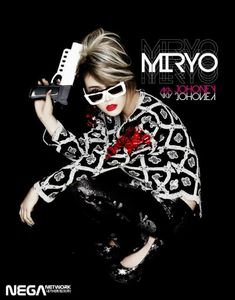 [UPDATE 31.01.2012]
Quelques jours avant la sortie officielle du mini-album, le tracklist ainsi que les pistes audios viennent de filtrer sur la Toile. On decouvre que pour ses debuts, la belle rappeuse s'est entouree de bellex voix et belles personnes de la Kpop, notamment sa "soeur" des BEG, Narsha, mais aussi la rayonnante Sunny des Girls Generation.
TRACKLIST :
01. Party rock (feat Gary - Leesang & The Koxx)
02. Dirty
03. I love you, I love you (feat Sunny - SNSD)
04. Revenger (feat Rude Paper)
05. Legoo (feat Narsha - BEG)
Restez fideles pour plus de nouvelles concernant le solo debut de Miryo.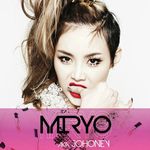 TWITTER : Nega Network
TITRE ALBUM : Miryo aka Johoney
TITRE SINGLE : Dirty
DATE : 1/02/2012
Prevente disponible sur YesAsia (edition avec poster en tube)
TEASER :
(c) officialBEG
AUDIO:
"I love you, I love you" (feat Sunny)
(c) youtube
Source : allkpop
Pichu ~
21 juillet 2011
HOMME COMEBACK
HOMME COMEBACK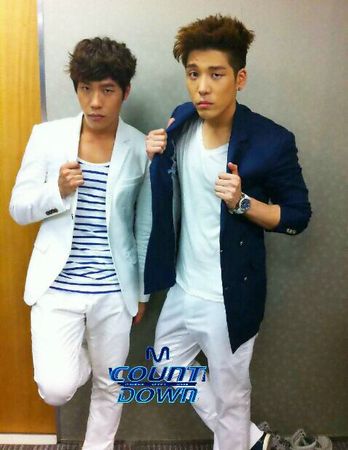 La collaboration inedite entre Changmin des 2AM et Lee Hyun des 8Eight donne lieu a une suite.
Les deux playboys sont de retour avec un nouveau single.
Apres I was able to eat well, ils reviennent avec Man should laugh, produit notamment par le super producteur Bang Shi Hyuk et la superbe actrice Lee Chae Young en guest star dans le clip video.
Decouvrez des maintenant le clip et le live comeback sur Mnet Countdown de Homme.
TITRE SINGLE: Man should laugh
VIDEOS:
Clip

Live @ Mnet Countdown
Source: allkpop
Pichu