03 septembre 2012
T-ARA NOUVEAU CLIP VIDEO
T-ARA NOUVEAU CLIP VIDEO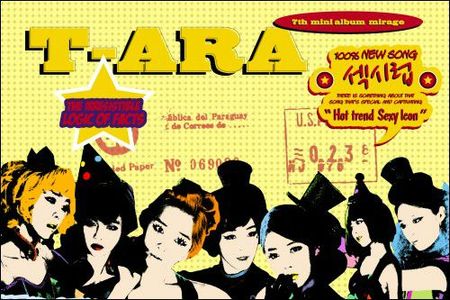 Non non, contrairement aux Girls Generation, les T-ARA ne font pas un remix du single de Ne-Yo. Leur nouveau hit s'intitule pareillement "Sexy love" et c'est le seul point commun a ces artistes planetaires.
Malgre la polemique qui plane autour du groupe, et notamment Eun Jung, qui participait il y a peu de temps a l'emission We Got Married aux cotes de Lee Jang Woo, le girls band coreen n'a pas pris la decision de reporter son comeback, en raison de malentendus [le groupe souffre d'un scandale autour d'intimidation et mauvais traitement poussant l'Union des Acteurs Coreens a sortir Eun Jung de son drama].
La carriere de la jeune star n'est pas pour autant termine. Les T-ARA ont meme declare preparer la sortie de 4 versions differentes de leur nouveau clip. En voici deja 1 pour vous !
Decouvrez l'integralite du tout dernier clip des T-ARA, ainsi que son making of de la version 'dance' de la video !
TITRE SINGLE : Sexy love
VIDEOS :
Clip
Making of
(c) LOENENT Youtube
Source : allkpop
Pichu ~
30 août 2012
SOLBI COMEBACK
SOLBI COMEBACK
L'ex epouse (fictive) d'Andy, et ex membre du groupe Typhoon, la chanteuse coreenne Solbi signe son grand retour apres trois ans d'absence. Solbi revient avec un mini album compose de 5 titres, dont le single principal est "Ottogi". Tout comme son ancien compagnon dans l'émission phare We Got Married, Andy, de retour avec les autres membres de Shinhwa avec l'album The Return, Solbi re-apparait sous les feux des projecteurs avec un look evidemment plus mature, plus affirme et affine, qui fait largement concurrence aux idols actuelles.
Un titre rythmé et catchy dans lequel on reconnait la voix de JiYoon, rappeuse du girls band 4minute.
TRACKLIST :
01. "Ottogi" ft. 4Minute's Jiyoon
02. "Talking in Reverse"
03. "I Didn't Know Love" ft. Ryu Min Jung
04. "Ottogi (Latin House Remix)
05. "Ottogi (Club House Remix)
Decouvrez ci-dessous le clip video de Solbi !
TITRE SINGLE : Ottogi
VIDEO :
(c) AsianDreamAudio Youtube
Source : MTV K
Pichu ~
12 février 2012
WE GOT MARRIED MADE IN CHINA
WE GOT MARRIED MADE IN CHINA
Il y a quelques semaines, MBC a annonce une version chinoise de leur emission romantique phare "We Got Married" qui a vu de nombreux idols s'unir (virtuellement) : Andy (Shinhwa) & Solbi, Seo Hyun (SNSD) & Yong Hwa (CN Blue), Nichkhun (2PM) & Victoria (f(x))...
L'emission s'exporte et a donne naissance a une petite soeur chinoise. Le premier episode est prevu pour le jour de la St Valentin. Les representants de la chaine ont declare vouloir s'essayer a un nouveau concept et notamment les mariages mixtes :
"We thought that this was a good opportunity for us to try something on a different level and try to investigate the dating and marriage cultures of both the Chinese and Korean youth. By starring both Hallyu idols and top Chinese celebrities, the show will be a fun way for both cultures to very naturally better understand one another." (allkpop)
Les noms des participants ont d'ors et deja ete devoiles : le coreen Kyuhyun (Super Junior) et l'actrice chinoise Lou Yi Xiao, et Hyomin du girls band T-ARA et Fu Xinbo du groupe BOBO.
On pourrait etre reticent concernant ces couples sino-coreens mais d'apres les premieres preview, la communication version bilingue entre les couples semblent bien fonctionner, et l'alchimie entre Kyuhyun et Xiao suscite deja la jalousie de certains fans...
Impatients de voir l'episode pilote? En attendant, decouvrez ci-dessous les premieres videos de la version chinoise de We got married.
TEASERS :
(c) mykikiikyu4 Youtube
Source : allkpop
Pichu ~
30 mars 2011
EUN JUNG [T-ARA] EN COUPLE
EUN JUNG [T-ARA] EN COUPLE
La star des T-ARA va jouer un nouveau rôle dans sa carrière d'artiste.
Nouvelle recrue de l'émission We got married, Eun Jung avait été pressentie comme épouse de Nichkhun (2PM) mais que nenni. La reine Victoria (f(x))est l'élue du coeur du thailandais.
Depuis le départ du couple mythique Jo Kwon (2AM) et Ga In (Brown Eyed Girls), l'émission phare de MBC avait perdu de sa popularité et connu une baisse d'audience...
Ham Eun Jung aura pour partenaire un autre acteur... Lee Jang Woo.
Il aura fallu attendre plusieurs longs mois avant de trouver les dignes remplaçants et compléter le trio des faux couples d'idols. Les représentants de MBC ont déclaré avoir rencontré une centaine de candidats :
"There were over 100 candidates who auditioned and we were in the midst of finding a good match of characters. As the show progressed, new couples came in for interviews. Lee Jang Woo and Ham Eunjung were 2 out of 100 that were considered and chosen eventually."
Source: allkpop
Pichu ~
04 juillet 2010
WE GOT MARRIED
WE GOT MARRIED
ORIGINE: COREENNE
TITRE: WE GOT MARRIED
TITRE ORIGINAL: 우리 결혼했어요
NOMBRE EPISODES: Saison 2 (en cours)
DEBUT: 2008
DIFFUSEUR: MBC
MC: Hyuk Jae, Jung Hyung Don, Park Myung Soo (saison 1)
Park Mi Sun, Jo Hyung Gi, Kim Na Young (saison 2)
SITEWEB: http://www.imbc.com/broad/tv/ent/wedding/index.html
PRESENTATION: Emission de variété coréenne hebdomadaire réunissant deux idols qui doivent faire semblant d'être un couple.
QUELQUES GUESTS:
Episode 9 - 38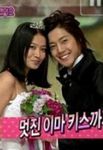 Kim Hyung Joo (SS501) & Hwang Bo
Episode 39 - 55
Kangin (Super Junior) & Lee Yon Ji
Episode 79 - en cours
Ga In (Brown Eyed Girls) & Jo Kwon
Episode 95 - en cours
Jung Yong Hwa (CN Blue) & Seo Hyun (SS501)
VIDEOS:
Extrait épisode 3 13032010
Extrait épisode 14 Kim Hyung Joon & Hwang Bo