13 septembre 2010
ATHENA GODDESS OF WAR
ATHENA: GODDESS OF WAR
ORIGINE: COREE
TITRE : ATHENA: GODDESS OF WAR
TITRE ORIGINAL: 아테나: 전쟁의 여신
ANNEE DE SORTIE : 2010
GENRE: ACTION/ DRAME
NOMBRE D'EPISODES: a venir
DETAIL: Spin off de IRIS
DIFFUSEUR: SBS
JUNG WOO SUNG (The restless, 2006; The good, the bad and the weird, 2008; Reign of assassins, 2010)
aka Lee Jeong Woo
CHA SEUNG WON (Blood rain, 2005; Over the border, 2006; Eye for an eye, 2008; Secret, 2009)
aka Son Hyeok
SU AE (Once in a summer, 2006; Sunny, 2008; The sword with no name, 2009)
aka Yun Hye In
LEE JI A (The story of the first kings four gods, 2007; Beethoven Virus, 2008; Style, 2009)
aka Han Jae Hee
CHOI SI WON (Batlle of wits, 2006; Attack on the pin up boys, 2007; Oh my lady, 2010; Glamorous challenge, 2011)
aka Kim Joon Ho
KIM MIN JONG (Mr Butterfly, 2003; The return of Iljimae, 2008; A man called god, 2010)
aka Kim Ki Soo
SYNOPSIS: Le groupe terroriste connu sous le nom d' "Athena" et dirigé par le machiavélique Son Hyeok menace la Corée du Sud et le monde entier. Le rôle de l'agent spécial Lee Jeong Woo de l'agence NTS (National Anti-Terrorist Service) est de déjouer leurs plans.
OST: Park Hyo Shin
TRAILER:
25 mai 2010
TELL ME GOODBYE
COUP DE COEUR DE LA SEMAINE DU 24 MAI 2010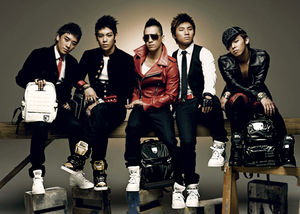 Extrait de l'OST japonais du drama IRIS, le nouveau single japonais des BIG BANG - pas encore dans les bacs - fait déjà un carton dans le monde. Mise en ligne sur Youtube, le vidéo clip de "Tell me goodbye" a été en 6 jours l'une des vidéos les plus vues avec à son compteur plus d'un millions de vues!!
Atmosphère baroque, avec des scènes dans une église ou dans un cimetière, les cinq coréens version "mafiosos", en costards sombres, fusils et bouteille de whisky à la main, brillent à nouveau de talent et de virilité.
Disponible sur Yesasia [prévente]
Artiste: BIG BANG
Titre: Tell me goodbye - OST IRIS
Date: 09/06/2010
Video clip:
26 mars 2010
IRIS
IRIS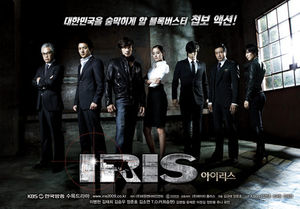 ORIGINE : COREENNE
TITRE : IRIS
TITRE ORIGINAL: 아이리스
ANNEE DE SORTIE : 2009
GENRE : ACTION, DRAMA
NOMBRE D'EPISODES: 20
DIFFUSEUR : KBS
CASTING :
Lee Byung Hun (All in, 2003; A bittersweet life, 2005; The Good, the Bad, the Weird, 2008; GI Joe, 2009)
aka Kim Hyun Joon
Kim Tae Hee (Stairway to heaven, 2003; Love story in Harvard, 2004; The restless, 2006)
aka Choi Seung Hee
Jung Joon Ho (Princess Lulu, 2005; Last scandal, 2008)
aka Jin Sa Woo
TOP (Into the gunfire, 2010)
aka Vick
Kim Seung Woo (Hotelier, 2001; How to meet a perfect neighbor, 2007)
aka Park Chul Young
Kim So Yeon (Gourmet, 2008; Prosecutor Princess, 2010)
aka Kim Sun Hwa
SYNOPSIS: Kim Hyun Joon et Jin Sa Woo sont deux meilleurs amis qui sont amenés dans une organisation top secrète appelée NSS, dirigée par l'experte Choi Seung Hee et Park Sang Hyun. Hyun Joon et Sa Woo ont eu tous les deux le coup de foudre pour Seung Hee. Leur vie est changée à jamais quand Hyun Joon reçoit une mission solo en Hongrie. (source: Drama Wiki)
OST: Baek Ji Young, Big Bang, Shin Seung Hoon,...
Download sur Nautiljon
TRAILER: