05 mars 2013
SULLI PHOTOSHOOT POUR OHBOY!
SULLI PHOTOSHOOT POUR OHBOY!
Celle qui est une artiste confirmée en musique, mais est une star montante sur le petit écran, montre un nouveau visage à ses nombreux fans à travers une séance photo pour le magazne OhBoy!. Avant de souffler vingt bougies à la fin du mois (20 ans en Corée; 19 ans en Occident), la vedette du teen drama 2012, To the beautiful you, Sulli se métamorphose en hipster chic et charmante.

Sa fraicheur juvénile est toujours apparente mais elle porte avec élégance de plusieurs modèles de sacs de la marque luxueuse Monsac.
Véritable fashionista, Sulli a été récemment vu dans une publicité pour la marque cosmétique coréenne Etude House (video ci-dessous) et a été apercue avec Victoria lors l'événement Dior le mois dernier.
Pour les fans des f(x) et de Sulli, vous pourrez découvrir les clichés de OhBoy! dans l'édition du mois de mars 2013.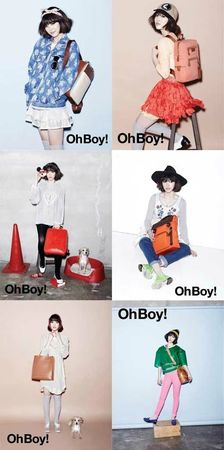 VIDEO :
Credit : etudeblog
Source : allkpop
Pichu ~
06 septembre 2012
TO THE BEAUTIFUL YOU
TO THE BEAUTIFUL YOU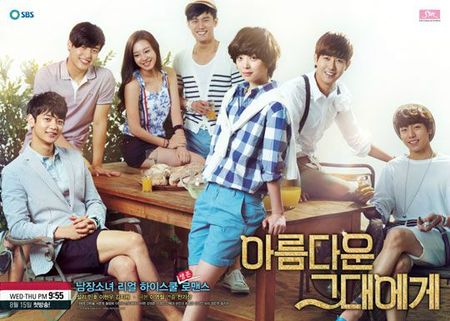 ORIGINE: COREE
TITRE : TO THE BEAUTIFUL YOU
TITRE ORIGINAL: 아름다운 그대에게
ANNEE DE SORTIE : 2012
GENRE: COMEDIE, ROMANCE
NOMBRE D'EPISODES: 16
DIFFUSEUR : SBS
SITE INTERNET : http://wizard2.sbs.co.kr/foryou/
PRODUCTION : SM Entertainment
DETAIL : Remake du drama japonais Hana Kimi
SITE OFFICIEL :
CASTING :
SULLI [f(x)]
aka Goo Jae Hee
MIN HO [SHINee]
aka Kang Tae Joon
LEE HYUN WOO
aka Cha Eun Kyul
SYNOPSIS : Gu Jae Hui est une jeune fille résidant aux Etats-unis et idolâtrantGang Tae Jun, un jeune athlète pratiquant le saut en hauteur. Cependant, Tae Jun abandonne brusquement cette discipline suite à une blessure. Jae Hui décide alors d'aller étudier en Corée et d'intégrer le lycée de Tae Jun, espérant ainsi l'encourager à reprendre le saut en hauteur. Mais l'école où étudie Tae Jun étant réservée aux garçons, celle-ci devra se travestir et vivre parmi eux en se comportant comme tels, afin de préserver sa couverture et parvenir à ses fins. (nautiljon)

OST : f(x), J-Min, Onew [SHINee], Dana [The Grace]
TRAILER :
(c) coramemine youtube
31 août 2012
WHEN LOVE WALKED IN
WHEN LOVE WALKED IN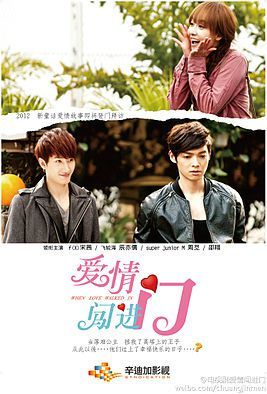 ORIGINE: TAIWAN
TITRE : WHEN LOVE WALKED IN
TITRE ORIGINAL: 愛情闖進門
ANNEE DE SORTIE : 2012
GENRE: COMEDIE ROMANTIQUE
NOMBRE D'EPISODES: 30
DIFFUSEUR : GTV
CASTING :
VICTORIA SONG
aka Shen Ya Yin
CALVIN CHEN
aka Qin Yu Jiang
ZHOU MI
aka Lu Shang Lin
SYNOPSIS : Le jeune, talentueux et seduisant Qing Yu Jiang recoit l'ordre de chercher la petite fille disparue du directeur Yuan, Shen Ya Yin. Le grand pere n'a de cesse de la traquer. C'est pour cette raison qu'elle et son pere demenage regulierement, causant la maladie puis la mort du pere de Shen Ya Yin. Depuis, Ya Yin n'apprecie guere son grand pere, l'accusant d'avoir ruine sa jeunesse. Yu Jiang va petit a petit apaiser les tensions entre le directeur et sa petite fille, et va meme conquerir le coeur de la jeune femme.
TRAILER :
20 février 2012
FAMILLE SME PHOTOSHOOT POUR CARVEN
FAMILLE SME PHOTOSHOOT POUR CARVEN
Plusieurs membres de la grande famille SM Entertainment, notamment YoonA (SNSD), Sulli (f(x)) et Taemin (SHINee), ont ete rassemble autour d'un photoshoot pour la superbe maison de couture francaise, Carven. Pour feter l'implantation de la marque de Guillaume Henry en Coree du Sud, les idols ont ete designes comme mannequins d'un jour.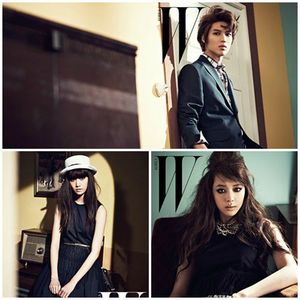 La seance photo a eu lieu le mois dernier, le 19 et 21 Janvier, pour l'edition du mois de Mars du magazine de mode coreen, W Korea. Une live streaming du photoshoot a ete diffuse en simultane sur la chaine officielle Youtube de SME et la chaine Youtube de W Korea. Une vraie operation seduction qui fut un succes car la diffusion online a cumule un total de plus d'1 800 000 de vues !
Voici un avant-gout de la collaboration franco-coreenne. Une rencontre au summum tout en elegance et en style !
Site officiel : W KOREA
Pichu ~
18 septembre 2011
SUPER JUNIOR NOUVEL ALBUM
SUPER JUNIOR NOUVEL ALBUM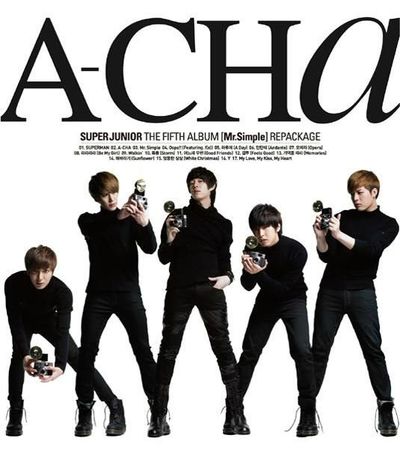 Malgré l'absence de plusieurs membres du super groupe populaire coréen, les Super Junior continuent leurs activités et reviennent avec la version repackage de "Mr Simple".
Sur la jaquette, seuls 5 membres sur 9 apparaissent, jouant les paparazzis : Leeteuk, Eun hyuk, Heechul, Yesung et Sungmin.
Intitulé "A-cha", ce nouvel opus inédit est composé de 17 titres, rien que ça, et notamment une collaboration avec les consoeurs de la SM Entertainment, f(x).
Découvrez ci-dessous la nouvelle tracklist ainsi que les pistes audios de "A-cha" et "Oops" (feat f(x)).
TRACKLIST:
01. SUPERMAN
02. A-CHA
03. Mr. Simple
04. Oops!! (Feat. F(x))
05. 하루에 (A Day)
06. 안단테 (Andante)
07. 오페라 (Opera)
08. 라라라라 (Be My Girl)
09. Walkin'
10. 폭풍 (Storm)
11. 어느새 우린 (Good Friends)
12. 결투 (Feels Good)
13. 기억을 따라 (Memories)
14. 해바라기 (Sunflower)
15. 엉뚱한 상상 (White Christmas)
16. Y
17. My Love, My Kiss, My Heart
TITRE ALBUM: A-cha
TITRE SINGLE: A-cha
DATE: 21/09/2011
Prévente disponible sur YesAsia
AUDIOS:
"A-cha"
"Oops" (feat f(x))
Source: allkpop
Pichu ~
13 juin 2011
f(x) NOUVEAU SINGLE TEASER [UPDATE]
f(x) NOUVEAU SINGLE TEASER
Le single de l'été est-il celui des f(x)?
La saison estivale à venir s'annonce chaud avec le girls band de Victoria. Après avoir dévoilé le poster de leur nouveau single "Hot summer", découvrez dès maintenant son teaser.
Dès demain, un album regroupant les hits des f(x), notamment "Lachata", "Chu" et le titre extrait de l'OST Paradise Ranch.
TRACKLIST:
01. HOT SUMMER
02. 피노키오 (Danger)
03. 빙그르 (Sweet Witches)
04. 좋아해도 되나요 (...Is It OK?)
05. Dangerous(OT:STICKY DOUGH)
06. Beautiful Goodbye
07. Gangsta Boy
08. 아이 (Love)
09. Stand Up!
10. MY STYLE
11. So into U
12. Lollipop (feat. SHINee)
13. 라차타 (LA chA TA)
14. Chu~♡
Leur live comeback se fera sur le plateau de Music Bank le 17 Juin.
TITRE SINGLE:
Hot summer
DATE: 16/06/2011
Disponible sur Tai You
TEASER:
[UPDATE 18.01.2011]
Découvrez le nouveau clip vidéo des f(x) tout beau, tout... rose !!
CLIP:
(c) SME
Source: allkpop
Pichu ~
11 juin 2011
SM TOWN LIVE @ PARIS
SM TOWN LIVE @ PARIS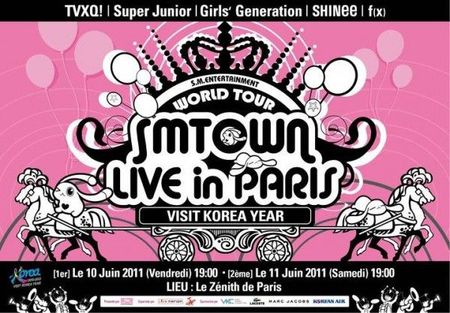 La Kpop mania confirme son emprise sur le public européen et plus particulièrement sur le public français.
Le lendemain du tout premier concert de la troupe de la SM Entertainment à Paris, pas le temps de souffler car la fête continue dès ce soir.
En quasi simultané, la chaîne officielle Youtube du label a diffusé dans la soirée les performances lives des idols présents au Zénith.
En souvenir de la soirée, découvrez les lives des Super Junior, f(x), SNSD et Homin (TVXQ).
Plus de vidéos sur SME Youtube Channel.
VIDEOS:
f(x) "Lachata"
Girls Generation "Genie"
Super Junior "Don't don"
Homin "Before you go"
Source: allkpop
Pichu ~
29 avril 2011
COULISSES PHOTOSHOOT
COULISSES PHOTOSHOOT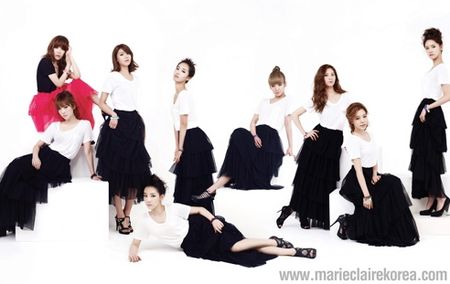 L'une des activités favorites des artistes K-pop mise à part monter sur scène ou participer à des show tv, il y a le jeu de flash.
En perpétuel promotion, les drôles de dame de la SM Entertainment ont été immortalisées dans les dernières éditions des revues coréennes: High Cut et Marie Claire.
Au lieu de découvrir les clichés, découvrez les coulisses des séances photos des f(x) et Girls Generation.
D'un côté, les unes sont pop streetwear, de l'autre les autres sont urban chic. Deux styles radicalement différents mais diablement charmants.
VIDEOS:
f(x) et High Cut
Girls Generation et Marie Claire
Source: Kpoplive
Pichu ~
23 avril 2011
f(x) "LOLLIPOP" BATTLE
f(x) "LOLLIPOP" BATTLE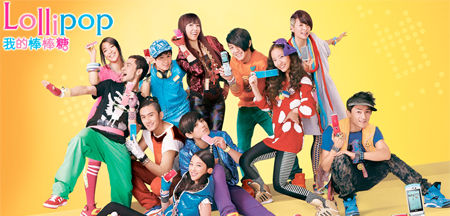 (c) LG
Super overbooked les f(x) sont sur tous les fronts de la K-Pop depuis quelques temps.
Après leur retour live sur Music Bank hier avec leur single "Pinocchio (Danger)", on les retrouve avec une reprise coréenne de leur précédent single "Lollipop". Même titre, même esprit que les BIG BANG (avec les 2NE1), mais aucun plagiat...
En Janvier 2010, Victoria and Co avaient participé à la campagne publicitaire LG Lollipop phone avec le groupe chinois MIC. Un an plus tard, pour leur nouvel album, elles ressortent ce hit en collaborant cette fois-ci avec un groupe de la maison, les SHINee.
En bonus, découvrez ou re-découvrez le clip vidéo "Pinocchio" ci-dessous!!
TITRE SINGLE: Lollipop
AUDIO:
Feat SHINee
VIDEOS:
Feat MIC
BONUS:
(c) SM Entertainment
Source: MTV K
Pichu ~
16 avril 2011
f(x) "Pinocchio" teaser
f(x) "Pinocchio" teaser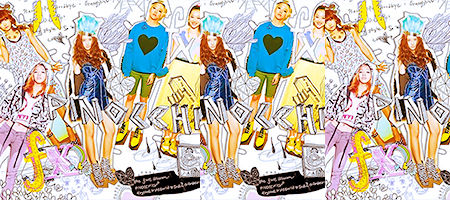 Le moins que l'on puisse dire est que le comeback des f(x) crée le buzz avec leur nouveau single "Pinocchio (Danger)".
Déjà parodié, leur concept suscite l'intérêt des netizens.
Par le biais du site officiel de la SM Entertainment, la couverture 100% fait main et façon cartoon, ainsi que l'audio du single, ont été dévoilé. Un nouveau titre pop rehaussé par le rap de la fraîche et pétillante Luna.
En attendant la sortie de l'intégralité de ce premier opus, découvrez la piste audio du dernier single des cinq f(x).
TITRE ALBUM: 1st mini album
DATE: 18/04/2011
AUDIO:
Source: MTV K
Pichu ~