27 juin 2013
2PM COMEBACK
2PM SHOWCASE A GANGNAM
(c) JYPE
Après avoir gagné la bataille des e-tickets le 14 mai dernier pour le concert des 2PM le 21 Juin au Jamsil Indoor Stadium, L. et moi avons droit à un aperçu en plein air, à Gangnam, et sans frais. Pour ceux qui ne connaissent pas le boys band coréen qui a fait ses débuts en 2008, ils sont connus pour être les meilleurs ambassadeurs de la Kpop wild style !
De retour après une longue tournée internationale, Taecyeon, Nichkhun, Chansung, Junho, Jun K et Wooyoung sont accueillis en véritable Hallyu Star. Leur 3e et nouvel album, Grown, se vend comme des petits pains, tout comme les multiples goodies qu'on trouve dans les boutiques ou étals de rue.
01 - All Day I Think of You
02 - Come Back When You Hear This Song
03 - Back to Square One
04 - I'm Sorry
05 - Today Marks the 1st Day
06 - Dangerous
07 - Just For Today
08 - Game Over
09 - Coming Down
10 - Go Back
11 - Love Song
12 - Suddenly
Deux heures avant le début du show(case), sans surprise de nombreuses fans sont déjà massés devant la petite scène à la sortie du métro. La sécurité tente - en vain - d'organiser convenablement les lieux pendant que les Hottests (surnom des fans des 2PM) s'auto-chauffent en visionnant sur leur smartphone les derniers clips ou lives du groupe. La nuit tombe à Gangnam, la foule est de plus en plus oppressante mais l'adrénaline grimpe, surtout quand le staff installe le poster géant sur scène, annonçant la venue imminente des beastly idols. C'est évidemment à ce moment que le super smartphone décide de mourir... VDM !
Sur l'un des gratte-ciel avoisinant, un écran géant diffuse les deux derniers clips des 2PM puis retransmet les images du concert - pour les retardataires qui sont trop loin pour voir le show mais surtout les netizens qui suivent le live via Youtube!
"Again & Again", "Hate you", "Heartbeat", "Suddenly", "Come back when you hear this song", "ADTOY", "10 out of 10", "Hands up". Le groupe nous fait cadeau de leurs tubes avant de nous donner rendez-vous le mois prochain pour un grand concert qui promet d'être spectaculaire et inoubliable! Au final, une heure intensive ou on s'est fait serrer comme des sardines, fait percer les tympans par les fans hystériques, écraser les pieds 10 fois et un mal de dos, mais le bonheur de les avoir aussi près dépasse largement ces petits inconvénients.
Leur nouvel album Grown est disponible en 3 editions differentes : A (image ci-dessus), B (sexy jaquette @.@) et Grand edition.
BONUS TRACK (Grand edition) :
01. Traición
02. I'm In Love
03. This is Love
04. 향수
05. Let It Rain
06. True Swag
07. It's Time (feat. San E, 유빈)
08. Just a Feeling
09. Love U Down
10. 내 이름을 불러줘
Disponible sur YesAsia (Grand edition)
TITRE SINGLE : ADTOY
DATE : 15.05.2013
VIDEOS :
Clip "ADTOY"
Clip "Comeback when you hear this song"
Credit : jypentertainment
Live "ADTOY" 13.05.16
Credit : Mnet
Source : chuchoodiary
All credits : Pichu ~
ROY KIM NOUVEAU CLIP
ROY KIM NOUVEAU CLIP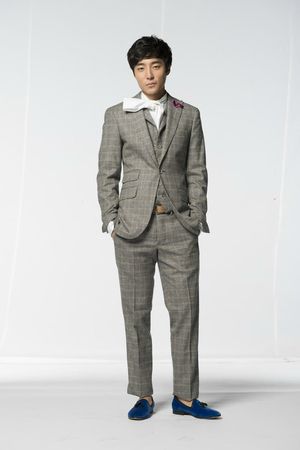 En quelques mois, le vainqueur de l'émission tv reality Superstar K4 est devenu la nouvelle coqueluche en Corée du Sud.
Après son premier single "Bom bom bom" qui a cartonné durant tout le printemps, le jeune Roy Kim (agé de 20 ans seulement) est de retour avec un single qui sonne bon l'été, intitulé "Love love love" (adepte des titres triplés?!). Pour le tournage de son nouveau clip, la jeune star n'a pas hesité à profiter des bains de foule à Hongdae ou Myeongdong. Pour l'occasion, les passants se sont transformés en figurants.
Découvrez ci-dessous le charmant et rafraichissant clip de Roy Kim !
TRACKLIST :
01. 1. Intro (My Forest)
02. 이 노랠 들어요
03. 봄봄봄
04. 그대를 사랑한단 말
05. Love, Love, Love
06. 할아버지와 카메라
07. 도통 모르겠네
08. 나만 따라와
09. 12 o'clock
TITRE ALBUM :
Vol.1 Love love love
TITRE SINGLE : Love love love
Disponible sur YesAsia
VIDEO :
Credit : CJENMUSIC
Source : allkpop
Pichu ~
28 mars 2013
PHANTOM NOUVEAU CLIP AVEC VERBAL JINT
PHANTOM NOUVEAU CLIP AVEC VERBAL JINT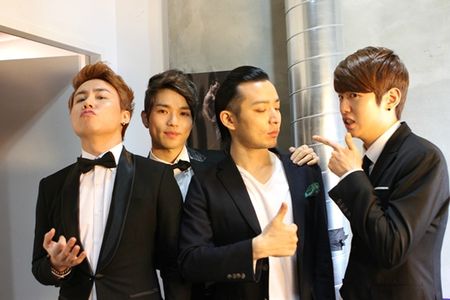 Après la sortie de leur second album en debut d'année, Phantom Theory (disponible sur YesAsia), le trio coréen est de retour avec une collaboration avec le rappeur Verbal Jint. Leur single collaboratif s'intitule "Come as you are", un titre au préalable composé par Verbal Jint. A ce sujet, ce dernier a declaré :
"En tant que compagnons de label, je connais les forces et faiblesses de Phantom mieux que personne, alors cette collaboration était possible. Je les remercie Phantom de chanter à la perfection 'Come As You Are'. Le rendu est encore mieux que ce que j'avais imaginé quand j'avais pensé la sortir moi-meme, alors je suis heureux. J'envisage également de sortir une version Verbal Jint de 'Come As You Are', qui sonnera totalement différent alors veuillez patienter."
Le trio a commenté :
"Nous voulons envoyer un message rafraichissant pour le Printemps et la chanson envoie un son joyeux et optimiste."
Le membre du groupe Kiggen a révélé via son compte Twitter qu'ils etaient en train de preparer leur premier concert le 15 mai 2013 dans le Uniqlo AX Hall à Seoul. "Come as you are" est déja numéro 1 des charts sur Mnet, numéro 2 de Melon et numéro 3 de Bugs.
TITRE SINGLE : Come as you are
VIDEO :
Credit : LOENENT
Source : allkpop
Pichu ~
25 mars 2013
2PM COMEBACK TEASER
2PM COMEBACK TEASER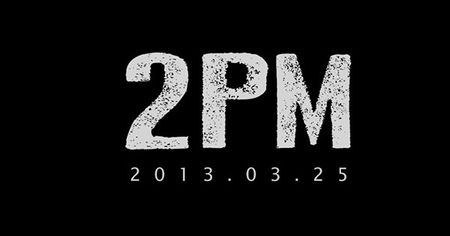 Non vous ne revez pas, JYP Entertainment a enfin dévoilé le premier teaser marquant le comeback tant attendu des 2PM en Corée du Sud ! Apres deux (longues) années d'absence, Taecyeon, Junsu, Nichkhun, Wooyoung, Junho et Chansung reviennent en fanfare. Pour l'occasion, JYP procéde à une promotion marketing digne des blockbusters hollywoodiens. La mère patrie de nos six males n'a pas l'exclusivité sur le teaser car la très courte video (ci-dessous) a été diffusée simultanément aujourd'hui en Corée du Sud, Londres et New York City (et Paris alors ?!). Et pas n'importe ou, la maison de disque coréenne a intelligemment choisi des endroits touristiques comme Times Square et la place Picadilly.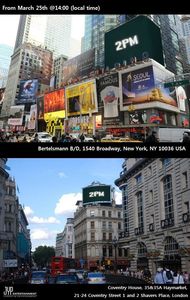 Alors que Chansung continue son drama Level 7 Civil Servant (aux cotés de Joo Won et Choi Kang Hee) et Taecyeon commence le tournage de l'emission We got married (édition mondiale) avec l'actrice Gui Gui. Les 'beastly idols' comme on les appelle sont de retour au complet, pour notre plus grand bonheur, avec un teaser plus que mystérieux. Bienvenue dans le nouveau long-métrage de Tim Burton, euh non, plutot l'extrait alléchant d'un concept mystique et fantasy. Les super males coréens seraient-ils devenus des super heros ?
Le suspense reste entier car aucune tracklist, aucune photo, aucun extrait audio, n'a jusqu'alors filtré sur la Toile...
Qu'avez-vous pensé de ce teaser ? Etes-vous (aussi) impatient(e)s que nous de découvrir ce qui se cache derriere ce teaser ?
A SUIVRE... TO BE CONTINUED...
Youtube officiel : jypentertainment
TEASER :
Credit : jypentertainment
Source : allkpop
Pichu ~
20 mars 2013
YOUNHA COMEBACK TEASER
YOUNHA COMEBACK TEASER
Malgré sa récente participation dans le premier single de So Ji Sub "Field Trip", la talentueuse chanteuse coréenne Younha est restée loins des plateaux tv pendant presque deux ans. Elle met un terme à cette absence prolongée avec un nouveau duo. Cette fois-ci, Younha associe sa voix mélodieuse à celle du rappeur, Naul.
Son nouveau single s'intitule "It's not like that", dont l'histoire raconte les sentiments meurtris d'une personne qui vient de vivre une rupture sentimentale. On raconte que les paroles seraient inspirées par la propre histoire de Naul, qui a preté sa voix à la chanson mais pas seulement, car il a egalement participé à la composition et aux paroles de "It's not like that".
La maison de disque de Younha a declaré :
"Afin de réaliser un excellent album, elle travaille actuellement sur les touches finales. Elle travaille dur pour montrer une nouvelle image (d'elle-meme) alors veuillez patientez."

Que tous les fans se rassurent, en attendant la sortie officielle de son single (dans 2 jours, le 22 mars 2013), vous pouvez découvrir ci-dessous le teaser de son clip video !
A SUIVRE... TO BE CONTINUED...
TITRE SINGLE : It's not like that
DATE : 22/03/2013
TEASER :
Credit : CJENMMUSIC
Source : allkpop
Pichu ~
19 mars 2013
SUPREME TEAM NOUVEAU CLIP
SUPREME TEAM NOUVEAU CLIP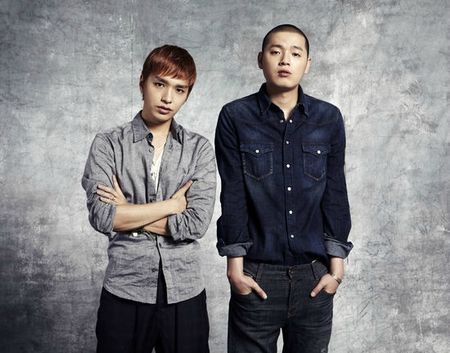 Simon D. et E-Sens, le duo charismatique de Supreme Team, revient après un break de deux ans, soit une éternité pour tous leurs fans !
Le 16 et 17 mars dernier, lors du concert '2013 Amoebahood Concert', les deux rappeurs coréens ont rassuré leurs fans sur leur carrière en dévoilant leur nouveau single, intitulé "Stay Still". Le scandale d'E-Sens en 2011 est maintenant aux oubliettes car les Supreme Team participent activement avec leur camarade de label, Crush, à l'album collaboratif d'Amoeba Culture : NOWorkend.
En bonus, découvrez ci-dessous le nouveau clip video "Stay Still", ainsi que l'intégralité audio de leur single inédit "Thanks for the wait".
TITRE SINGLE : Stay still (feat Crush)

VIDEO :
Credit : amoebakorea
AUDIO :
Credit : BubbleFeetGravityCH6
Source : allkpop
Pichu ~
18 mars 2013
SUCCESS-STORY DE FRANCAIS EN COREE DU SUD
SUCCESS-STORY DE FRANCAIS EN COREE DU SUD
(c) M6

Les francais ont le vent en poupe au pays du matin calme et cela se confirme par un mini-reportage diffusé par M6 hier dans son émission hebdomadaire 66 minutes.
Le fil rouge de ce documentaire n'est ni la Kpop mania ni le phénomene PSY, mais l'histoire de quatre francais partis à l'aventure en Coree du sud. Vous pourrez alors retrouver :
Une Lyonnaise, fan de K pop qui souhaite ajouter une expérience pertinente sur son CV ou, pourquoi pas, créer une entreprise franco-coréenne,
un Marseillais, qui espère travailler dans une maison de disque en Corée du Sud et qui découvre le monde du travail coréen en postulant dans une pâtisserie,
une styliste, qui a crée sa marque de vêtements en Corée du Sud et qui ne prévoit plus de quitter le pays,
un Français devenu la coqueluche de la télé coréenne : mannequin, comédien de publicité et de séries et bientôt… animateur !
Pour celles et ceux qui ont loupé l'emission, séance replay ci-dessous ! Un gros merci à nabilbelgium qui a gentiment posté la video sur la Toile.
N'hésitez pas à nous faire part de vos commentaires et à partager !
Aja aja fighting ~
VIDEO :
Credit : nabilbelgium
Source : M6, pvtistes.net
Pichu ~
07 mars 2013
U-KISS COMEBACK
U-KISS COMEBACK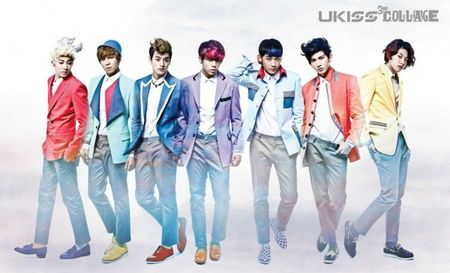 Le boys band coréen U-KISS est enfin de retour au complet ! Après plusieurs mois aux Etats-Unis à étudier dans la prestigieuse université Columbia, AJ a annoncé le jour de la St Valentin lors d'un fanmeeting au Japon qu'il est bel et bien de retour avec ses camarades.
Ce jour est enfin arrivé et l'attente valait la peine d'etre supporté !
Les U-KISS reviennent avec un 3e album intitulé Collage et pour lequel un concept très arty a été développé. Chacun des membres a été 'dessiné' avec des couleurs plutot pastel.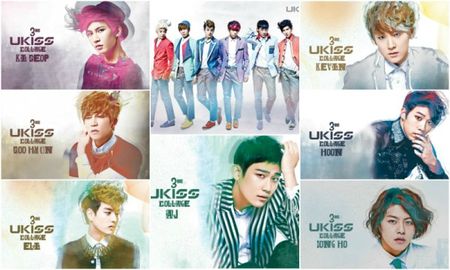 Decouvrez ci-dessous un apercu de leur nouveau clip ainsi que leurs coulisses de son tournage (sur Korea Today), et leur performance live sur Show Champion !
Site officiel : http://www.u-kiss.co.kr/
TRACKLIST :
01. Step by Step(Intro)
02. Standing Still
03. 숨도 못 쉬어
04. Missing You
05. 나쁘다
06. 아픔보다 아픈 (Soohyun & Hoon duet)
07. My Reason (Kevin solo)
08. Party all the time (AJ & Eli duet)
09. Sweety Girl
10. 사랑하니까
11. 아픔보다 아픈(inst.)
12. Standing Still(inst.)
TITRE ALBUM : Vol.3 Collage
TITRE SINGLE : Standing still
DATE : 08/03/2013
Prevente disponible sur YesAsia
TEASER :
Credit : HakieLee
VIDEOS :
Live @Show Champion
Credit : TanVuLiveMBC
Coulisses "Standing Still" @ Korea Today
Credit : hoontokki2
Source : allkpop
Pichu ~
06 mars 2013
YOUNG SAENG [SS501] COMEBACK TEASER [UPDATE]
YOUNG SAENG [SS501] COMEBACK TEASER
Après plusieurs mois d'absence, le membre du groupe SS501 revient avec un 3e mini-album solo pour le printemps.

Son nouvel album est intitulé Life.
Via la chaine officielle Youtube de son label, B2M Entertainment, vient de dévoiler un premier teaser. Un second est à venir dans deux jours !
Avis aux fans, le DVD live de son concert "Over-Joyed", qui a eu lieu le 22 septembre 2012 à Shibuya, est mis en vente : ici.
TRACKLIST DVD :
01 1.2.3
02 DraMagic!
03 LET IT GO
04 Crying
05 ?????? イルムオムヌンキオック
06 FIND(Rock ver.)
07 INTIMIDATED0
08 OUT THE CLUB
09 True Tears
10 とぎれた夜をつないで
11 MARIA
12 LOVE YA
13 SS501メドレー(Kokoro / Distance~君とのキョリ/ LIVE! / LUCKY DAYS)
14 All My Love
15 BEAUTIFUL
16 Dream on
17 Hello Mello
TWITTER : B2M ENTERTAINMENT
TITRE ALBUM : Life
DATE : 13/03/2013
TEASER :
Credit : b2ment
[UPDATE 14.03.2013]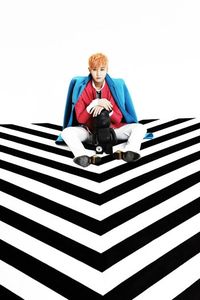 Pour marquer son retour sur la scene, Young Saeng a sorti son 3e mini album le jour du White Day (un mois apres la St Valentin). Un nouvel album intitulé simplement Life, pour lequel il a realisé un photoshoot tres coloré.
TRACKLIST :
01. Life
02. 작업의 정석 (타이틀곡)
03. That's me
04. I know it all
05. 작업의 정석 (INST.)
TITRE ALBUM : Vol.3 Life
DATE : 15/03/2013
Prevente disponible sur YesAsia
TITRE SINGLE : The art of seduction
VIDEOS:
"The art of seduction" clip video
Credit : b2ment
Live comeback @Mnet Countdown 14/03/2013
Credit : kpopstreamMNET
Source : allkpop
Pichu ~
05 mars 2013
SULLI PHOTOSHOOT POUR OHBOY!
SULLI PHOTOSHOOT POUR OHBOY!
Celle qui est une artiste confirmée en musique, mais est une star montante sur le petit écran, montre un nouveau visage à ses nombreux fans à travers une séance photo pour le magazne OhBoy!. Avant de souffler vingt bougies à la fin du mois (20 ans en Corée; 19 ans en Occident), la vedette du teen drama 2012, To the beautiful you, Sulli se métamorphose en hipster chic et charmante.

Sa fraicheur juvénile est toujours apparente mais elle porte avec élégance de plusieurs modèles de sacs de la marque luxueuse Monsac.
Véritable fashionista, Sulli a été récemment vu dans une publicité pour la marque cosmétique coréenne Etude House (video ci-dessous) et a été apercue avec Victoria lors l'événement Dior le mois dernier.
Pour les fans des f(x) et de Sulli, vous pourrez découvrir les clichés de OhBoy! dans l'édition du mois de mars 2013.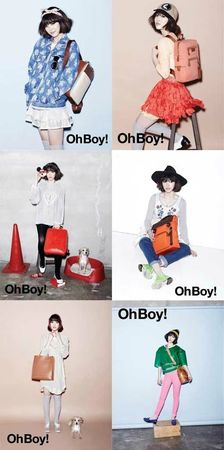 VIDEO :
Credit : etudeblog
Source : allkpop
Pichu ~