04 février 2013
COUP DE COEUR DU MOMENT
COUP DE COEUR DE LA SEMAINE DU 04 FEVRIER 2013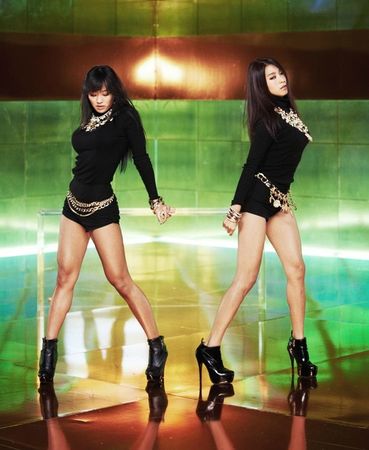 Chaque année voit son lot de rookies, féminin et masculin, débarquer dans le monde fabuleux mais sans pitié de la Hallyu Wave. Avec un peu de chance, beaucoup de talents et énormement de courage, certains réusissent à perdurer, voire exporter leur musique à l'international.
La tendance des dernières années est de décliner des nouvelles unités, sous-groupes, mixtes ou non, à succès ou non. Starship Entertainment a trouvé des perles rares dans le quatuor des Sistar, et notamment ses deux vedettes, Hyorin et Bora. Alors que le duo n'a sorti qu'un seul single, devenu un classique de la Kpop, les fans attendaient avec impatience le comeback des belles brunettes.
Deux ans après leurs débuts en duo, les Sistar19 reviennent enfin avec leur premier single album composé de 5 pistes.
Leur nouveau single intitulé "Gone not around any longer" (produit par Brave Brothers) est un d'ors et déja un all-kill single (soit un veritable carton) !!! La leader des Sistar, Hyorin, impressionne par son incroyable voix mélodieuse et sa capacité à atteindre 5 octaves.
Découvrez sans attendre ci-dessous le clip du single, leur dernier live sur le plateau de MBC, ainsi que le live des Sistar à Paris lors du KBS Music Bank show en 2012.
A écouter: Ma Boy, Gone not around any longer, A girl in love
A lire également : SISTAR19 COMEBACK
TRACKLIST:
01. SISTAR19
02. Gone not around any longer
03. A girl in love
04. Ma boy
05. Gone not around any longer (version inst.)
ARTISTE: SISTAR19
TITRE ALBUM: Sistar19 Single Album Vol.1
DATE: 06/02/2013
Prevente disponible sur YesAsia
VIDEOS :
Clip "Gone not around any lounger"

[MV] SISTAR19 (씨스타19) - Gone Not Around Any... par wonderful-life1989
"Ma boy" live a Paris / KBS Music Bank
Live @MBC
Credit : MBCkpop
17 janvier 2011
FREE WIRED
COUP DE COEUR DE LA SEMAINE DU 17 JANVIER 2011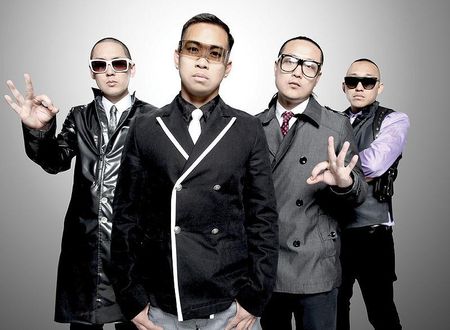 Exception à la règle. Le nouveau coup de coeur de la team Asia Fighting est non pas un groupe asiatique mais américain. Certes ils sont d'origines asiatiques mais Kev Nish, Prohgress, J-Splif et Virman sont des californiens pure souche.
En référence à leur origine asiatique (japonaise, chinoise, coréenne et philippine), Kevin Nishimura, James Roh, Jae Chong et le DJ Virman forment les FAR EAST MOVEMENT.
Depuis 2003, l'ascension est fulgurante pour les copains de lycée: participation à la bande originale du film Fast and Furious: Tokyo Drift, participation à la tournée américaine d'Epik High, et la consécration en 2010 avec Free Wired pour lequel de nombreuses stars ont mis la main - la voix - à la pâte: Snoop Dogg, Ryan Tedder [One Republic], Keri Hilson...
Grâce à leur single "Like a G6", le groupe a atteint le sommet du classement Billboard et obtient un double disque de platine. Far East Movement a également été récompensé au dernier Mnet Asian Music Awards (MAMA) en tant que meilleur artiste international.
Preuve de leur réussite internationale, les Far East Movement ont annoncé qu'ils feront partie de la tournée de Rihanna "Last Girl on Earth Tour" en Australie de Février à Mars 2011.
A écouter: Rocketeer, Don't look now, If I was you (OMG), Fighting for air, Girls on dance floor
TRACKLIST:
01. Girls on dance floor (feat Stereotypes)
02. Like a G6 (feat The Cataracs & Dev)
03. Rocketeer (feat Ryan Tedder)
04. If I was you (OMG) (feat Snoop Dogg)
05. She owns the night (feat Mohombi)
06. So what?
07. Don't look now (feat Keri Hilson)
08. Fighting for air (feat Vincent Frank)
09. White Flag (feat Kayla Kai)
10. 2Gether (feat Robert Sanchez & Kanobby)
Site officiel: http://fareastmovement.com/
ARTISTE: FAR EAST MOVEMENT
DATE: 18/10/2010
Disponible sur Amazon
AUDIOS:
"If I was you" (feat Snoop Dogg)
"Rocketeer" (feat Ryan Tedder)
14 décembre 2010
DREAM ON
COUP DE COEUR DE LA SEMAINE DU 13 DECEMBRE 2010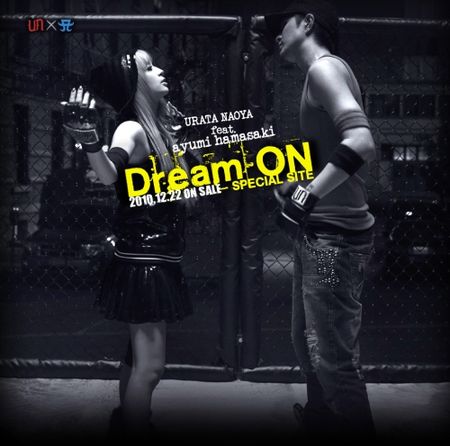 Le duo de choc Ayu et le leader des AAA, "DREAM ON" vient de dévoiler un clip version courte. Ayumi Hamasaki et Urata Naoya s'affrontent sauvagement sur un ring de rue. Un battle à la David vs Goliath dont le dénouement ne viendra que dans la version longue du clip...
"Dream On" est purement et simplement une collaboration au sommet de la J-Pop, réunissant les forces nécessaires.
Danseur pour Ayu, Urata Naoya fait désormais jeu égal avec la reine de la J-pop. Pour la première fois, elle accepte de produire le single d'un collègue. "Dream on" est le premier single solo du leader du groupe AAA. Pour cela, il a bénéficié des meilleurs soins: Ayu s'est personnellement chargée de l'écriture et s'est faite aider par Hara Kazuhiro, collaborateur des EXILE, pour la composition et arrangement de ce nouveau hit.
Site officiel: http://www.avexnet.or.jp/dream-on/
ARTISTE: Ayumi Hamasaki [feat Urata Naoya - AAA]
TITRE SINGLE: Dream On
DATE: 22/12/2010
Prévente disponible sur YesAsia [édition A - first press edition]
VIDEO:
07 décembre 2010
LOVE BALLAD
COUP DE COEUR DE LA SEMAINE DU 06 DECEMBRE 2010
Le retour des rois de la soul est grandement apprécié! L'absence des voix envoûtantes et sensuelles de Jung Yup et ses comparses avaient crée un grand vide dans la K-Pop, désormais comblé généreusement par ce nouvel opus. Pour le comeback des quatre chanteurs, toute la palette de leur talent a été utilisée.
Du gospel, de la pop old school et contemporaine, du blues, en passant par des airs funky, et des ballades. Chacune des 15 pistes enregistrées pour ce nouvel album raconte une nouvelle et belle histoire, en coréen ou en anglais ["He is real", "Your song"].
Dans la tracklist, les singles "Blowing my mind", "Can't stop loving you" et "Love Ballad" font partie du rendez-vous. "Love ballad" a été élu coup de coeur de la semaine. Un titre qui en fait déjà chavirer plus d'une, quand on connaît leur antécédent avec "Nothing better"...
Le volume 3 des Brown Eyed Soul est du début jusqu'à la fin un réel chef d'oeuvre musical.
Si vous ne connaissez pas encore ce groupe magnifique, découvrez le clip de "Love ballad" et les audios de "그대" et "He is real".
A écouter également: 그대, He is real, Your song, If it's the same, Can't stop loving you, 비켜줄께
ARTISTE: Brown Eyed Soul
TITRE ALBUM: Brown Eyed Soul vol.3
TITRE SINGLE: Love ballad
DATE: 29/11/2010
Disponible sur YesAsia
VIDEO:
(c) KBSWORLD
AUDIOS:
그대
He is real
30 novembre 2010
NINE
COUP DE COEUR DE LA SEMAINE DU 29 NOVEMBRE 2010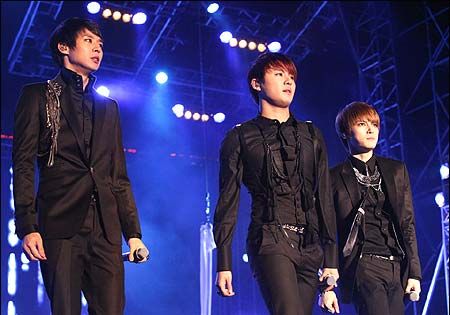 (c) Yonhap
Que peut-il bien se cacher derrière le chiffre 9??
Titre inédit des JYJ composé par Hero Jaejoong, révélé aux Cassies pour la première fois samedi dernier en live lors du JYJ Worldwide Concert à Séoul. "Nine" est une ballade à l'ancienne, interprétée avec l'harmonie et le talent qu'on connaît au trio, mais qui inévitablement rappelle le vide laissé par le leader et le tenor...
Les paroles de "Nine" ont suscité beaucoup d'intérêt chez les netizens. Des rumeurs concernant leurs relations avec Yunho et Changmin des TVXQ ont surgi... Désireux de clarifier ses intentions via Twitter, l'auteur, compositeur et interprète a déclaré qu'il a souhaité écrire une chanson en référence aux 9 années passées ensemble depuis l'arrivée du dernier membre TVXQ, Yoochun.
"By the way.. There are a lot of people curious about the meaning behind 'Nine'… The meaning is literally '9′… It's because of the nine years we've been together since Yoochun joined us.
It took me a long time to write the lyrics for 'Nine.' I wondered whether to make it sound poetic and how to express it in a better way. It's the first song we presented at our concert so I wanted to use the line 'I'm telling you right in front of you' and it unraveled from there..
I wanted to arrange a song while thinking of our 'first.' I made the cord out of the melody I first taught Yoochun on the piano. The melody makes me think of music from ten years ago. Yoochun didn't even know that and told me, 'Hyung… this kind of feels nostalgic? hehe.' (Sorry, Yoochun)"
(c) allkpop
Tenant absolument à ce que la phrase "I'm telling you right in front of you" [trad. Je te parle bien en face] soit incluse, Jaejoong voulait créer une mélodie poétique et exprimer du mieux possible ses sentiments. Mission accomplie.
Cette belle douce mélodie nous berce et nous rend tous nostalgiques d'un certain temps où ils étaient cinq sur scène...
Autres nouveaux titres JYJ: Pierrot, Mission, Fallen leaves.
Cassiopeia, always keep the faith !
ARTISTE: JYJ
TITRE SINGLE: Nine
VIDEO:
Live @ JYJ Worldwide Concert Seoul - 271110 - fancam Jaejoong
(c) LStandJYJ
24 novembre 2010
PARADISE
COUP DE COEUR DE LA SEMAINE DU 22 NOVEMBRE 2010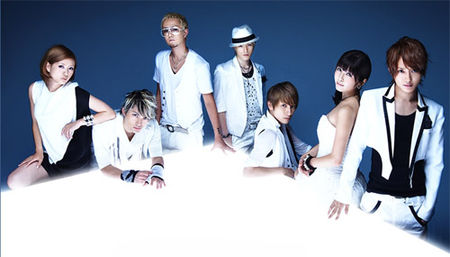 Come on! Join us! Are you ready?
Les made in Avex, Attack All Around, sont de retour depuis une semaine avec un nouveau single: Paradise/ Endless fighters.
Notre coup de coeur est le single: "Paradise". Les sept AAA sont en grande forme et maîtrisent de mieux en mieux leur live, accentuant le côté pétillant du hit addictif.
L'autre single "Endless fighters" est devenu le thème de l'émission Pokemon Smash!
TRACKLIST:
01 PARADISE
02 Endless Fighters 
03 PARADISE (version instrumentale) 
04 Endless Fighters (version instrumentale)
ARTISTE: AAA
TITRE ALBUM:
Paradise/ Endless fighters
TITRE SINGLE: Paradise
DATE: 17.11.2010
Disponible sur YesAsia
VIDEOS:
Clip vidéo
(c) Avexnetwork
Live
16 novembre 2010
BEAUTIFUL
COUP DE COEUR DE LA SEMAINE DU 15 NOVEMBRE 2010
Sans surprise, le coup de coeur de la semaine est décerné aux b-boys de Cube Entertainment: BEAST.
Fan ou pas? Il est certain qu'ils créent le buzz en cette fin d'année 2010.
Si vous n'avez pas encore embarqué dans leur BEAST AIRLINE, il n'est pas trop tard pour s'y mettre.
BEAST: qui est-ce? Boys of the EAst Standing Tall. Oui mais encore. Ces beast sont six boys, collègues des 4minute, qui ont fait leur début en 2009 avec le single "Bad Girl".
Doojoon, AJ, Jun Hyung, Yo Seob, Hyun Seung et Dong Woon surprennent toujours plus chaque jour qui passe. Comme le bon vin, les BEAST semblent s'affiner au fil des années. Alors, le meilleur reste à venir, n'est-ce-pas?!
Sans attendre des années, les B2utys attendent de pied ferme la suite du clip-drama "Beautiful".
A écouter également: Lights go on again, Lightless, I'm Sorry
ARTISTE: BEAST
TITRE ALBUM: Vol.4 Lights go on again
TITRE SINGLE: Beautiful
DATE: 10.11.2010
Disponible sur YesAsia
VIDEO:
(c) beastofficial
09 novembre 2010
AFTER LOVE
COUP DE COEUR DE LA SEMAINE DU 08 NOVEMBRE 2010
Un mois avant la sortie de son 10e album Spin the music, Crystal Kay nous offre un merveilleux duo avec Kaname (du groupe Chemistry).
A tous les détracteurs de la J-Pop, la talentueuse américano-nippone vous fera certainement changer d'avis. Parole de la team Asia Fighting! Loin des productions clichés vite fait mal fait du pays au soleil levant, "After love" est un bijou qui rappelle la pop américaine made in Japan.
A écouter également: Girlfriend (feat BoA)
ARTISTE: Crystal Kay
TITRE ALBUM: Spin the music
TITRE SINGLE: After love (feat Kaname de Chemistry)
DATE: 08/12/2010
Disponible sur YesAsia
VIDEO:
03 novembre 2010
BRIGHT TEARS [MISE A JOUR]
COUP DE COEUR DE LA SEMAINE DU 01 NOVEMBRE 2010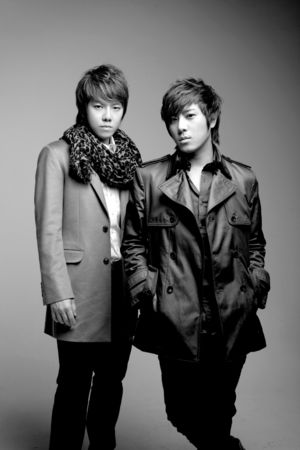 Un peu de douceur dans un monde de brutes.
Pour cela, le duo de mâles December [CS Happy Entertainment] nous revient avec un second album intitulé A story to the sky. Après leur début album My dear lover (2009), Yun Heok et Dae Gyu sont de retour avec une série de ballades K-Pop.
Mélodies de saison, elles nous confèrent la beauté et la fragilité des sentiments le temps d'un instant. Un brin tristounet mais qui fait tellement du bien.
A écouter également: 괜찮아요, 별이될께, Once upon a time
Check out leur premier live !!
ARTISTE: December
TITRE ALBUM: A story to the sky
TITRE SINGLE: Bright tears
DATE: 04/11/2010
Disponible sur YesAsia
VIDEOS:
Video clip
Live @ Music Bank [051110]
26 octobre 2010
HOOT
COUP DE COEUR DE LA SEMAINE DU 25 OCTOBRE 2010
Jamais en manquent d'inspiration elles sont. Qui donc?
Les Girls Generation bien sûr.
Pour leur 3e opus, Hoot, on découvre les girls dans un univers très inspiré Austin Power et Girls Power. Le titre éponyme reflète un esprit de légèreté, de défiance avec un côté trendy retro. Après le style baby doll, capitaine de croisière, les Soshi nous reviennent armées, alors gare à vous!
On attend avec impatience le premier live de ce single qui détonne et qui leur colle bien à la peau. Elles le valent bien, non?!
Leur 3e album sort le 29 Octobre et sera composé de 5 titres.
Tracklist:
01. Hoot
02. Mistake
03. My Best Friend
04. Wake Up
05. Snowy Wish
ARTISTE: Girls Generation
TITRE ALBUM: Vol.3 - Hoot
TITRE SINGLE: Hoot
DATE: 29/10/2010
Disponible sur YesAsia
VIDEO:
Hoot [audio seulement]