07 janvier 2013
YOUTH MELODY
YOUTH MELODY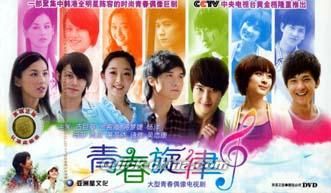 ORIGINE: TAIWAN
TITRE : YOUTH MELODY
TITRE ORIGINAL : 青春旋律
ANNEE DE SORTIE : 2011
GENRE : JEUNESSE, MELODRAME
NOMBRE EPISODES : 10
DIFFUSEUR : CCTV1
CASTING :
LEO KU (Romance in the rain, 2001; Heaven on earth 3, 2002; Chun Guang Can Lan Zhi Huan Le Yuan Shuai, 2012)
aka Wang Yu Hang
JIANG MENG JIE (Hong Lou Meng, 2010; Bei Yi Qi De Mi Mi, 2011; Joyful reunion, 2012)
aka Pu Xiao Tang
KIM HEECHUL / SUPER JUNIOR (Attack on the pin-up boys, 2007; Golden bride, 2007; Loving you a thousand times, 2009)
aka Shen Tai Yi
ZHOU MI (When love walked in, 2012)
aka Gao Da
YANG YANG (Hong Lou Meng, 2010; Hua Kai Ban Xia, 2012; Refreshed 3+7, 2012)
aka Ning Hao
SYNOPSIS : Ce drama raconte l'histoire d'un groupe de jeunes diplomes qui entrent dans la vie active. Wang Yu Hang est un incongru vieil etudiant avec un esprit tourne vers les affaires. Pu Xiao Tang est un garcon manque avec une forte personnalite qui gagne sa vie par ses propres moyens et est une pro des jeux videos. Shen Tai Yi est un gamer professionnel qui va commencer a courtiser Xiao Tang. Gao Da est un jeune homme riche et drole qui cherche a a se prouver qu'il vaut mieux que l'argent de ses parents. Ning Hao est un gentil garcon dont les veritables envies sont la peinture artistique des ongles...
OST :
TRAILER :
Credit : beehoney214
VIDEO :
EPISODE 1
Credit : HappyFamilyCamp