23 novembre 2010
YOU ARE HIRED
YOU'RE HIRED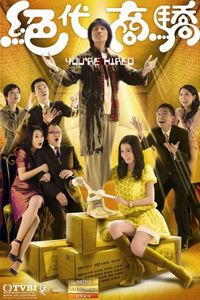 ORIGINE: HONG KONG
TITRE : YOU'RE HIRED
TITRE ORIGINAL: 絕代商驕
ANNEE DE SORTIE : 2009
GENRE: COMEDIE
NOMBRE D'EPISODES: 22
DIFFUSEUR: TVB
SITE OFFICIEL: http://programme.tvb.com/drama/yourehired/
CASTING:
DAYO WONG (War of genders, 2000; To catch the uncatchable, 2004; Men don't cry, 2007)
aka Mak Tai Song
BENZ HUI (Demi gods semi devils, 1982; The legend of condor heroes, 1983; The white flame, 2002; Survivor law, 2003; Hidden treasure, 2004; Lost in the chamber of love, 2005; Yummy yummy, 2005; Dicey business, 2006; The drive of life, 2007; War of in laws 2, 2008; When a dog loves a cat, 2008; Born rich, 2009)
aka Tong Kat
CHARMAINE SHEH (Return of the cuckoo, 2000; Country spirit, 2001; A herbalist affair, 2002; Perish in the name of love, 2003; War and beauty, 2004; Yummy yummy, 2005; Maiden's vow, 2006; When easterly showers fall on the sunny west, 2008; Can't buy me love, 2010)
aka Lam Miu Miu
SYNOPSIS: Un ancien entrepreneur brillant, Mak Tai Song, a quitté le business depuis le suicide de son mentor. Quand il apprend que la femme de ce dernier, Sheh Mo Lin, est beaucoup endettée, pour l'aider, il décide de ventre des "tactiques business" au trader Tong Kat. Dans ce cadre de jeu financier, Song fera face à la redoutable Miu Miu.
OST: Dayo Wong
VIDEO: