03 février 2013
WHEN A WOLF FALLS IN LOVE WITH A SHEEP
WHEN A WOLF FALLS IN LOVE WITH A SHEEP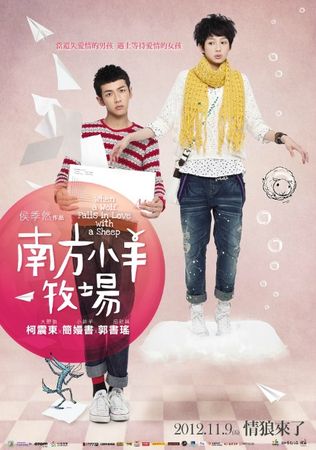 ORIGINE: TAIWAN
TITRE : WHEN A WOLF FALSL IN LOVE WITH A SHEEP
TITRE ORIGINAL: 南方小羊牧场
ANNEE DE SORTIE : 2012
GENRE: ROMANCE
REALISATEUR: HOU JIRAN
CASTING:
KO CHEN TUNG (You are the apple of my eye, 2011)
aka Tung
JIAN MAN SHU (Year of the rain, 2010; Fondant garden, 2012; Love in the wind, 2012)
aka Xiao Yang
SYNOPSIS :
Quand sa petit amie (Nikki Hsieh) disparait soudainement de sa vie avec un simple mot annoncant son depart, le coeur brise, Tung part naturellement a sa recherche dans les rues de Nanyang. Au lieu de retrouver sa copine, il y trouve un job dans une boutique de photocopies, a faire des photocopies de documents d'examens pour les etudiants. Un jour, il remarque au verso d'une feuille d'examen un dessin d'un mouton qui se parle tout seul. En reponse au dessin, il dessine un grand loup a cote qui raconte des idioties. De plus en plus d'etudiants rejoignent la conversation du mouton-loup, ajoutant d'autres animaux, une romance naissante prend forme entre Tung et l'excentrique assistante du professeur, Xiao Yang...
Disponible sur YesAsia
OST :
TRAILER :
Credit : ILoveChineseFilms