18 mai 2010
WHAT PLANET ARE YOU FROM
WHAT PLANET ARE YOU FROM?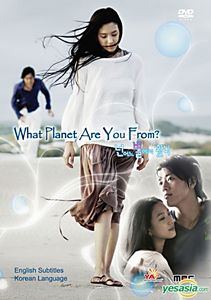 ORIGINE: COREENNE
TITRE : WHAT PLANET ARE YOU FROM?
AUTRE TITRE: WHICH STAR DID YOU COME FROM?
TITRE ORIGINAL: 넌 어느 별에서 왔니 (Neon Eoneu Byeoleseo Wassni)
ANNEE DE SORTIE : 2006
GENRE : DRAMA, ROMANCE
NOMBRE D'EPISODES: 16
DIFFUSEUR : MBC
CASTING :
KIM RAE WON (... Ing, 2003; Love story in Harvard, 2004; Say you love me, 2004; Gourmet, 2008)
aka Choi Seung Hee
JUNG RYU WON (My lovely Sam Soon, 2005; My boyfriend is type B, 2005)
aka Kim Bok Shil/Lee Hye Soo
KANG JUNG HWA (Super rookie, 2005; By land and sky, 2007)
aka Yoon Mi Hyun
PARK SHI HOO (How to meet a perfect neighbor, 2007; Prosecutor Princess, 2010)
aka Han Jung Hoon
SYNOPSIS: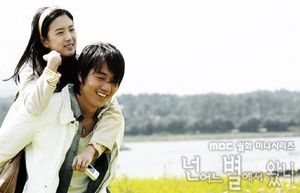 Trois ans après le décès de sa fiancée, Seung Hee, décide de reprendre sa carrière de réalisateur en tournant à la campagne. Une jeune fille attire son attention, Bok Shil, car elle est la sosie de son ancienne fiancée, Hye Soo. Dès lors les chemins de Seung Hee et Bok Shil sont liés. Leur relation est-elle simplement due à la remplace troublante des deux femmes?
Disponible sur Nautiljon
TRAILER: