20 mars 2011
WASABI MON AMOUR
WASABI MON AMOUR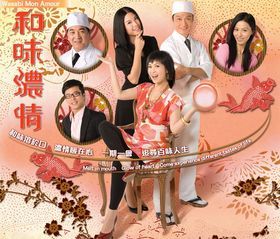 ORIGINE: HONG KONG
TITRE : WASABI MON AMOUR
TITRE ORIGINAL: 和味濃情
ANNEE DE SORTIE : 2010
GENRES: COMEDIE, ROMANCE
LANGUE: CANTONAIS
NOMBRE D'EPISODES: 20
DIFFUSEUR: TVB
SITE OFFICIEL: http://tvcity.tvb.com/drama/wasabi_mon_amour/frontpage/
CASTING:
MICHAEL TAO (Detective Ingestigation Files, 1995; Shine on you, 2004; On the first beat, 2007; Sisters of pearl, 2010)
aka Chung Wai Wor
LOUISA SO (Triumph in the skies, 2003; Men in pain, 2006; The winter melon tale, 2009; A bride for a ride, 2010)
aka Ko Yau Me
BERNICE LIU (Virtues of harmony, 2001; The brink of law, 2007; When a dog loves a cat, 2008; The greatness of a hero, 2009; The mysteries of love, 2010)
aka Yim Lai/ Ally
PAU CHUN (At the threshold of an era, 1999; Life made simple, 2005; Glittering days, 2006; The master Tai Chi, 2008; Black & White, 2009; Born rich, 2009)
aka Ko Sau
SYNOPSIS: Yau May, nickname surnommé Me, est la fille de Sau, le chef d'un restaurant japonais à Hong Kong. Wor est le protégé de Sau et a été amoureux de Me depuis son enfance.
Après une série d'événements, Me obtient un travail au sein du groupe Heat, une chaîne tv qui produit des émissions de cuisine. Grâce à ce job, elle rencontre Ally, et finit par découvrir qu'elle est sa demi-soeur.
OST: Eric Suen
VIDEOS: