21 mars 2011
TWINKLE TWINKLE
TWINKLE TWINKLE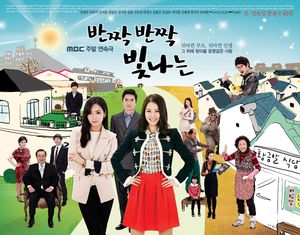 ORIGINE: COREE
TITRE : TWINKLE TWINKLE
TITRE ORIGINAL: 반짝반짝 빛나는
AUTRE TITRE: All that glitters
ANNEE DE SORTIE : 2011
GENRES: COMEDIE, ROMANCE
REALISATEUR: NOH DO CHEOL
NOMBRE D'EPISODES: 50
DIFFUSEUR: MBC
SITE OFFICIEL: http://www.imbc.com/broad/tv/drama/shining/
CASTING:
KIM HYUN JOO (Marrying a millionaire, 2005; In Soon is pretty, 2007; Partner, 2009)
aka Han Jung Won
LEE YOO RI (Loving you, 2002; Wife, 2003; Love and ambition, 2006; I love you don't cry, 2008; Daring women, 2010)
aka Hwang Geun Ran
KIM SUK HOON (Into the storm, 2004; Han river ballad, 2004; Blissful woman, 2007; Empress Chun Chu, 2009)
aka Song Seung Joon
KANG DONG HO (Wild romance, 2012; Unexpected you, 2012)
aka Kang Dae Bum
SYNOPSIS: Han Jung Won est une femme carriériste accro au travail, déterminée à tracer son chemin dans la vie sans l'aide de sa famille. Sa famille est aisée grâce à leur maison d'édition. Sa vie est bouleversée en raison d'erreurs commises, et elle devra faire face à divers obstacles.
OST: Rainbow
VIDEOS:
Teaser
"I'm a sad romantic" Rainbow OST