21 décembre 2012
THREE KINGDOMS RPG
THREE KINGDOMS RPG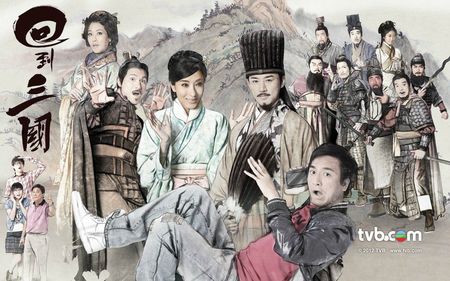 ORIGINE: HONG KONG
TITRE : THREE KINGDOMS RPG
TITRE ORIGINAL : 回到三國
ANNEE DE SORTIE : 2012
GENRES : HISTORIQUE, SCIENCE FICTION
NOMBRE EPISODES : 25
DIFFUSEUR : TVB
SITEWEB : http://programme.tvb.com/drama/threekingdomsrpg

CASTING :
KENNETH MA (To grow with love, 2006; The brink of law, 2007; D.I.E, 2008; The master of Tai Chi, 2008; Speech of silence, 2008; Man in charge, 2009; Born rich, 2009; In the chamber of bliss, 2009; Grace under fire, 2011; The hippocratic crush, 2012)
aka Szema Shun
RAYMOND LAM (Eternal happiness, 2002; Survival Law, 2003; Yummy yummy, 2005; La femme desperado, 2006; Heart of greed, 2007; The master of tai chi, 2008; The four, 2008; The mysteries of love, 2010; Men with no shadow, 2011; High and low, 2012)
aka Zhuge Liang
TAVIA YEUNG (Twin of Brothers, 2004; The academy, 2005; Dicey business, 2006; A pillow case of mystery, 2006; Heart of greed, 2007; Moonlight resonance, 2008; Sweetness in salt, 2009; Cupid cupid, 2010; Men with no shadow, 2011; Yes sir sorry sir, 2011; The rippling blossom, 2011)
aka Song Yau
SYNOPSIS : Szema Shun est un accro aux jeux videos qui va voyager dans le temps et se retrouver au temps des Trois Royaumes, va rencontrer des personnages historiques. Il devient le confident et conseiller de Zhuge Liang et va utiliser des strategies modernes pour surmonter les problemes et conflits. Shun va egalement faire la connaissance d'une servante dans le royaume.Il a toujours la possibilite d'entrer en contact avec sa soeur avec son smartphone.
OST : Raymond Lam
CLIP :
等你回来 par Raymond Lam
Credit : Lilian Yoong Zi Ying