27 février 2011
THE QUIZ SHOW SCANDAL
THE QUIZ SHOW SCANDAL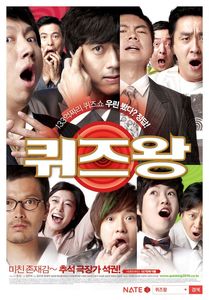 ORIGINE: COREE
TITRE : THE QUIZ SHOW SCANDAL
TITRE ORIGINAL: 퀴즈왕
ANNEE DE SORTIE : 2010
GENRE: COMEDIE
REALISATEUR: JANG JIN
CASTING:
KIM SU RO (Two cops, 1993; Attack the gas station, 1999; Shiri, 1999; Five senses of Eros, 2009; God of Study, 2010)
aka Do Yeop
HAN JAE SUK (All about Eve, 2000; Lobbyist, 2007; Sisters in love, 2008; The great merchant, 2010)
aka Sang Kil
SHIM EUN KYUNG (Lovers in Prague, 2005; Hansel and Gretel, 2007; Bad guy, 2010)
aka Yeo Na
RYU DEOK HWAN (Our town, 2007; Private eye, 2009; Peach tree, 2011)
aka Cheol Joo
LIM WON HIE (3... Extremes, 2004; Le grand chef, 2007; Femme fatale, 2007; Happy together, 2011)
aka Joon Sang
SYNOPSIS: Vers minuit, sur la rive nord de la route, un accident impliquant 4 voitures entraîne le décès d'une personne. Sortant de sa Mercedes Benz, Do Yeop et Sang Kil se disputent avec un coupe marié Sang Do et Pal Nyeo. Dans une autre voiture, il y a Yeo Na et le président de son groupe Jung Sang. Il y a également un étrange père et fils, Ho Man et Ji Yong. Tous finissent au poste de police.
Là bas, ils retrouvent un groupe de personnes, dont le livreur, Cheol Joo et ses potes.
Pour identifier la victime, la police passe en revue leurs affaires et tente d'accéder au contenu de la clé USB de la victime. Le contenu de cette clé est la réponse à une question d'un show tv valant 1.3 millions de dollars. Dès lors, tout le monde connaît la réponse. Reste maintenant à répondre aux 29 questions précédentes pour gagner le jackpot...
OST:
TRAILER: