30 septembre 2010
THE FUGITIVE
THE FUGITIVE: PLAN B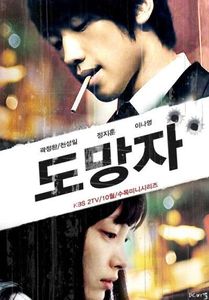 ORIGINE: COREE
TITRE : THE FUGITIVE: PLAN B
AUTRE TITRE: RUNAWAY: PLAN B

TITRE ORIGINAL: 도망자 Plan.B
ANNEE DE SORTIE : 2010
GENRES: ACTION, SUSPENSE

NOMBRE D'EPISODES: en cours

DIFFUSEUR: KBS2
SITE OFFICIEL: http://www.kbs.co.kr/drama/run/
CASTING:

RAIN (Full house, 2004; A love to kill, 2005; I'm a cyborg but that's ok, 2006; Speed racer, 2008; Ninja assassin, 2009; Awaken the dragon, 2010)
aka Ji Woo

LEE NA YOUNG (8 love stories, 1999; Ireland, 2004; Someone special, 2004; Dream, 2008; Lady daddy, 2010)

aka Jini
LEE JEONG JIN (Love story in Harvard, 2004; Seoul raiders, 2005; I love you don't cry, 2008; Trapped, 2010)
aka Do Soo
YUN JIN SEO (Old boy, 2003; Sympathy for Lady Vengeance, 2005; The return of Iljimae, 2008)
aka So Ran
DANIEL HENNEY (My lovely Kim Sam Soon, 2005; Spring waltz, 2006; Seducing Mr Perfect, 2006; X-Men Wolverine, 2009)

aka Kai

SYNOPSIS: Durant la Guerre de Corée, une somme incroyable d'argent s'est volatilisée. 60ans plus tard, l'argent a refait surface, entraînant un chaos dans le monde.
Jin Yi a l'apparence d'une femme innocente mais cache ses réelles intentions pour approcher Ji Woo. Le déroulement de ses plans ne se déroulent pas comme prévu à cause de la naissance d'une romance entre eux deux, et sans compter les poursuivants à leur trace. Kieko est une chanteuse japonaise populaire qui est aussi mêlée dans une relation avec cet homme.
OST: 4minute, MBLAQ

VIDEOS:
Trailer
Extrait du générique par MBLAQ "Running & Running"