15 février 2013
THE DAYS OF DAYS
THE DAYS OF DAYS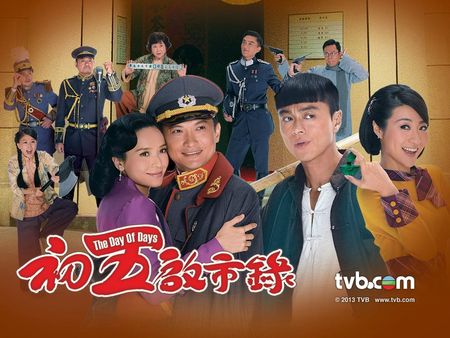 ORIGINE: HONG KONG
TITRE : THE DAYS OF DAYS
TITRE ORIGINAL : 初五啟市錄
ANNEE DE SORTIE : 2013
GENRES: HISTORIQUE, COMEDIE
NOMBRE EPISODES : 20
DIFFUSEUR : TVB
SITEWEB : http://programme.tvb.com/drama/thedayofdays/

CASTING:
SONIJA KWOK (Love and Again, 2002; Hidden Treasures, 2004; Land of wealth, 2006; The legend of love, 2007; On the first beat, 2007; D.I.E., 2008; The greatness of a hero, 2008; ICAC Investigators, 2009; When Lanes Merge, 2010; Gong, 2011; L'escargot, 2012)
aka Tong Nga-wun
SUNNY CHAN (At the threshold of an era, 1999; Strike at heart, 2005; Love guaranteed, 2006; War and destiny, 2007; The Green Grass of Home, 2007; The Winter Melon Tale, 2009; The Greatness of a Hero, 2009; Ghost writer, 2009; Wax and Wane, 2011; The King Among the Phoenix, 2011)
aka Sung Lai-wo
RAYMOND WONG (When Easterly Showers Fall on the Sunny West, 2008; Sweetness in the Salt, 2009; A great way to care, 2009; A Watchdog's Tale, 2009; Can't Buy Me Love, 2010; Grace Under Fire, 2011; The other truth, 2011; Gloves Come Off, 2012)
aka So Fei
MATT YEUNG (The Silver Chamber of Sorrows, 2008; The Gem of Life, 2008; E.U., 2009; Master of Play, 2012)
aka Wong Tsan-bong
SYNOPSIS : Simpliste et honnete Sung Lai-wo est une personne proche de la famille Tong, un clan noble de Xiguan. Le gangster So Fei le flatte délibéremment afin d'en tirer profit; mais Lai-wo est simplement un fainéant de la famille Tong. La personne qui est réellement une femme d'affaire prééminente de Guangzhou est l'ainée des filles de la famille Tong, Tong Nga-wu. Elle n'est pas seulement très talentueuse pour prendre l'avantage dans diverses situations, mais est également audacieuse et déterminée au travail. Toutefois, elle sacrificie sa jeunesse pour s'occuper des affaires familiales.
OST : FAMA
VIDEOS :
Episode 1 en VO

TVB The Day of Days Episode 1 | HK DRAMA ONLINE par tvb-drama-series-online