13 février 2013
THE BROTHERS KARAMAZOV
THE BROTHERS KARAMAZOV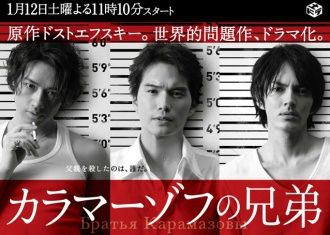 ORIGINE: JAPON
TITRE : THE BROTHERS KARAMAZOV
TITRE ORIGINAL: カラマーゾフの兄弟
ANNEE DE SORTIE : 2013
GENRE: SUSPENSE
NOMBRE EPISODES : NC
DIFFUSEUR : FUJI TV
SITEWEB : http://www.fujitv.co.jp/brothers_karamazov/index.html
ADAPTE DE : roman de Fyodor Dostoyevsky
CASTING:
HAYATO ICHIHARA (Water Boys 2, 2004; Rainbow Song, 2006; God's Puzzle, 2008; Rookies, 2008; Saru Lock, 2009; Runaways : for your love, 2011; A tree in the sun, 2012)
aka Isao Kurosawa, le cadet
TAKUMI SAITO (Otokomae, 2008; Chase, 2010; Hi my sweetheat, 2009; Cafe Seoul, 2009; Boys on the run, 2012; Ace Attorney, 2012; Someday at a Place in the Sun, 2013)
aka Mitsuru Kurosawa, l'ainé
KENTO HAYASHI (The Battery, 2007; Dive, 2008; Love fight, 2008; A little princess, 2009; Time lost, time found, 2009; Listen to my heart, 2009; Parade, 2010)
aka Ryo Kurosawa, le benjamin
SYNOPSIS : Situé dans le Japon moderne dans une ville de province, Buzo Kurosawa, un père violent et avare, est assassiné dans sa propre maison. Buzo a 3 fils: l'ainé, Mitsuru, le cadet Isao et le benjamin Ryo. Les trois fils sont soupconnés de meurtre.
OST :
TRAILER :