19 février 2011
TERROIR
TERROIR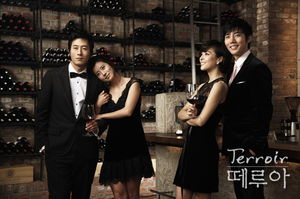 ORIGINE: COREE
TITRE : TERROIR
TITRE ORIGINAL: 떼루아
ANNEE DE SORTIE : 2008
GENRES: DRAME, GASTRONOMIE
NOMBRE D'EPISODES: 20
REALISATEUR: Kim Young Min
DIFFUSEUR: SBS
SITE OFFICIEL: http://tv.sbs.co.kr/terroir/
CASTING:
KIM JOO HYUK (Lovers in Prague, 2005; Love me not, 2006)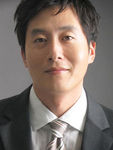 aka Kang Tae Min
HAN HYE JIN (One percent of anything, 2003; You are a star, 2004; Be strong, Geum Soon, 2005; Jejoongwon, 2010)
aka Lee Woo Joo
KI TAE YOUNG (White tower, 2007; Creating destiny, 2009; I'll teach
you love, 2010; Royal family, 2011)
aka Joey Park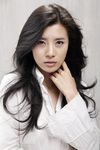 YOO SUN (Little women, 2004; Sweet spy, 2005; Lobbyist, 2007)
aka Ahn Ji Seon
SYNOPSIS: Lee Woo Joo rencontre Kang Tae Min, un homme qui a appris l'art viticole. Tae Min a hérité de la production de vin de sa famille et fait découvrir à Woo Joo ce nouvel univers. Il mène une relation stable avec sa fiancée, Ji Sun, mais flanchit quand il rencontre Woo Joo. Joey Park, quant à lui, cache un sombre secret qui le hante toujours. Ayant accidentellement mis le feu qui a causé la mort des parents de Tae Min. Tae Min ne sait pas que son ami a déclenché le feu meurtrier...
OST: Shin Seung Hun
VIDEOS:
Trailer

Terroir Korean Drama Official Preview
envoyé par hancinema. - Regardez des web séries et des films.