07 janvier 2012
SUPER SNOOPS
SUPER SNOOPS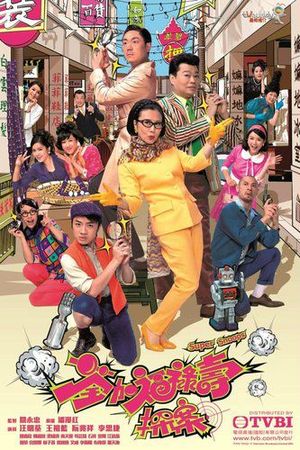 ORIGINE: HONG KONG
TITRE : SUPER SNOPPS
TITRE ORIGINAL: 荃加福祿壽探案
ANNEE DE SORTIE : 2011
GENRE: COMEDIE
NOMBRE D'EPISODES: 20
DIFFUSEUR: TVB Jade
SITE OFFICIEL : http://programme.tvb.com/drama/supersnoops
CASTING:
LIZA WANG
aka Sun Chiu Tung
WONG CHO LAM (Heart of greed, 2007; The beauty of a game, 2009; Don Juan DeMercado, 2010)
aka Hung Chak Nam
LOUIS YUEN (Virtues of Harmony, 2001; Heart of greed, 2007; Can't buy me love, 2010; The other truth, 2011)
aka Hung Duk Nam
JOHNSON LEE (Just love, 2005; The gentle crackdown, 2005; Men in pain, 2006; Welcome to the house, 2006; Devil's disciple, 2007; Catch me now, 2008; The stew of life, 2009; A pillow case of mystery 2, 2010)
aka Chui Sui
TOBY LEUNG (Men in pain, 2006; The drive of life, 2007; The money maker recipe, 2008; The threshold of a persona, 2009; Growing through life, 2010; Wax and Wane, 2011)
aka Ngok Kau
SYNOPSIS : Le detective Sun Chiu Tung a quitte les forces de police en raison d'une etrange affaire. Elle cree par la suite sa propre agence d'investigation et va rencontrer par accident trois hommes en piteux etat : Hung Chak Nam, Hung Duk Nam et Chui Sui. Chacun ayant des pouvoirs hors du commun, ils vont s'associer a Chiu Tung pour mener a bien des enquetes.
TRAILER :