25 septembre 2012
SOUFFLE
SOUFFLE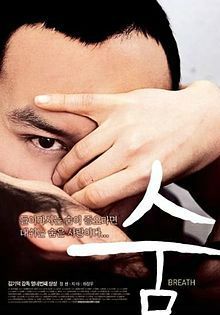 ORIGINE: COREE
TITRE : SOUFFLE
TITRE ORIGINAL: 숨
ANNEE DE SORTIE : 2007
GENRE: DRAME
REALISATEUR: KIM KI DUK
DETAIL :
Film nominé pour la Palme d'Or au festival de Cannes en 2007
CASTING:
HANG CHEN (Tigre et dragon, 2000; 2046, 2004; Eros, 2004; Three times, 2007; Les trois royaumes, 2008; The last supper, 2012)
aka Jang Jin
PARK JI AH (Printemps, ete, automne, hiver... et printemps, 2003; Jungle fish, 2008)

aka Yeon
HA JUNG WOO (She's on duty, 2005; The Chaser, 2008; The murderer, 2010; The Client, 2011; Nameless gangster, 2012)
aka le mari de Yeon
SYNOPSIS: Un condamné à mort retarde son exécution en multipliant les tentatives de suicide. Une jeune mère de famille trompée par son mari apprend l'histoire de ce détenu et décide de lui rendre visite en prison. Jusqu'à en tomber amoureuse...
TRAILER :