19 juin 2011
SEDUCING MR PERFECT
SEDUCING MR PERFECT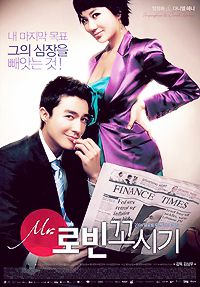 ORIGINE: COREE
TITRE : SEDUCING MR PERFECT
AUTRE TITRE: SEDUCING MR ROBIN
TITRE ORIGINAL: 미스터 로빈 꼬시기
ANNEE DE SORTIE : 2006
GENRES: ROMANCE, COMEDIE
REALISATEUR: KIM SANG WOO
SITE OFFICIEL: http://www.mrrobin.co.kr/
CASTING:
DANIEL HENNEY (My lovely Kim Sam Soon, 2005; Spring waltz, 2006; X-Men origins, 2009; The Fugitive: Plan B, 2011)
aka Robin Heiden
UHM JUNG HWA (Marriage is a crazy thing, 2002; Princess Aurora, 2005; Five senses of eros, 2009; The man who can't get married, 2009)
aka Min Joon
SYNOPSIS: Min Joon croit dur comme fer en l'Amour et se dévoue complètement dans chacune de ses relations... mais finit toujours par une rupture difficile. Cette fois ci, elle se fait plaquer le jour de son anniversaire! Distraite par la nouvelle, elle a un accrochage avec un bel étranger. Pour échapper à la colère du conducteur, elle prétend de pas comprendre l'anglais. Mais il se trouve que cet inconnu est son nouveau patron...
OST: Jeon Jae Hyeong
VIDEOS:
TRAILER
EXTRAIT