19 mars 2011
ROYAL FAMILY
ROYAL FAMILY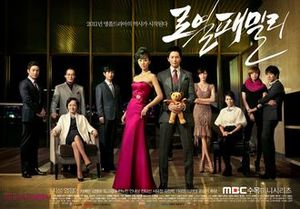 ORIGINE: COREENNE
TITRE : ROYAL FAMILY
TITRE ORIGINAL: 로열 패밀리
ANNEE DE SORTIE : 2011
GENRE : DRAME, ROMANCE
NOMBRE D'EPISODES: 16
DIFFUSEUR : MBC
CASTING:
YUM JUNG AH (Our heaven, 1990; Deux soeurs, 2003; 3 extremes, 2005; Working mom, 2008)
aka Kim In Sook
JI SUNG (All in, 2003; Save the last dance for me, 2004; Swallow the sun, 2009; Kim Soo Ro, 2010)
aka Han Ji Hoon
KIM YOUNG AE (Love letter, 2003; Old miss diary, 2004; Hwang Jin Yi, 2006; Aeja, 2009; Athena, 2010)
aka Gong Soon Ho
SITE OFFICIEL: http://www.imbc.com/broad/tv/drama/royalfamily
SYNOPSIS: Royal family raconte l'histoire de Kim In Sook, une femme qui va gravir les échelons pour atteindre la plus haute marche du groupe JK. Elle va représenter une nouvelle image de la femme. Pour l'aider à surmonter les obstacles, elle a le soutien de son ami d'enfance et désormais avocat, Han Ji Hoon.
OST:
VIDEOS:
Teaser
Extrait de l'épisode 1