28 février 2013
PSYCHOMETRY
PSYCHOMETRY
ORIGINE : COREE

TITRE : PSYCHOMETRY
TITRE ORIGINAL: 사이코메트리

ANNEE DE SORTIE : 2013
GENRES: POLICE, MYSTERE
REALISATEUR: KWON HO YOUNG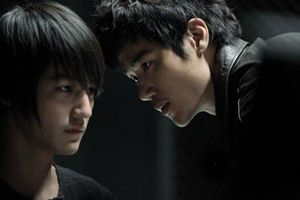 CASTING :
KIM KANG WOO (Breathless, 2003; Three Leaf Clover, 2005, Le Grand Chef, 2007; Five senses of Eros, 2009; A man's story, 2009; A better tomorrow, 2010; The taste of money, 2012; Haeundae Lovers, 2012)

aka Yang Choon-dong
KIM BUM (East of Eden, 2008; Boys over flowers, 2009; Dream, 2009; City lovers, 2010; Padam Padam, 2011; The wind that blows, 2013)

aka Joon
SYNOPSIS : Une petite fille est kidnappée et assassinée sous la juridiction du détective Yang Chun-dong. Durant l'enquete, il remarque que la scene de crime est identique à un mystérieux tag de rue et commence à traquer Joon, l'auteur du dessin.

Il est arreté mais Chun-dong comprend que Joon est doté de 'psychométrie', la capacité de voir le passé en touchant une personne ou un objet acec sa main droite. Il a toujours vécu seul, se reprochant se propre capacité. Il devient toutefois le principal suspect de l'enquete.

Chun-dong va se servir des pouvoirs de Joon pour traquer le véritable criminel comme il croit qu'il est le seul temoin de l'affaire.
OST :
TRAILER :
Credit : movietrailerkor