21 septembre 2012
PENNY PINCHERS
PENNY PINCHERS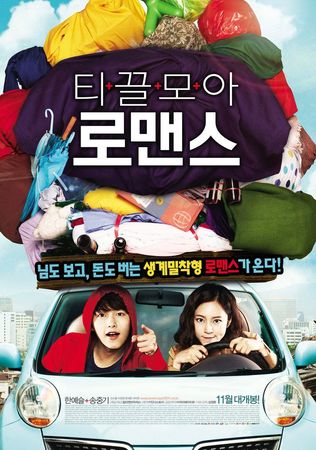 ORIGINE: COREE
TITRE : PENNY PINCHERS
TITRE ORIGINAL: 티끌모아 로맨스
AUTRE TITRE : MANY A LITTLE ROMANCE, ALTHOUGH I WAS BORN
ANNEE DE SORTIE : 2011
GENRES: COMEDIE, ROMANCE
REALISATEUR: KIM JUNG HWAN
PRODUCTION : CJ ENTERTAINMENT
CASTING:
SONG JOONG KI (Will it snow at christmas, 2009; Sungkyunkwan Scandal, 2010; Tree with deep roots, 2011)
aka Ji-Woong
HAN YE SEUL (Couple of fantasy, 2006; Tazza, 2008; Will it snow at christmas, 2009; Spy myung wol, 2011)

aka Hong-Sil
SYNOPSIS: Ji-woong est un loser qui n'arrive pas à trouver de boulot, ment à sa mère pour obtenir de l'argent. Mais un jour, celle-ci decide de lui couper les fonds et il se trouve sans abri. Le meme jour, l'aide vient en la personne de Hong-sil, qui est extremement avare. Son hobby est d'aller à la banque mettre de l'argent de coté et sa spécialité est vendre des bouteilles de verre vides et des vieux journaux en échange d'argent. Plus tard, elle apprend qu'elle doit ouvrir un autre compte en banque sous un autre nom pour atteindre ses 20 millions de dollars reves. C'est lá que Ji-woong survient...
TRAILER :
Credit : CJEntertainmentUSA