04 avril 2010
MY SASSY GIRL
MY SASSY GIRL
ORIGINE: COREENNE
TITRE : MY SASSY GIRL
TITRE ORIGINAL: 엽기적인 그녀 (Yeopgijeogin geunyeo)
ANNEE DE SORTIE : 2001
GENRE : ROMANCE, COMEDIE
REALISATEUR : KWAK JAE YONG
INSPIRE DE: roman de Kim Ho Sik
CASTING :
CHAE TAE HYUN (Into the sunlight, 1999; Juliet Boyfriend, 2000; Sad movie, 2005; Speed scandal, 2008; General hospital 2, 2008; Hello ghost, 2010; Jeon Woo Chi (drama) 2012)
aka Hyun Woo
JEON JI HEYON (The Uninvited, 2003; Windstruck, 2004; Daisy, 2006; A man who was superman, 2008; The thieves, 2012; The berlin file, 2013)
aka La fille
BONUS: Remake américain en 2008 réalisé par Yann Samuell avec Elisha Cuthbert & Jesse Bradford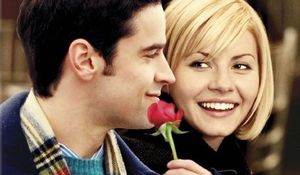 SYNOPSIS: Kyun-woo, jeune étudiant, rencontre dans le métro une jeune femme saoule. Sous les regards offusqués des usagers du métro qui croient qu'elle est sa petite amie, il l'accompagne dans un hôtel afin qu'elle puisse se reposer. Kyun-woo la revoit finalement dans de meilleures circonstances, découvrant ainsi une jeune femme espiègle et impertinente qui n'a pas sa langue dans sa poche. Petit à petit, Kyun-woo s'attache à elle, malgré les misères qu'elle lui fait subir.
OST: Shin Seung Hun
"I believe" video clip
TRAILER: