23 octobre 2012
MISSING YOU
MISSING YOU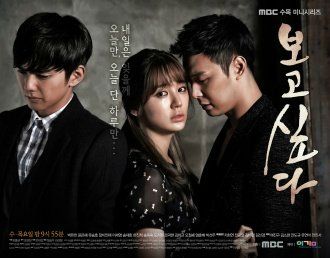 ORIGINE: COREE
TITRE : MISSING YOU
TITRE ORIGINAL : 보고싶다
AUTRE TITRE : I MISS YOU
ANNEE DE SORTIE : 2012
GENRE : ROMANCE, DRAME
REALISATEUR : LEE JAE DONG
NOMBRE EPISODES : 16
DIFFUSEUR : MBC
SITE INTERNET : http://www.imbc.com/broad/tv/drama/bogo/
CASTING :
PARK YOOCHUN (Sungkyunkwan Scandal, 2010; Miss Ripley, 2011; Rooftop Prince, 2012)
aka Han Jung Woo
YOON EUN HYE (Goong, 2006; Coffee Prince, 2007, My Fair Lady, 2009; Black mini dress, 2011; Lie to me, 2011)
aka Lee Soo Yeon
YOO SEUNG HO (God of Study, 2010; Warrior Baek Dong Soo, 2011; Operation proposal, 2012; Arang and the Magistrate, 2012)
aka Kang Hyung Joon
SYNOPSIS : Seulement agée de 15 ans, Soo Yeon est victime d'intimidation a l'école car son père était un meurtrier. Elle trouve un allié en la personne de Jung Woo. Soo Yeon et Jung Woo sont amoureux mais en raison d'un accident, ils se voient séparés. Le destin les réunit dans la vie adulte. Jung Woo est desormais inspecteur de police et Soo Yeon une jeune designer, qui tente de garder une joyeuse personnalité, mais garde les cicatrices intérieures. Hyung Joon est l'actuel amoureux de Soo Yeon, il semble d'apparence chaleureux mais semble vouloir se venger de Jung Woo.

OST :
TRAILER :
Credit : KoreanDramAndOst