18 février 2013
INCARNATION OF MONEY
INCARNATION OF MONEY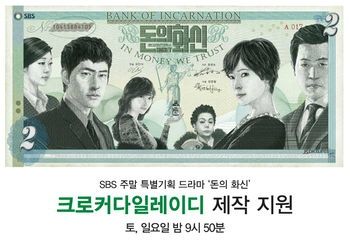 ORIGINE: COREE
TITRE : INCARNATION OF MONEY
TITRE ORIGINAL : 돈의 화신
AUTRES TITRES : MONEY DEMONS, THE EMBODIMENT OF MONEY
ANNEE DE SORTIE : 2013
GENRES: MELODRAME, COMEDIE
NOMBRE EPISODES : 24
DIFFUSEUR : SBS
SITEWEB : http://tv.sbs.co.kr/sbsmoney/index.html

CASTING:
KANG JI HWAN (90 Days, Falling in Love Days, 2006; Capital scandal, 2007; Hong Gil Dong, 2008; My girlfriend is an agent (film), 2009; Coffee House, 2010; Lie to me, 2011)
aka Lee Cha Don / Lee Kang Suk
HWANG JUNG EUM (High kick through the roof, 2009; Giant, 2010; Can you hear my heart, 2011; Golden time, 2012; Full House Take 2, 2012; The Winter Melon Tale, 2009; The Greatness of a Hero, 2009; Ghost writer, 2009; Wax and Wane, 2011; The King Among the Phoenix, 2011)
aka Bok Jae In
PARK SANG MIN (My lovely fool, 2006; Dae Wang Sejong, 2008; Giant, 2010; I believe in men, 2011; City Hunter, 2011)
aka Ji Se Kwang
SYNOPSIS : Bok Jae In est la fille d'un requin preteur sur gage et 'ne connait rien d'autres que l'argent'. Par la suite, elle devient la présidente d'une caisse d'épargne avec sa personnalité pragmatique et ses fortes convictions éthiques. Pendant ce temps, Lee Cha Don connait son passé et lui est redevable. Il se retrouve ensuite enfermé dans un hopital psychiatrique sur une ile lointaine....
OST :
TRAILER :
credit : pornsakw