16 février 2013
I LOVE HONG KONG
I LOVE HONG KONG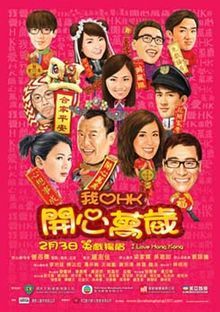 ORIGINE : HONG KONG

TITRE : I LOVE HONG KONG
TITRE ORIGINAL: 我愛HK開心萬歲

ANNEE DE SORTIE : 2011
GENRE: COMEDIE
REALISATEUR: ERIC TSANG
STUDIO : Shaw Brothers, TVB
SITEWEB : http://ilovehongkong2011.com/
CASTING :
TONY LEUNG KA FAI (Prison on fire, 1987; Le syndicat du crime 3, 1989, L'auberge du dragon, 1992; L'amant, 1992; Long and winding road, 1994; Love will tear us apart, 1999; Nouvelle cuisine, 2004; Boarding gate, 2006; Lost in Beijing, 2007; Missing, 2008; Détective Dee : Le Mystère de la flamme fantôme, 2010; Coldwar, 2012)

aka Ng Shun
SANDRA NG (The inspector wears skirts, 1989; The returning, 1994; Four faces of Eve, 1997; Portland street blues, 1999; Golden chicken, 2002; Kung Fu Soccer, 2004; Perhaps love, 2005; All's well, ends well, 2009; Echoes of the rainbow, 2009; All about love, 2010)

aka Shun So
ERIC TSANG (Le flic de Hong Kong, 1985; Final victory, 1987; The triad zone, 2000; Trois histoires de l'au dela, 2002; Infernal affairs, 2002; Perhaps love, 2005; Shaolin basket, 2010)

aka Boy
SYNOPSIS : Pour certains, l'année 2012 est remplie de craintes a cause de nombreuses interprétations vivaces sur la fin du monde. La famille Kwok est une farce, avec de très différentes personnalités qui vivent sous le meme toit. Chacun d'entre eux à son lot de problèmes, et la situation ne s'améliore pas...
OST :
TRAILER :
Credit : G SC