22 septembre 2012
I DO I DO
I DO I DO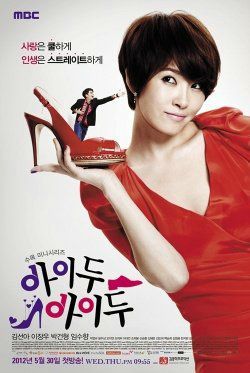 ORIGINE: COREE
TITRE : I DO I DO
TITRE ORIGINAL: 아이두 아이두
ANNEE DE SORTIE : 2012
GENRE: COMEDIE, ROMANCE
NOMBRE D'EPISODES: 16
DIFFUSEUR : MBC
SITE OFFICIEL :
CASTING :
KIM SUN AH (My name is Kim Sam Soon, 2005; City hall, 2009; Scent of a woman, 2011)
aka Hwang Ji-An
LEE JANG WOO (Smile Dong Hae, 2010; Human casino, 2011; Man of honor, 2011)
aka Park Tae-Gang
LIM SOO HYANG (Paradise ranch, 2011)
aka Yeom Na-Ri
PARK GEON HYEONG
aka Jo Eun-Sung
SYNOPSIS : Kim Sun Ah tiendra le rôle de Hwang Ji Ahn la meilleure styliste d'une compagnie spécialisée dans les chaussures. Femme atteignant 30 ans, elle ne pense qu'à sa carrière et dénigre tous ce qui touche à l'amour qu'elle juge inutile. Mais sa rencontre avec Park Tae Kang va marquer un tournant de sa vie. Plus jeune qu'elle, il est ambitieux et souhaite se faire un nom dans ce monde de la mode. Leur destin sera scellé par une aventure d'un soir au cours de laquelle elle tomberait enceinte.
OST :
Super Junior (Yesung)
TRAILER :