08 février 2013
HAYATE THE COMBAT BUTLER
HAYATE THE COMBAT BUTLER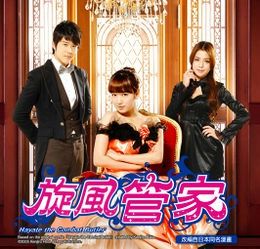 ORIGINE: TAIWAN
TITRE : HAYATE THE COMBAT BUTLER
TITRE ORIGINAL: 旋風管家
ANNEE DE SORTIE : 2011
GENRE: COMEDIE, ROMANCE
NOMBRE EPISODES : 13
DIFFUSEUR : FTV
ADAPTE DE : manga de Kenjiro Hata
SITEWEB : http://www.gtv.com.tw/Program/S051420110119U/
CASTING:
GEORGE HU (Love at first sight, 2007; The X Family, 2007; Romantic Princess, 2007; ToGetHer, 2009; Love, Now, 2012; Summer fever, 2012; Xin Shen Tan Lian Meng, 2012)
aka Hayate
PARK SHIN HYE (Tree of heaven, 2006; Goong S, 2007; You're beautiful, 2009; Heartstrings, 2011; Flower Boy Next Door, 2013)
aka Xiao Zhi
TIA LI (Summer's desire, 2010; Office girls, 2011; Miss rose, 2012)
aka Maria
SYNOPSIS : Hayate est un homme qui croule sous les dettes de ses parents. N'ayant pas les moyens de rembourser, il songe à se convertir en kidnappeur ou braqueur de banque. Au lieu de cela, il devient le sauveur d'une jeune femme d'un véritable kidnapping. Il se trouve que cette fille est la seule héritière d'un gros conglomérat qui doit faire face à ce type de menace tous les jours. Elle le recrute en tant que majordome et lui vient en aide pour les dettes. Reconnaissant de l'aider à éloigner des chasseurs, il lui promet de la protéger des dangers, ce qui n'est pas chose aisée.
OST : William Wei, George Hu, Aggie
TRAILER :
Credit : ThePSHIC5