14 décembre 2012
HAUNTERS
HAUNTED
ORIGINE: COREE
TITRE : HAUNTED
TITRE ORIGINAL : 초능력자
ANNEE DE SORTIE : 2010
GENRE : DRAME, SCIENCE FICTION
REALISATEUR : KIM MIN SUK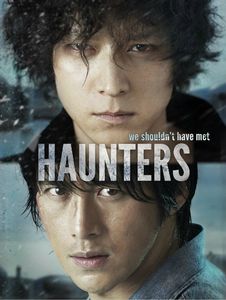 CASTING :
KANG DONG WON (Temptation of wolves, 2004; Duelist, 2005; Our happy time, 2006; Jeon Woo Chi, 2009; Secret Reunion, 2010; Camellia Love for sale, 2010)
aka Cho In
GO SOO (My fair lady, 2003; When a man is in love, 2004; Green rose, 2005; Marrying a millionaire, 2005; Will it snow at christmas, 2009; The front line, 2011)
aka Gyoo Nam
JUNG EUN CHAE (Crossing the Yeongdo Bridge, 2011; Women in Our House, 2011)
aka Yeong Sook
SYNOPSIS : Kyu Nam travaille dans une boutique de preteur sur gages. Quand Cho In entre dans sa boutique un jour dans l'espoir de le voler en utilisant ses pouvoirs psychiques, il decouvre rapidement que son talent particulier ne marche pas sur Kyu Nam. Decu par cette decouverte, Cho In poursuit Kyu Nam, et tue une personne collaterale par accident. C'est le debut d'une confrontation qui poussera les deux hommes dans leurs retranchements.
OST:
TRAILER :
Credit : movieclipsTRAILERS