16 juin 2011
GHOST
GHOST: IN YOUR ARMS AGAIN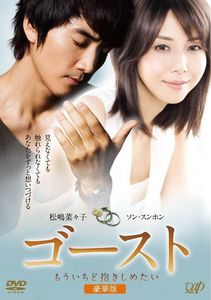 ORIGINE: JAPON
TITRE : GHOST: IN YOUR ARMS AGAIN
TITRE ORIGINAL: 韓国版予告
ANNEE DE SORTIE : 2010
GENRE: DRAME
REALISATEUR: TARO OTANI
DETAIL: Remake du film américain Ghost de Jerry Zucker (1990) avec Demi Moore, Patrick Swayze et Whoopi Goldberg
CASTING:
SONG SEUNG HUN (Autumn tale, 2000; Summer scent, 2003; He was cool, 2004; East of Eden, 2008; A better tomorrow, 20101; My princess, 2011)
aka Kim Jin Ho
NANAKO MATSUSHIMA (The Ring, 1998; GTO, 1998; Kyumei Byoto 24 Ji, 1999; Yamato Nadeshiko, 2000; Hana yori dango, 2005; Bizan, 2007)
aka Nanami Hoshino
KIRIN KIKI (Sensei no kaban, 2003; Tokyo tower, 2006; Ten to sen, 2007)
aka Unten
SYNOPSIS: Nanami Hoshino, une brillante entrepreneuse, épouse un potier coréen, Kim Jin Ho. Ils vivent heureux mais un an après leur mariage, Nanami est tué par un biker sur le chemin du retour. Ce drame laisse Jin Ho totalement détruit. A l'hôpital, le fantôme de Nanami s'élève de son corps et rencontre le fantôme d'une enfant. Elle comprend que sa mort n'est pas une coincidence et que son époux est en danger. Incapable de communiquer avec les êtres humains, Nanami cherche l'aide d'une medium, Unten, afin d'aider Jin Ho.
SITE OFFICIEL: http://www.ghost-movie.jp/
VIDEOS: