05 juillet 2010
FULL TIME KILLER
FULL TIME KILLER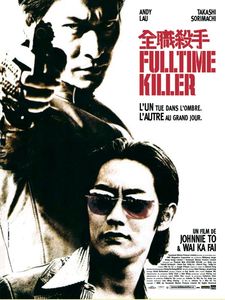 ORIGINE: HONG KONG
TITRE : FULL TIME KILLER
TITRE ORIGINAL: 全職殺手 (Chuen jik sat sau)
ANNEE DE SORTIE : 2001
GENRE : DRAME, ACTION
REALISATEUR : JOHNNIE TO, WAI KAI FAI
CASTING :
ANDY LAU (God of gamblers, 1989; The Banquet, 1991; The tigers, 1991; Tricky brains, 1991; Infernal affairs, 2002; Secret des poignards volants, 2004; A battle of wits, 2006; Look for a star, 2009)
aka Tok
TAKASHI SORIMACHI (GTO, 1999; Love complex, 2000; HOTMAN, 2003; Wonderful life, 2007)
aka O
SIMON YAM (Lara Croft, 2003; Ip man, 2008)
aka Lee
KELLY LIN (The legend of Zu, 2001; Boarding gate, 2007)
aka Chin
SYNOPSIS: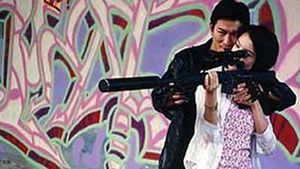 O est un tueur professionnel solitaire. Il est réputé être le meilleur. Personne ne connaît son visage. Il limite au minimum ses contacts avec le monde extérieur. Tok, lui, est un tueur à gages extraverti. Il transforme les meurtres qu'il commet en véritables spectacles. Il aime son métier. Son seul but : devenir le meilleur. Son unique obstacle : O. Le seul moyen : affronter O et mettre fin à son existence. Mais Tok doit d'abord débusquer O. C'est une jeune femme, Chin, qui réunira les deux hommes...
TRAILER: