14 décembre 2012
FRIENDLY FIRE
FRIENDLY FIRE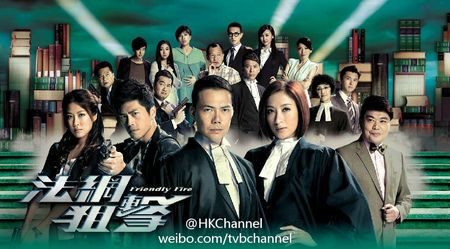 ORIGINE: HONG KONG
TITRE : FRIENDLY FIRE
TITRE ORIGINAL : 法網狙擊
ANNEE DE SORTIE : 2012
GENRES : DRAME, JUSTICE
NOMBRE EPISODES : 30
DIFFUSEUR : TVB JADE
CASTING :
MICHAEL TSE (Virtues of Harmony II, 2003; La femme desperado, 2006; You're hired, 2009; My better half, 2009; Cupid cupid, 2010, Lives of omission, 2011; L'escargot, 2012)
aka Jay, JJ
TAVIA YEUNG (A Pillow Case of Mystery, 2006; Dicey Business, 2006; Moonlight Resonance, 2008; Sweetness in the Salt, 2009; The Rippling Blossom, 2011; The Other Truth, 2011; Yes sir sorry sir, 2011; Men with no shadow, 2011)
aka Fong Tin Lam
SAMMY LEUNG (Dating a vampire, 2006; True women for sale, 2008; Love connected, 2009; Beauty on duty, 2010)
aka Kam Po Tei
SHARON CHAN (Summer heat, 2004; Devil disciple, 2004; Born rich, 2009; Ghetto justice, 2011)
aka Ai Mei San
SYNOPSIS : L'avocat JJ et la procureur Fong Tin Lam etaient initialement en couple, mais ils se sont separés apres l'échec d'une demande en mariage. Le destin les a reuni a nouveau car JJ etant avocat également, leur chemin se croise régulierement. toutefois, ils rencontrent des difficultes pour mener a bien leurs affaires et une nouvelle secretaire, Chuk Seung Yut, arrive dans leur vie. Leur relation arrive a un point de non retour. JJ est toujours ennuye par le refus de Tin Lam a sa demande en mariage et soupconne une raison secrete.
OST :
TRAILER :
Credit : tvb