04 octobre 2012
BAD GIRLS
BAD GIRLS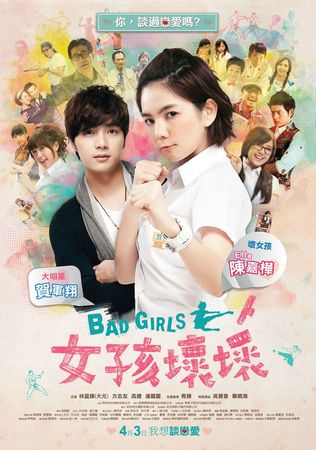 ORIGINE: CHINE
TITRE : BAD GIRLS
ANNEE DE SORTIE : 2012
GENRES : COMEDIE, ROMANCE
REALISATEUR : WENG JINGTING
CASTING :
ELLA CHEN [S.H.E.] (Reaching for the stars, 2005; Down with love, 2010)
aka Dan
MIKE HE (Why Why Love, 2007. Bull fighting, 2007; Infernal Lover, 2010; Calling For Love, 2010; Love Keeps Going, 2011; Sunny Happiness, 2011)
aka Justin
SYNOPSIS: Dan fait partie d'un girls band avec ses deux meilleures amies qui porte le nom de "Bad Girls" dans leur ecole. Un jour, leur lycee est le decor d'un tournage d'une comedie romantique. Le personnage principal, Justin, est une idol populaire, ce qui rend les lyceennes folles de lui. Dan est choisie pour jouer le principal role feminin. Curieuse a propos de Justin, va chercher a en savoir plus sur lui. Celui-ci cache un sombre secret.
TRAILER :