20 janvier 2011
ALL MY LOVE
ALL MY LOVE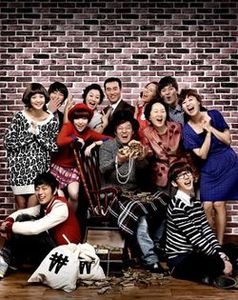 ORIGINE: COREE
TITRE : ALL MY LOVE
TITRE ORIGINAL: 몽땅 내사랑
AUTRE TITRE: DO ME A FAVOR
ANNEE DE SORTIE : 2010
GENRE: COMEDIE, FAMILLE
NOMBRE D'EPISODES: En cours
DIFFUSEUR: MBC
SITE OFFICIEL: http://www.imbc.com/broad/tv/ent/alllove/
CASTING:
KIM GAB SOO (Land, 2004; Wolf, 2006; Time between wolf and dog, 2007; When spring comes, 2007; Partner, 2009; IRIS, 2009; Cinderella sister, 2010; Sungkyunkwan Scandal, 2010; Home sweet home, 2010)
aka Directeur Kim
PARK MI SUN (We got married tv; Tae Hee, Hye Kyo, Ji Hyun)
aka Park Mi Sun
JO KWON [2AM]
aka Hwang Ok Yub
GA IN [Brown Eyed Girls]
aka Hwang Geum Ji
YOON DOO JOON [BEAST]
aka YOON DOO JOON
JUN TAE SOO (Good day to love, 2007; The king and I, 2007; Sungkyunkwan Scandal, 2010; It's ok daddy girl, 2010)
aka JUN TAE SOO
YOON SEUNG AH (The 1st shop of Coffee Prince, 2007; Hero, 2009; Playful kiss, 2010)
aka YOON SEUNG AH
SYNOPSIS: Basé sur un conte coréen, All my love raconte l'histoire des familles Kongji et Patji. Les Kongji sont pauvres mais bienveillants, alors que les Patji sont riches mais égoïstes.
OST: BEAST
VIDEOS:
Extrait de l'épisode 1 en VOSTA

101108 AML 1 1/2
envoyé par snjeung. - Plus de vidéos de sport professionnel et amateur.
Audio "Loving you" par BEAST