25 octobre 2010
AKIHABARA@DEEP
AKIHABARA@DEEP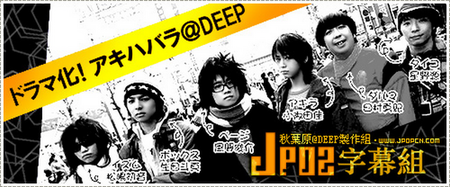 ORIGINE: JAPON
TITRE : AKIHABARA@DEEP
TITRE ORIGINAL: アキハバラ@DEEP
ANNEE DE SORTIE : 2006
GENRES: COMEDIE, ACTION

NOMBRE D'EPISODES: 11 + SPECIAL
DIFFUSEUR: TBS
SITE OFFICIEL: http://www.akihabaradeep.com/
ADAPTE DE: Roman de Ishida Ira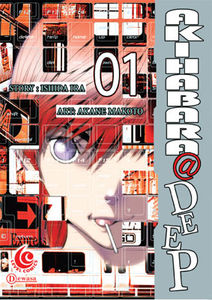 CASTING: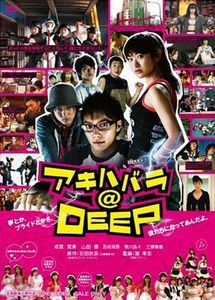 KAZAMA SHUNSUKE (Taikoki, 2003; Yonaoshi Jyunan! Ninjouken, 2005; Sugata Sanshiro, 2007; Koshonin, 2009; Konkatsu, 2009)
aka Page
IKUTA TOMA (Hachimitsu to clover, 2008; Hana Kimi, 2008; Maou, 2008; Voice, 2009; Hanamizuki; 2010)
aka Box
HIMURA YUKI (Maiko haaaan, 2007; Abarenbo mama, 2007; My girl, 2009)
aka Daruma
HOSHINO GEN (Water boys, 2003; Tiger and dragon, 2005; Tanten Gakuen Q, 2007; Shukan maki yoko, 2008; Gegege no nyobo, 2010)
aka Taiko
KOSAKA YUKA (Gakko no kaidan, 2007; Uramiya honpo special, 2008)
aka Akira
MATSUSHIMA HATSUNE (Unfair, 2006; Dear friends, 2007; Kirakira kenshui, 2008; Tadashii oji no tsukurikata, 2008)
aka Izumu
HONJO MANAMI (Another heaven, 2000; Ranpo R, 2004; Be bop high school, 2004; Sukumei, 2004; Futatsu no spica, 2009)
aka Yui
SYNOPSIS: Akihabara est le quartier de Tokyo dédié aux mangas, anime, électronique, jeux vidéos, etc. C'est l'endroit de rencontres des otaku. Page, Box, Akira, Taiko, Daruma, et Izumu sont six otaku, chacun avec ses propres soucis et à la recherche de réconfort sur le siteweb "Yui's Lifeguard." Quand la propriétaire du site, Yui, décède d'une mort mystérieuse, les six experts se réunissent pour former "Akihabara@DEEP", un groupe qui va protéger Akihabara et résoudre les problèmes de ses habitants.
OST: Tucker
VIDEOS:
Extrait de l'épisode 1 en VOSTA
(c) Dramahero
Film trailer