20 mars 2013
LA VIE SANS PRINCIPE
LA VIE SANS PRINCIPE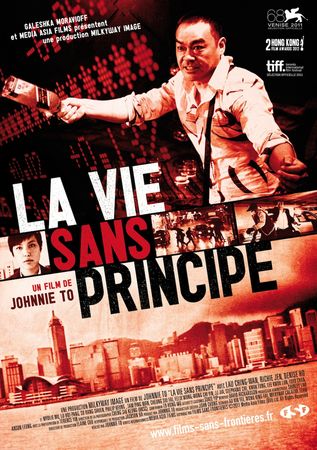 ORIGINE: HONG KONG
TITRE : LA VIE SANS PRINCIPE
TITRE ORIGINAL: 夺命金
ANNEE DE SORTIE : 2011
GENRES : DRAME, THRILLER
REALISATEUR : JOHNNIE TO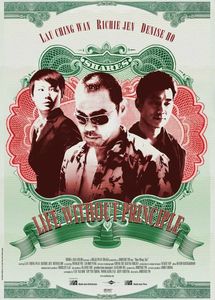 RECOMPENSES : En competition au 68e festival du cinema de Venise et nomination aux Oscars dans la categorie Meilleur film etranger.
CASTING :
LAU CHING WAN / SEAN LAU (The executioners, 1993; C'est la vie mon cheri, 1994; Mother of a different kind, 1995; Black Mask, 1996; The victim, 1999; Running out of time, 1999; Fat choi spirit, 2002; Lost in time, 2003; Driving miss wealthy, 2004; My name is fame, 2006; Mad detective, 2007; Poker king, 2009; Overheard, 2009; Le grand magicien, 2012; The bullet vanishes, 2013)
aka Panther
RICHIE REN (Summer holiday, 2000; Life express, 2001; Silver Hawk, 2004; Seoul raiders, 2005; 2 become 1, 2006; Lady Cop & Papa crook, 2008; The sniper, 2009; Fire of conscience, 2010; Punished, 2011; Afternoon delight, 2012)
aka Cheung Ching Fong
DENISE HO (Look for a star, 2009; I love Hong Kong 2012, 2012; Young and dangerous : reloaded, 2013)
aka Teresa
SYNOPSIS: Teresa, employée de banque ordinaire, incite ses clients à faire des investissements risqués pour remplir ses objectifs financiers.
Panther, escroc à la petite semaine, plonge dans le monde de la spéculation boursière dans l'espoir de gagner facilement de l'argent pour payer la caution d'un de ses amis qui rencontre quelques soucis avec la justice.
Enfin, l'inspecteur Cheung est un flic honnête. Jusque-là satisfait de son modeste train de vie, il a tout à coup un besoin d'argent criant lorsque sa femme verse un acompte pour acheter un appartement luxueux au-dessus de leurs moyens.
Tout sépare ces trois personnages jusqu'à ce que leur rapport à l'argent – et un mystérieux sac contenant cinq millions de dollars volés – les poussent à prendre des décisions cruciales malgré leurs cas de conscience. Trois vies bouleversées par le monde turbulent de Hong Kong, en plein marasme économique et financier. (allocine)
TRAILER:
YOUNHA COMEBACK TEASER
YOUNHA COMEBACK TEASER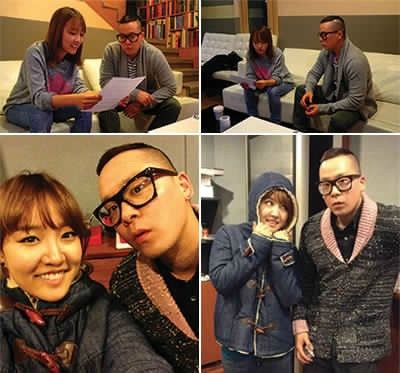 Malgré sa récente participation dans le premier single de So Ji Sub "Field Trip", la talentueuse chanteuse coréenne Younha est restée loins des plateaux tv pendant presque deux ans. Elle met un terme à cette absence prolongée avec un nouveau duo. Cette fois-ci, Younha associe sa voix mélodieuse à celle du rappeur, Naul.
Son nouveau single s'intitule "It's not like that", dont l'histoire raconte les sentiments meurtris d'une personne qui vient de vivre une rupture sentimentale. On raconte que les paroles seraient inspirées par la propre histoire de Naul, qui a preté sa voix à la chanson mais pas seulement, car il a egalement participé à la composition et aux paroles de "It's not like that".
La maison de disque de Younha a declaré :
"Afin de réaliser un excellent album, elle travaille actuellement sur les touches finales. Elle travaille dur pour montrer une nouvelle image (d'elle-meme) alors veuillez patientez."

Que tous les fans se rassurent, en attendant la sortie officielle de son single (dans 2 jours, le 22 mars 2013), vous pouvez découvrir ci-dessous le teaser de son clip video !
A SUIVRE... TO BE CONTINUED...
TITRE SINGLE : It's not like that
DATE : 22/03/2013
TEASER :
Credit : CJENMMUSIC
Source : allkpop
Pichu ~