09 janvier 2012
MEET THE IN LAWS
MEET THE IN LAWS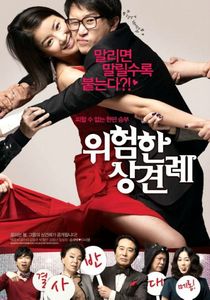 ORIGINE: COREE
TITRE : MEET THE IN LAWS
TITRE ORIGINAL: 위험한 상견례
ANNEE DE SORTIE : 2011
GENRE : ROMANCE, COMEDIE
REALISATEUR : KIM JIN YEONG
CASTING :
SONG SAE BYEOK (Cyrano agency, 2010; The Servant, 2010; Sector 7, 2011; Ordinary days, 2011)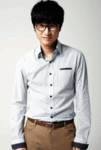 aka Hyun Joon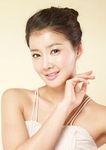 LEE SI YOUNG (Love you a thousand times, 2009; Playful Kiss, 2010; Poseidon, 2011; Couples, 2011; Wild romance, 2012)
aka Da Hong
BAEK YUN SHIK (Save the green planet, 2003; Art of fighting, 2006; Lovers,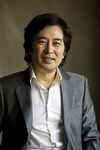 2008; Head, 2010; The taste of money, 2012)
aka Young Kwang
KIM SOO MI (Something happened in Bali, 2004; Marrying the mafia 2, 2005; Unstoppable marriage, 2007; Shotgun love, 2011; Vampire Idol, 2011)
aka Choon Ja
SYNOPSIS: Hyun Joon est auteur/ dessinateur de bande dessinee originaire de la region Jeolla-do, travaillant desormais a Seoul. Un jour, il rencontre Da Hong, une de ses fans, originaire de Busan. Les deux tourtereaux envisagent de se marier. Le probleme est que le pere de Da Hong ne supporte pas les personnes venant de Jeolla-do.
VIDEOS:
Trailer
Extrait du film
HAPPY TOGETHER
HAPPY TOGETHER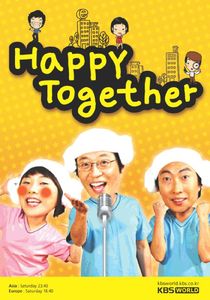 ORIGINE: COREENNE
TITRE: HAPPY TOGETHER
TITRE ORIGINAL: 해피투게더
GENRE: COMEDIE
DATE DEBUT: 2001
NOMBRE EPISODES : 496 (3 saisons)
DIFFUSEUR: KBS
SITE OFFICIEL : http://www.kbs.co.kr/2tv/enter/happytogether3
MCs: YU JAE SUK, SHIN BONG SUN, PARK MYUNG SU, PARK MI SUN
PRESENTATION: Emission de variété coréenne dans laquelle des stars invitees participent a des jeux et repondent a des questions des MC dans le decor d'un bain public
QUELQUES JEUX :
DO RE MI KONG KONG KONG, CHALLENGE! MEMORIZE SONG, DON'T LAUGH IN THE SAUNA,...
QUELQUES GUESTS:
09102008 Yunho, Jaejoong, Yoochun (DBSK)
26022009 Goo Hye Sun, Kim Hyun Joong, Kim Kyu Jong
11022010 Narsha, Ga In (Brown Eyed Girls), Lee Seung Gi, Kim Jong Kook
10062010 Wonder Girls
04112010 2PM
15122011 Taeyeon, Yuri, Soo Young, Seo Hyun (SNSD)
22122011 IU, Boom, Kim Na Young
VIDEOS :
Extrait de l'episode avec les TVXQ

Happy Together with DBSK (ENG) [3-6] par brainygirl
Extrait de l'episode avec Rain, Hyori et Lee Joon (MBLAQ), Goo Hara (KARA)
WONDER GIRLS NEWS [UPDATE]
WONDER GIRLS NEWS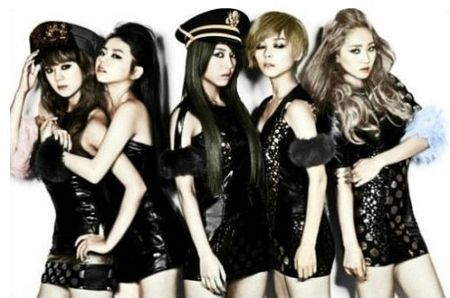 Les Wonder Girls ont cree le buzz l'an passe en revenant dans le showbiz apres une longue absence des charts. Cette absence a beaucoup ete compense par des news indiquant de nombreux contacts aux USA pour leur nouvel opus. Les Wonder Girls sont d'ors et deja mondialement connues et vont bientot affirmees ce statut avec la realisation de leur long metrage de fiction en anglais.
Les muses de JYP viennent de devoiler via leur chaine Youtube un teaser de leur nouveau single US : "The DJ is mine", dans lequel les School Gyrls ont participe. Une chanson ecrite par Crystal Nicole Johnson, qui semblerait avoir collabore avec les grandes dames de la pop americaine comme Mariah Carey, Beyonce ou Rihanna et Natasha Bedingfield. "The DJ is mine" devrait faire partie de la bande originale de leur film The Wonder Girls Teen Nick.
D'apres Allkpop, le clip video est prevu d'etre devoile ce mercredi 11 Janvier a Las Vegas durant le International Consumer Electronics Show (CES) en compagnie de JY Park et Nick Cannon.
Decouvrez ci-dessous le teaser de leur prochain single, ainsi que le trailer de leur film prevu courant Fevrier !!!
TITRE SINGLE : The DJ is mine
TEASER :
(c) Wonder Girls official Youtube
TRAILER FILM :
[UPDATE 12/01/2011]
CLIP :
Source : allkpop
Pichu ~