26 mars 2010
IRIS
IRIS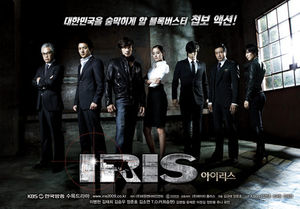 ORIGINE : COREENNE
TITRE : IRIS
TITRE ORIGINAL: 아이리스
ANNEE DE SORTIE : 2009
GENRE : ACTION, DRAMA
NOMBRE D'EPISODES: 20
DIFFUSEUR : KBS
CASTING :
Lee Byung Hun (All in, 2003; A bittersweet life, 2005; The Good, the Bad, the Weird, 2008; GI Joe, 2009)
aka Kim Hyun Joon
Kim Tae Hee (Stairway to heaven, 2003; Love story in Harvard, 2004; The restless, 2006)
aka Choi Seung Hee
Jung Joon Ho (Princess Lulu, 2005; Last scandal, 2008)
aka Jin Sa Woo
TOP (Into the gunfire, 2010)
aka Vick
Kim Seung Woo (Hotelier, 2001; How to meet a perfect neighbor, 2007)
aka Park Chul Young
Kim So Yeon (Gourmet, 2008; Prosecutor Princess, 2010)
aka Kim Sun Hwa
SYNOPSIS: Kim Hyun Joon et Jin Sa Woo sont deux meilleurs amis qui sont amenés dans une organisation top secrète appelée NSS, dirigée par l'experte Choi Seung Hee et Park Sang Hyun. Hyun Joon et Sa Woo ont eu tous les deux le coup de foudre pour Seung Hee. Leur vie est changée à jamais quand Hyun Joon reçoit une mission solo en Hongrie. (source: Drama Wiki)
OST: Baek Ji Young, Big Bang, Shin Seung Hoon,...
Download sur Nautiljon
TRAILER:
Commentaires sur IRIS